The Best American Restaurants in Sydney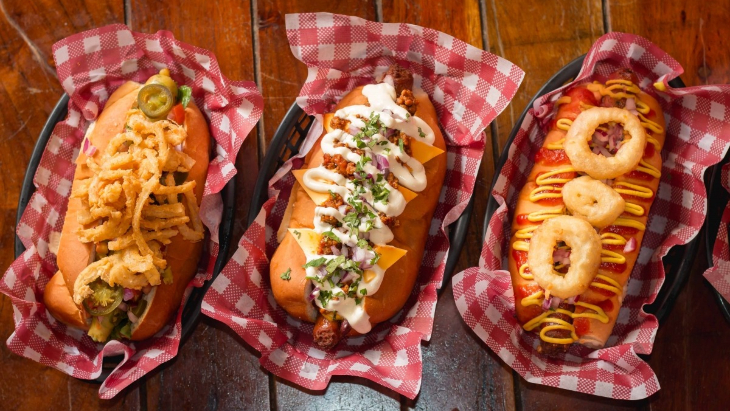 As far as fast food goes, the Americans have it in the delicious bag. From bagels to cheesesteaks, pretzels, burgers, and pizzas, the yanks sure know how to throw some serious flavour into their foods. If you hail from the land of the free and have been dreaming of a succulent Philly Cheesesteak for days, or your sweet tooth is lusting after a cinnamon scroll, here are all the best joints in Sydney to munch down on American-style foods. Takeaway, of course! Because that's the best way to eat comfort food, ammirite?!
Deep-Dish Pizza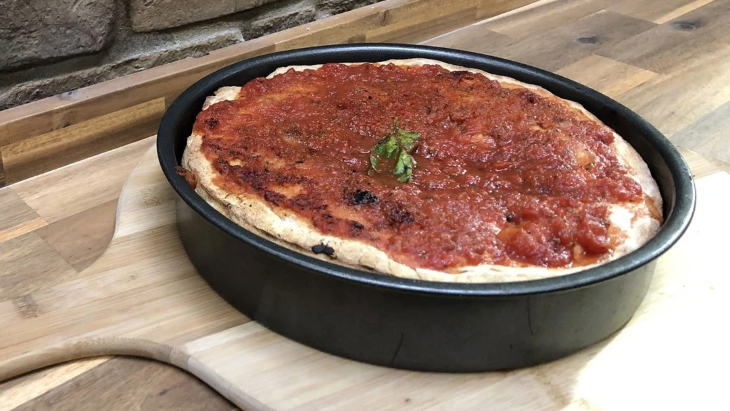 Forget about thin-sliced, deep-dish pizza ala Chicago is the way to eat your dough and cheese. Copious amounts of cheese and chunky tomato sauce is how Chicagoans eat their deep-dish pizza, and Mutz Pizza in Crows Nest serves their deep-dish pizzas with three types of cheese, Mutz sausage and plenty of sauce. They also make a wicked calzone.
Burgers

Betty's Burgers
If you want American-style burgers, you go to Betty's Burgers. The American-style burger joint first started in Noosa before spreading across the country and is now Australia's favourite American burger restaurant. The Betty's Classic burger is for all you American cheeseburger fans, and if you've got a hankering for fried chicken, they've got a burger for that too! With numerous locations across the city, it's always a good time for Betty's Burgers.
If you're missing your regular dose of In-N-Out Burger, Down N' Out Bar in the CBD is the next best thing. Serving remarkably similar burgers to the hugely popular American chain, Down N' Out Bar's double wagyu beef burger with cheese, pickles, onions, and tangy secret sauce will fill the spot time and time again.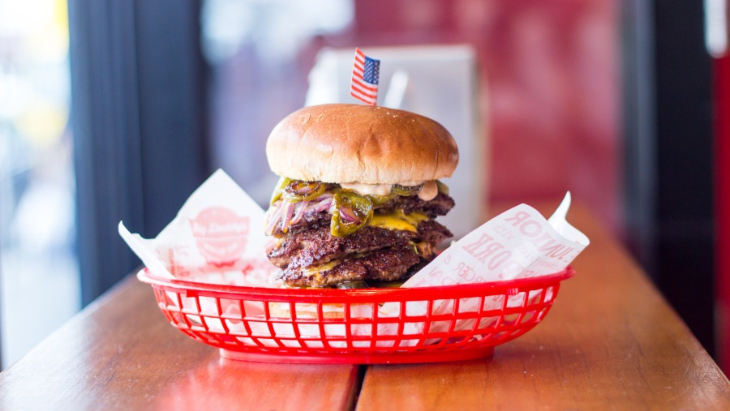 Big Daddy's Burger Bar
For a wide selection of your favourite American-style fast foods including all-American burgers, Big Daddy's Burger Bar in Newtown is about as American as it gets. The diner serves towering burgers, hot dogs, Philly cheesesteak subs, nachos, and even fried chicken with waffles!
Pretzels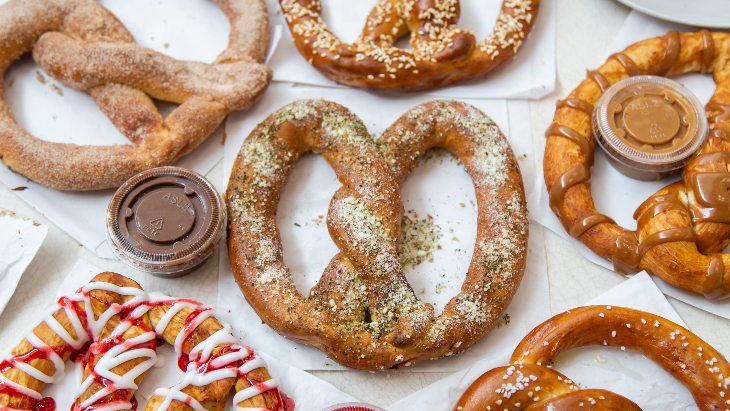 The German snack food is as popular in America as it is in its hometown and we can see why. Salted, buttered, sugared, chocolate-dipped – whichever way you like it, pretzels are always good. Pretzels have now become so popular in Australia, the worldwide chain, Mr Pretzels, decided to set up shop all over the city for you to satisfy your sweet or savoury tooth – Tim Tam and white chocolate pretzel, anyone?
Philly Cheesesteak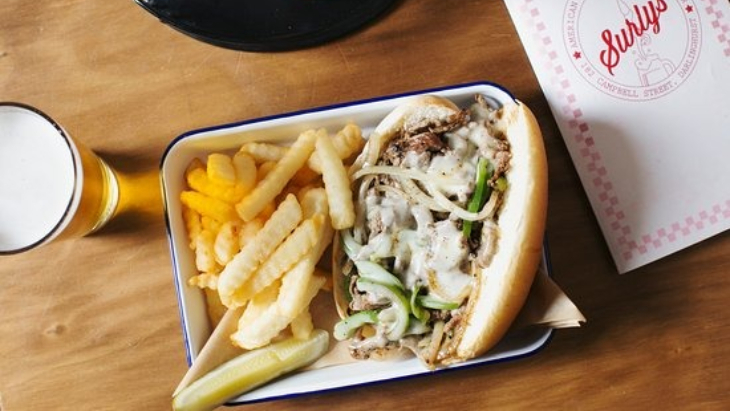 Surly's American Tavern
The Italian-style cheesy steak sub that hails from Philadelphia is serious business in the States and has now created somewhat of a stir in Australia. The iconic meat and cheese concoction is hard to come by in Sydney but luckily we've found two restaurants serving up the goods. Surly's American Tavern in Surry Hills pays tribute to the famous Philly Cheesesteak with their serving of a crunchy sub packed with succulent steak strips, green capsicum, and a generous serving of melted provolone cheese. Surly's also serve a wide variety of American barbecue and burgers.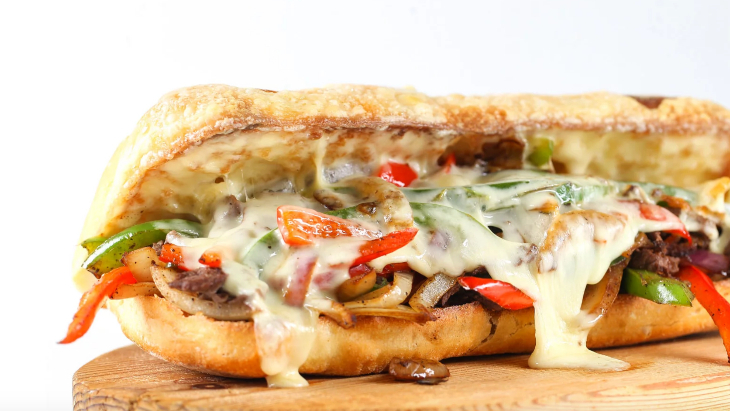 Philly Up
For a Philly cheesesteak on the run, Philly Up serves up the authentic meat and cheese recipe in Darlinghurst and Tempe. The fast-food joint has 7 varieties of the Philly cheesesteak on their menu plus hot dogs, ribs, and burgers, and the best part? They're open late!
Cinnamon Scrolls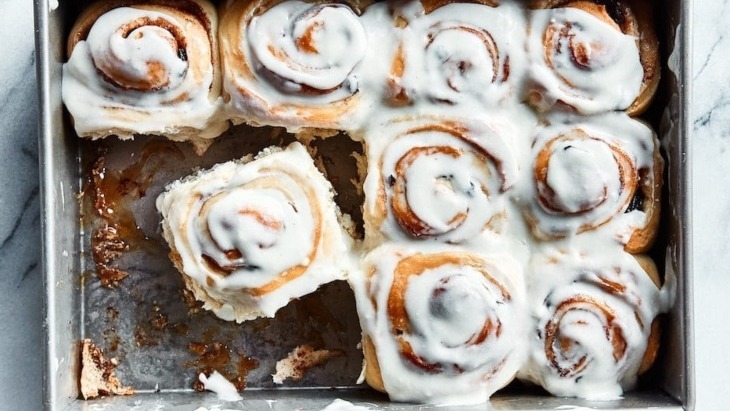 If you've got more of a sweet tooth than a savoury one, an American-style cinnamon scroll is calling your name. Hailing from Sweden and hugely popular in America, the cinnamon scroll craze is spreading in Sydney, with a number of cafes serving the delectable, melt-in-your mouth pastry. Oregano Bakery serves up 18 different flavours of cinnamon scrolls, while Sonoma Bakery has put their own citrus spin on the recipe, and Aunt Lil's in Burwood know how to make the glazed variety oh so well. After American cinnamon bun chain, Cinnabon, launched in Queensland in 2019, there's a very good chance we could be seeing Cinnabon pop up in Sydney – watch this space!
Bagels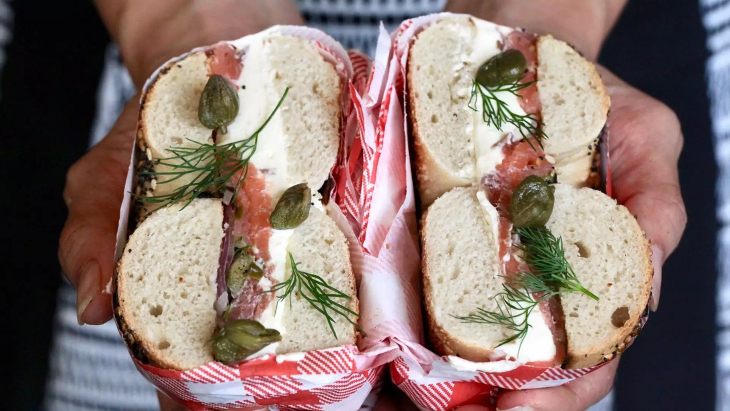 Brooklyn Boy Bagels
Plain, seeded, loaded with blueberries, or loaded with savoury meats – it's easy to see why Americans love their bagels. While we're yet to see an H&H Bagels open up in Sydney, there are several bagel joints that pay homage to the roll with the hole.
Brooklyn Boy Bagels hand-roll their delicious bagels in true New York style and are available from several cafes across Sydney - and they are now doing a drive-thru option for these quarantining times (7am-12pm in Marrickville). For crunchy bagels filled with halloumi and avocado, head to Coffee Tea And Me for a bite of savoury goodness in Redfern, Potts Point or Marrickville. Reuben Republic is another Marrickville bagel spot if you've got a hankering for pastrami and Swiss cheese, while Bondi's Lox Stock & Barrel is famous for their onion bagel.
Hot Dogs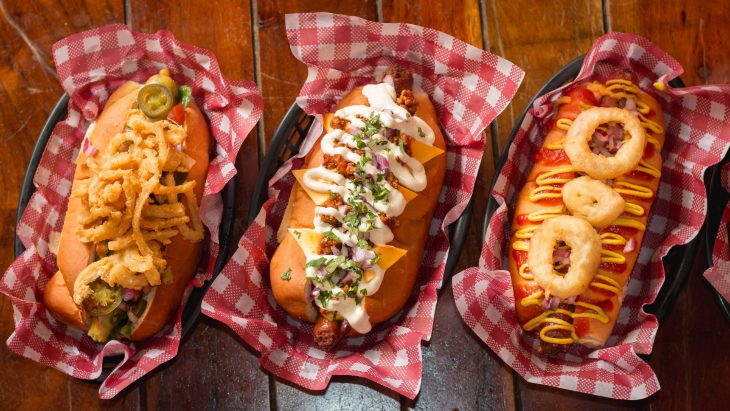 A list of the best American-style foods in Sydney isn't complete without adding hot dogs. If you've had the pleasure of tasting a New York-style hot dog with onions, cheese and all the trimmings, trust me, you'll want to try another one very soon. The Soda Factory in Surry Hills serves up 7 varieties of authentic hot dogs and every Tuesday night they have Dollar Dog Tuesdays where all hot dogs are just $1 from 5 pm! Please note: the Soda Factory is temporarily closed.
Other Cuisines To Try In Sydney
All You Can Eat Sushi In Sydney
Best Yum Cha In Sydney
Kids Cooking Classes In Sydney

Have you signed up to our newsletter? Join ellaslist to get the best family and kid-friendly events, venues, classes and things to do NEAR YOU!