Where to find Kid-Friendly Oktoberfest Fun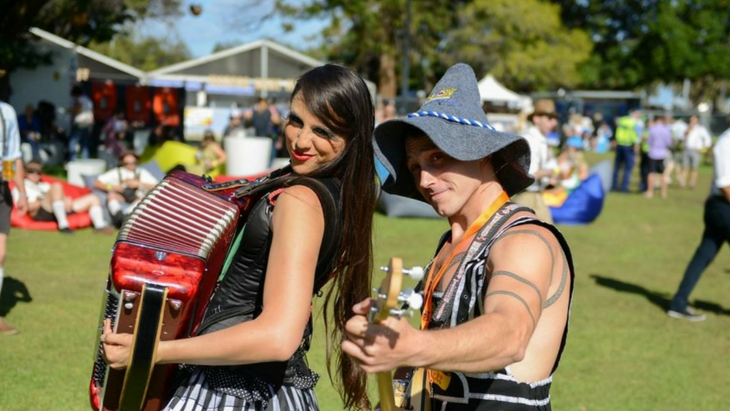 Sure, Oktoberfest is all about the beer, but that doesn't mean the kids can't have fun too!
Melbourne has a slew of events mirroring the original festivites, which run for 16 days throughout September and October in Germany, with plenty that include schnitzel, and are family-friendly to boot.
Oktoberfest in the Gardens
Australia's "biggest and best Oktoberfest celebration" is spending its seventh year across the country, including Melbourne, this October.
Inspired by a great love of the traditional Bavarian festival and traditional beer, Oktoberfest in the Gardens features two massive beer halls, authentic German food stalls, roving performers, sideshow alley, silent disco and an eclectic mix of entertainment and competitions across multiple stages throughout the afternoon and evening.
When: 2pm - 10pm, Saturday, 14 October
Where: Melbourne Showgrounds (entry Gate 1, Epsom Rd)
For more info and to book: Head to the website.
Munich Brauhaus
Kid's Oktoberfest is every Sunday at Munich Brauhaus between September 27 and October 17, where littl'uns can can get their faces painted for free, enjoy activity packs, and where they eat free all day long!
Tuck into all things pork, including schnitzels, sausages, pork belly & Munich Brauhaus's famous crispy pork knuckle, while the kids can fill up on the likes of crispy mac and cheese balls, classic cheeseburgers, the ubiquitous chicken schnitzel, "little brat" hot dogs, chicken wrap, grilled cheese sandwich and fries and wedges with "haus" made gelato for dessert!
When: September 27 to October 17, 2017
Where: 45 S Wharf Promenade, South Wharf
For more info and to book: Head to the website.
Hophaus Family Day
The very popular Hophaus is bringing the colour and excitement of Oktoberfest to families across Melbourne this year in their beautiful art deco building.
When: Sunday October 22
Where: Mid Level Southgate Restaurant & Shopping Precinct, Southbank
For more info and to book: Head to the website.
Beechworth Oktoberfest
Loosely based on the original Oktoberfest in Munich, attendees at the Beechworth Oktoberfest are encouraged to get kitted out in traditional Lederhosen or Dirndle and get festive at the 13th annual family-friendly weekend at Bridge Road Brewers.
As is tradition in Munich, Bridge Road Brewers also brew their own Marzen, or Oktoberfest beer, more than two months ahead of the event, so you're sure to get the full experience!
When: October 7 and 8
Where: 50 Ford St, Beechworth
For more info and to book: Head to the website.
Hofbrauhaus
"Das original und das beste" German restaurant in Melbourne has Oktoberfest on lock, as you'd imagine. But if you just want to go and get festive with some bratwust and bier as a family, you could head in for a proper meal, where the kids can dine on chicken schnitzel and chips, mini pork sausages and mashed potato, Bavarian mac and cheese, and each meal comes with a free ice-cream and topping for the smalls.
If you've got a hefty European appetite, you can check out the adults meals here - so much sausage, schnitzel, and sauerkraut await!
When: Opening hours are noon til midnight every day.
Where: 18-28 Market Ln, Melbourne
For more info and to book: Head to the website.
Cuckoo Restaurant
This fabulous restaurant not only takes its German beer super-seriously, but is keen for the whole family to celebrate Oktoberfest so have created some fun events like a Cuckoo Clock Building Challenge and a Build-Your-Own-Hotdogs for kids.
So you can experience family joviality on a grand scale, their grownup Oktoberfest challenges include best costume prizes, an pretzel-eating competition, and a traditional Bavarian floor show, because the fest is all about merriment!
Where: 508 Mount Dandenong Tourist Rd, Olinda
When: Pick any session Saturday or Sunday Lunch or Afternoon Tea on October 14 and 15.
For more info or to book: Head to the website.
Main image credit: Oktoberfest in the Gardens