Where to Celebrate Lunar New Year in Melbourne: The Year of the Pig!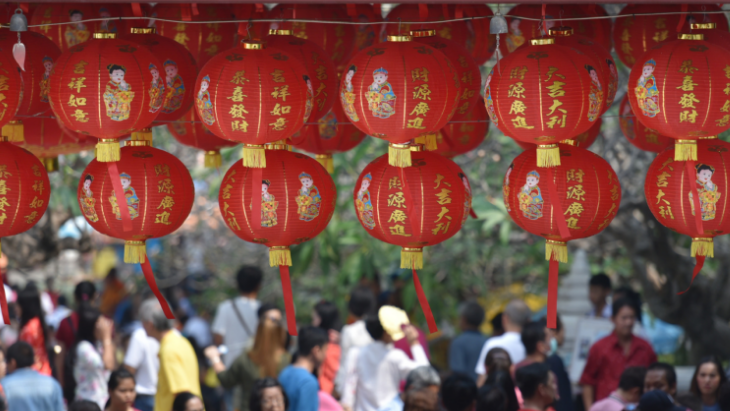 The 5th of Feburary marks Chinese New Year's Day, ushering in 2019's Year of the Pig, the most important cultural festival on the Chinese calendar. Celebrating a brand-new year with ancient traditions, rituals and ceremonies faithfully observed to bring new luck and good fortune for the future, it's a spectacular experience and great for kids.
The Pig is the 12th and final sign in the Chinese Zodiac, with those born under it considered happy, honest and brave. The last Year of the Pig was 2007, and the next won't be until 2031.
Melbourne, of course, rings in the new year in a colourful and cultural way with multiple Lunar New Year festivals across the city, and here are a handful of family-friendly options.
1. Box Hill
More than 80,000 people are expected to turn out on the Saturday before at Box Hill Central's huge annual Chinese New Year Festival. Fourteen hours of non-stop celebration filled with delicious food, wonderful music and spectacular entertainment, including the ever-popular Lion Dance at noon, and the incredible Parade of Choi Sun (Chinese God of Fortune) at 4pm.
Visit the giant Buddha statue to pray for good fortune throughout the coming year, shop at various market stalls filled with souvenirs and authentic Asian cuisine, catch the Chinese Oriental Performing Art Group and the fascinating crowd-weaving Dragon Dancers, and enjoy games, rides, firecracker displays among the music and performances.
When: 11am – 1pm, Saturday February 2, 2019
Where: Along Whitehorse Rd (main stage will be near Clisby Court) and Market St, Box Hill
For more information: See the City of Whitehorse website.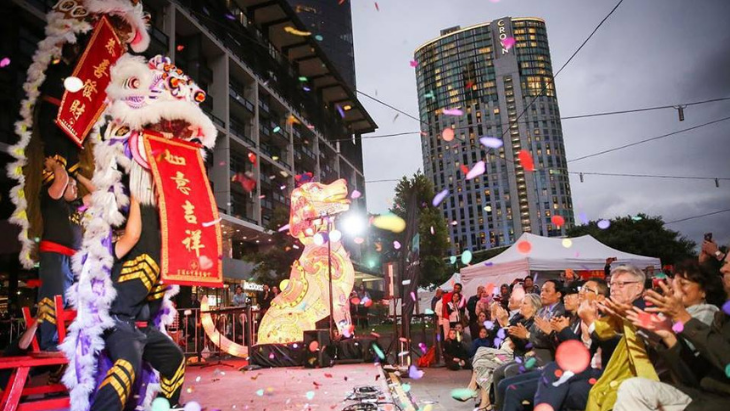 2. Chinese New Year Official Opening at Queenbridge Square
This family-friendly Yarra River event will be officially unveiled by the Lord Mayor of the City of Melbourne, beginning two weeks of celebrations around Melbourne.
Setting the scene will be a range of cultural activities and performances, including a live cooking demonstration from Masterchef winner Diana Chan, Cultural Kaleidoscope program events including Chinese chess competitions, gods of Fortune photo opportunities, Chinese drum practice, traditional calligraphy art, performances, demonstrations and much more.
Kids and families are invited to partake in a series of workshops from singing to playing instruments, as well as enjoy a magic show and live music.
The final send-off will be the fantastic Lion dance ceremony from 8 -9.30pm to officially get the party started.
When: 11am - 10pm, February 2, 2019
Where: Queenbridge Square, 3 Queenbridge St, Southbank
For more information: Chinese New Year Melbourne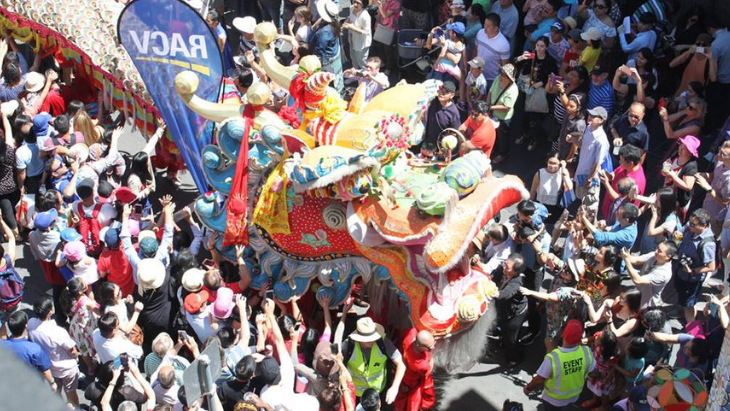 3. Chinatown New Year Dragons Awakening Ceremony
The dragon will awaken in Chinatown this year in a fiery display throughout the streets of the CBD, starting from Little Bourke St.
Traditional folk music will provide a backdrop was you watch the display of martial artists, dancers and performers, indulge in celebratory Chinese food, and watch the spectacle unfold.
When: 10am - 10pm Sunday 10 February 2019
Where: Little Bourke Street
For more information: chinesenewyear.com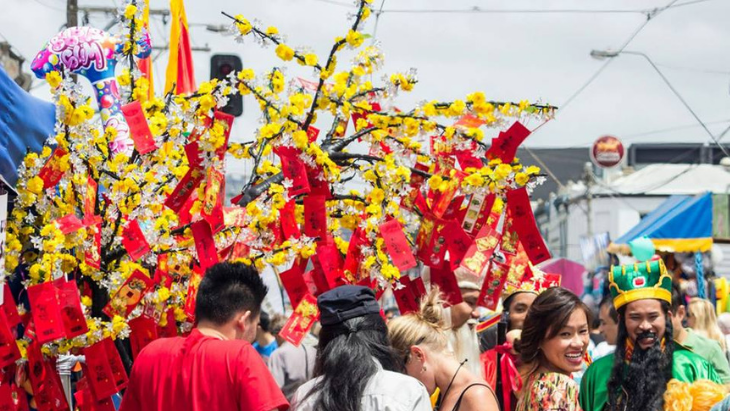 4. Victoria Street Lunar Festival
If you've ever wanted to see how much pho you can eat in one sitting, why not enter the pho eating competition at this year's Victoria Street Lunar Festival? The cash prize is $1000, and is part of the Chinese-Vietnamese new year celebrations in Richmond.
The Lion Dance and firecrackers can be seen at 1pm, 4pm, 5pm and 10pm, shop and eat at any of the 100+ market stalls and eateries, and enjoy carnival rides, games, activities, bubbles, face-painting, flower walls, art creation stations and a magic show before the ultimate finale.
When: Noon - 11pm, February 20, 2019
Where: Victoria St, Richmond
For more information: Check out the Victoria Street website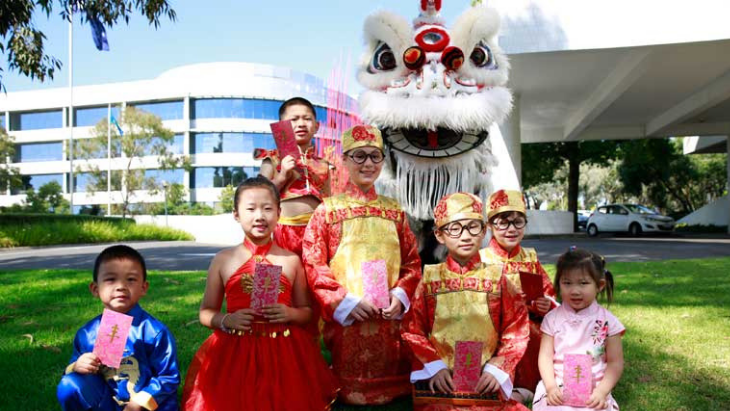 5. Glen Waverley Chinese New Year and Lantern Festival
Celebrate the Year of the Pig at Glen Waverley's community festival, which is a feast of colour, music and food.
This year will be a celebration of the traditional Chinese Lunar New Year and will include outdoor stalls of food and merchandise, entertainment and cultural activities.
Traditional Chinese lion and dragon dance performances are a highlight with the spectacular lion dance on poles delighting all ages.
When: 11am - 9pm, 17th February, 2019
Where: Kingsway, Glen Waverley
For more information: See the City of Monash website.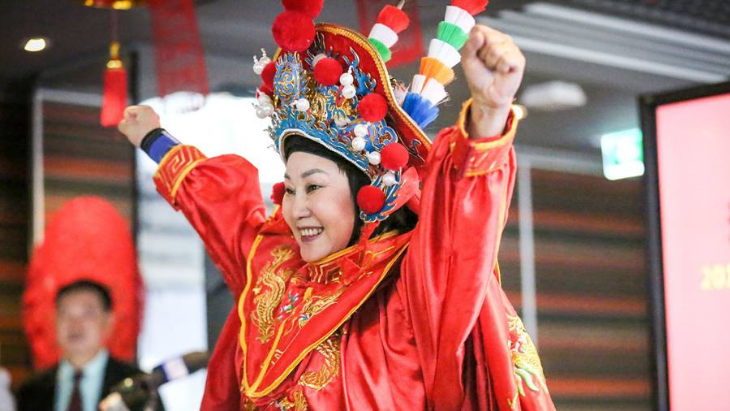 6. Preston and Central Market Lunar New Year
Celebrate Lunar New Year at Preston Market and High Street, Preston, where you will njoy Asian inspired food stallholders, free activities, and live entertainment!
For more than 10 years, Preston Market has celebrated Lunar New Year as a way to connect with the Asian community with an action-packed program of performances and activities along High Street.
The fun includes face painting, Mu Jiang Chinese Games, and a calligraphy workshop in addition to street food, blessings, dances and Tai Chi demonstrations.
When: 9am - 3pm, Saturday 9th February 2019
Where: Preston Market, 30 The Centreway, Preston
For more information: prestionmarket.com