What to do in Melbourne: Walks with Kids Aged 0-5 and 6+
Mums & Bubs
Toddlers
Preschoolers
Kids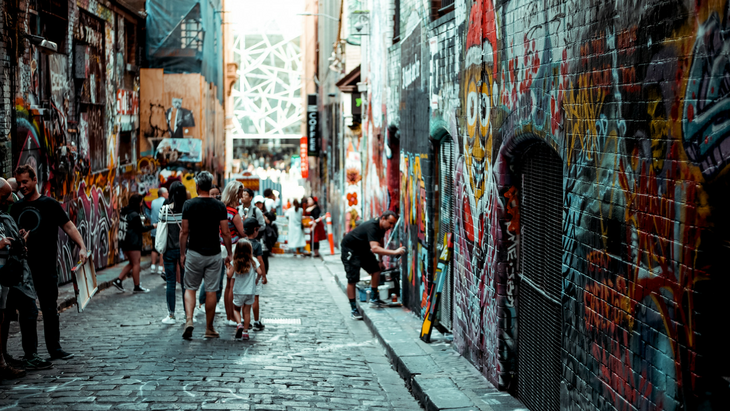 Kids needing a good outdoor explore these holidays? Are they climing the walls and driving you nuts? Glued to their devices, unaware of the abundance of nature around them? You're not alone - but therd is a remedy! Get them outside and amongst the wildlife with these amazing walks around Melbourne for everyone from pram-bound babes to the more adventurous older child.
Grab a map and get some sturdy shoes, these walks are an awesome place to start:
1. Warrandyte State Park
The closest state park to Melbourne is a fantastic spot to start the kids off with bushwalking - it's a real taste of nature but with short tracks and flat ground. Kids from about 2/3 years of age and onwards will find it fairly easy-going.
The tracks wander around and along the Yarra River through the Warrandyte Gorge. It's secluded, shady and full of Red Box foliage, koalas, kangaroos, and other wildlife, which is a lot of fun to spot!
You can also take dogs on leads and there are plenty of places to stop and have a mid-walk picnic of cup of tea for sustenance. Ample parking, too.
Find it on Pound Bend Rd, Warrandyte.
2. The Merri Trail
Popular among northerners, the Merri Creek Trail winds for 21km from Fitzroy to Coburg, along wide, flat, and even pathways. Take your pick of the trail and wander past Coburg Lake Reserve, the Brunswick Velodrome and CERES Community Environment Park on your creekside amble.
The path is suitable for prams and is classified as 'easy', so it can be tackled by all ages. Wildlife spotting includes tortoises in the water and marine and bird life. Most of the trail is lush and green and feels a world away from the busy city it cleaves.
Start and stop at any point, as the path meets Clifton Hill and Rushall train stations as well as St Georges Road, Nicholson Street and Sydney Road trams. There is also plenty of parking along the trail in residential streets and by playgrounds and parks.
You can find on the Moreland Council website the Merri Creek Trail Map to download of entry and exit points as well as places of interest along the route.
3. Albert Park Lake Loop
This 5km track is home to plenty of mums and bubs in prams on any given day, and kids on scooters and small bikes - it's a beautiful spot circumnavigating the Albert Park Lake, and is surrounded by greenery and wildlife (it is home with the Melbourne city skyline in the background.
The path is wide and flat right the way round, which makes for an enjoyable stroll, but it is in close proximity to the lake which can be a concern for parents of fearless children!
Find it (and parking) at Lakeside Drive, Albert Park.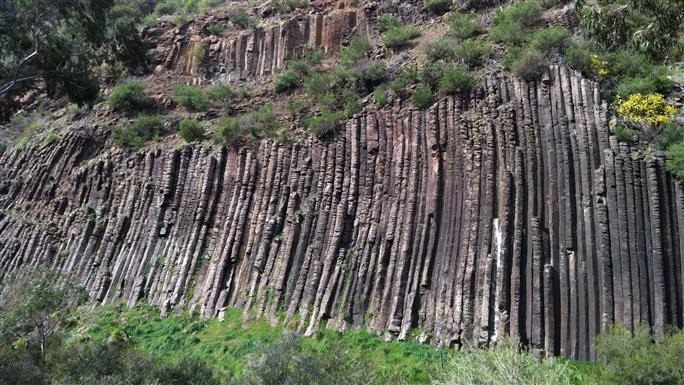 4. Organ Pipes National Park Track
A set of basalt columns formed by the cooling and cracking of molten lava is the backdrop to the Organ Pipes Track, which is a combination of sealed, hard-packed gravel and tesselated pavement (the tops of basalt columns "filed down" by Jacksons Creek) pathways, some of which are quite steep. More suited to older or more walk-experienced children. It's fantastic for the nature and history lover, as it's filled with a vast array of ancient features.
Start at the Visitor Information Centre and follow the walking track past the many sights to see along the park. Take in the basalt Keilor Plains (one of the world's largest lava flows), native trees and shrubs, the organ pipes themselves, fossils and sandstone bedrock along the creek (said to be formed 400 million years ago), and Rosette Rock, a radial array of basalt columns like the spokes of a wheel.
The park has a ClimateWatch Trail, where, while on your walk you can contribute to scientific understanding of how climate change is affecting Australia's wildlife.
Open daily 8.30am to 4.30pm, Organ Pipes Rd, Keilor North. Park on an actual volcano - the carpark itself is situated on an eroded scoria cone – a small volcano that ejected molten volcanic rock called scoria, a reddish-brown, aerated form of hardened lava.
5. Royal Botanic Gardens Cranbourne
Take a stroll around the Wylies Creek Track through the Royal Botanic Gardens in Cranbourne, and you will see our diverse flora and fauna that seems especially concentrated in Victoria.
Start at the carpark and walk to the Visitor Centre through to the Red Sand Garden, Rockpool Waterway, Waterhole bridge and onwards. Older kids and the enthusiastic can hike to the top of Gibson Hill, and back down through immaculately presented gardens showcasing our incredible plant life.
The walk usually takes about an hour, and is suitable for most ages and stages. Plenty of picnic spots around, and information centres/kiosks. Stop at the Trig lookout and see all the way to the Mornington Peninsula and Westernport Bay.
Enter via cnr Ballarto Road and Botanic Drive, Cranbourne.
6. Brimbank Park Nature Trail
This intermediate-level trail features sealed and gravel paths looping and winding around the "brim of the bank" of the Maribyrnon River.
The 3.72km walk is a picturesque venture, beginning and ending at the Parks Office. Over bridges and through the diverse environment, your're sure to see both land and water native animals. You can stop at any of the picnic areas, or even for a play at the Brimbank Park Playscape, featuring The giant 'Bunjil the Creator' nest for children to climb, Waa's Message maze with many elements to discover, a 'build-your-own' cubby house structure, and beautiful artwork and sculptures telling the stories of the area.
Dogs are allowed on a lead.
The park is accessible along he Calder Freeway, taking the Keilor Park Drive exit. The gates open at 8:30am daily and close at 5pm (or 8pm during daylight savings).
Looking for more? We've got great places to go bushwalking with kids and six of the best pram walks with kids - check them out!