What Is The Unplug and Play Initiative? WIN With Hasbro Gaming
What Is The Unplug and Play Initiative? WIN With Hasbro Gaming
Pregnancy
Mums & Bubs
Toddlers
Preschoolers
Kids
Teens
Family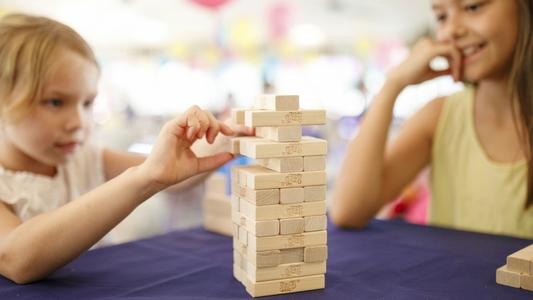 The Unplug & Play Challenge
Let's try and think of screen time the way we think of food - everything in moderation. Creating a healthy balance is key. Try a screen-free Sunday, hop in the car and explore a new location, or dust off an old board game one night a week and start a new family tradition. Give your kids the ultimate present – your time.
Join us - by taking the challenge. It can be as simple as one hour a week. You'll find fresh ideas each week at ellaslist.com.au/unplugandplay including a range of fun things to do with kids of all ages.
Take The Unplug & Play Challenge And WIN!
We want to see you unplugging and playing. Upload a pic of you and the kids engaging in some screen-free fun (it could be anything from board games to bushwalking) and you could win a family holiday thanks to our good friends at BIG4.
WIN: Two free nights in a cabin at any BIG4 Holiday Park around Australia for two adults and two children in a fully self-contained cabin. Subject to your standard T&Cs*.
Use the hashtag #ellaslistunplugandplay on Instagram and we'll pick a winner each month. We also have some awesome runners-up prizes to give away too.
Are you up for the challenge??
Check out our launch party to kick off Unplug & Play:
What Os The Unplug & Play Initiative?
On the afternoon of Earth Hour (March 30, 2019) ellaslist launched Unplug & Play, a brand new initiative which aims to inspire families to create a little more unplugged time in our busy 24/7 digitally connected lives.
We're not asking you to throw away your phones – some of us depend on them for work (and most of us need them for our own sanity) - what we're challenging you do is to free yourselves from emails, pings and notifications for just a few hours each week and simply play with your kids. You'll be giving your kids what they love most - your uninterrupted time.
We know, you're time poor, we get it. The time famine is real! We're all working harder than ever, juggling multiple responsibilities and like the on-point Dr Seuss says, "How did it get so late so soon? It's night before its afternoon. December is here before its June."

*T&Cs:
Two (2) free nights in a cabin at any BIG4 Holiday Park around Australia; Accommodation for two (2) adults and two (2) children in a fully self-contained cabin; Subject to availability at individual parks; Not available during Christmas, school holidays, long weekends, or peak seasons; Voucher valid for one year after date of issue; Voucher is not transferable or to be exchanged as cash; BIG4 Membership Status Credits will not apply when using this voucher; Not to be used with any other discounts or special offers; Voucher valid for a single stay only, cannot be used at multiple parks; Cannot be used at BIG4.com.au Affiliate parks.