What Dreams Are Made Of: Unicorn Hot Chocolate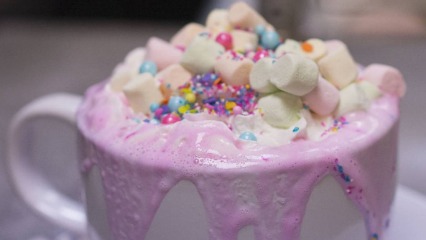 By: Phoebe Ackland, ellaslist
Check out the latest food craze taking Instagram by storm- trust us, this one's truly magical! The Unicorn Hot Chocolate was first created by Crème & Sugar in Anaheim, California, according to the Huffington Post. It looks like a pastel explosion of joy and cuteness, that's easy on the lips, too. Look at some of the heavenly pictures people are going crazy over:



Unicorns are the stuff of little girl's dreams, and Crème & Sugar have gotten right on that bandwagon with a 'secret menu' that is totally unicorn-themed including rainbow cakes, creamy milkshakes piled high with whipped cream and other sweet treats. We know where we will be taking our kids the next time we visit the USA.

The Perfect Afternoon Treat
Can't quite make it to California? Check out the awesome recipe by
Delish
that you can try at home to give little ones a magical afternoon surprise.
[caption id="attachment_116175" align="aligncenter" width="750"]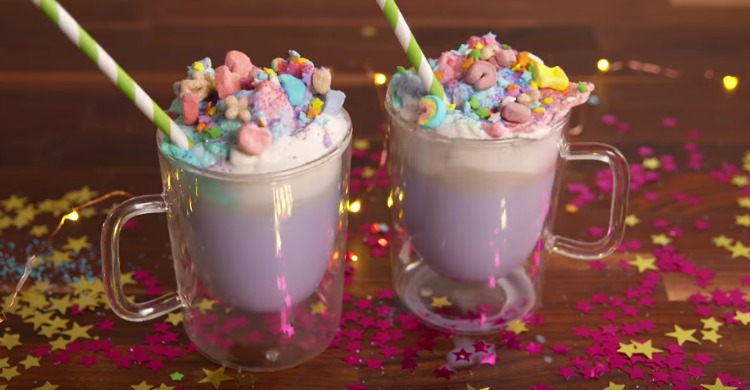 Source: Delish[/caption]
What You'll Need



2 cups heavy cream


1 tablespoon. sugar


2 drops pink food colouring


2 drops blue food colouring


1 teaspoon vanilla extract


225g white chocolate


2 tablespoons Pink sanding sugar


2 tablespoons Blue sanding sugar


Lucky Charms (since we're in Australia, maybe substitute for Fruit Loops or something similar)


Rainbow sprinkles
Here's What To Do
1. Make rainbow swirl whipped cream: Beat heavy cream and sugar until soft peaks form, for about 2-3 minutes. Divide whipped cream into four bowls. Stir 2-3 drops of pink food colouring into one, creating pink whipped cream. Stir 2-3 drops blue food colouring into another, creating blue whipped cream. Combine 2 drops blue and 2 drops pink into the third bowl, creating purple whipped cream. Leave fourth bowl with regular whipped cream. Set aside.
2. Make Unicorn Hot Chocolate: In a large saucepan, combine milk, vanilla, and white chocolate over medium-low heat, stirring occasionally. Once dissolved, stir in sanding sugar, adjusting amounts until you get the shade of purple you want. Pour into mugs.
3. Decorate: Top with dollops of each color whipped cream, using a spoon to swirl it. Top each drink with Lucky Charms and sprinkles.
Thanks again to Delish for putting this magic in our cups.