We❜ve Found A Kid-Friendly Cafe That Covers All The Bases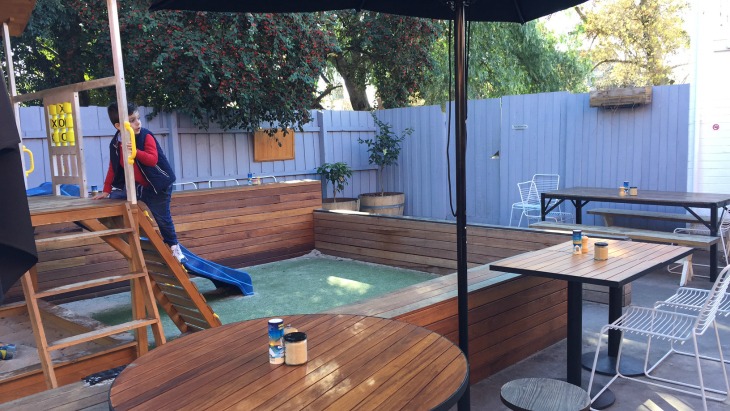 By: Natalie Roach, ellaslist explorer
This café has hit the jackpot, catering for all. It is trendy and spacious with a great atmosphere, and can be divided into three awesome areas:
the inside dining area which is much quieter and warmer in winter
if you'd like some fresh air it has a timbered off outdoor/indoor area which is attached to the main dining area
the outdoor dining area with a bonus cubby house and play area.
Why wouldn't you stop at Leroy's Cafe, Newport with all of these options?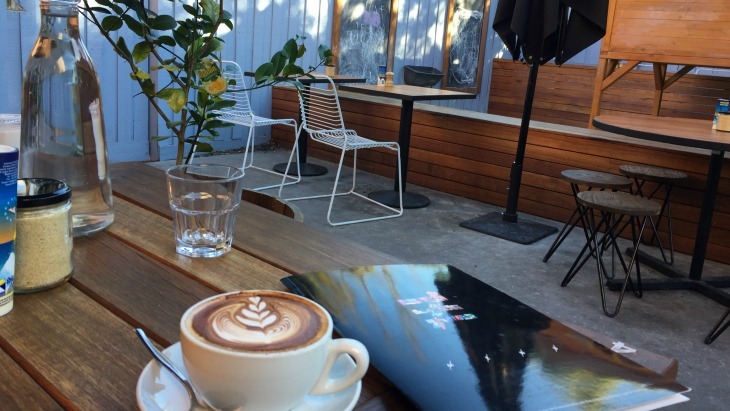 The Menu
Leroy's has a great menu that is tantalising and filled with local produce. It's hard to decide between an option on the all-day breakfast menu or a burger, a salad or delicious scones with jam and cream or a dessert. Leroy's is licenced so if you need a wine the option is there for a drink in the sun while the kids play.
What was most impressive were the options for kids with both breakfast and lunch items to choose from. Kids even have their own section on the drinks menu! For those who are particular about their coffee, there is an option to buy take-home beans by the gram. There are other things to purchase like house-made jams and sauces.
Recommendations: the kid's nuggets and chips were very filling and great portion sizes leaving even a few for the adults to try. The LFC burger was sensational, the buttermilk chicken was very tender and the chilli was just enough without being overbearing and too hot, again very filling and no need to order any more. The coffee and milkshakes are also excellent and were brought out in lightning speed. We'll definitely be back for another feed.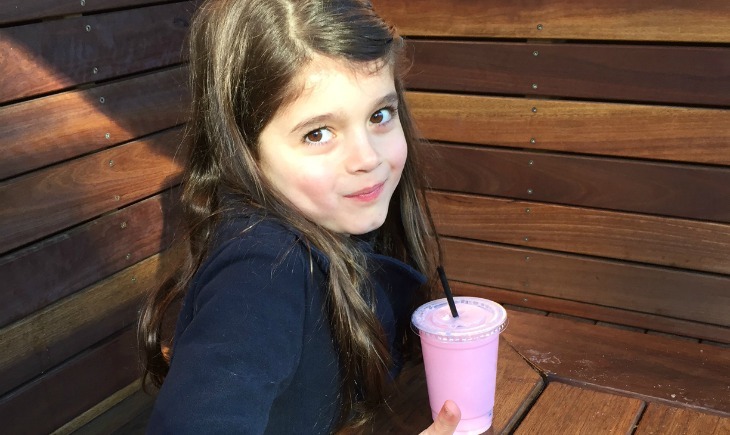 The Play Area
What parent doesn't what a coffee in peace? Well, this place allows you to do that with a great play area with unobstructed views of your children playing, seating close by so you can easily talk to your children while they are playing making there be no need for yelling to your child to come and eat. The playground has a cubby house, sandpit, chalkboards, slide and fake grassed area for the kids to run and play around. There are a lot of sun umbrellas providing lots of shade when it is sunny.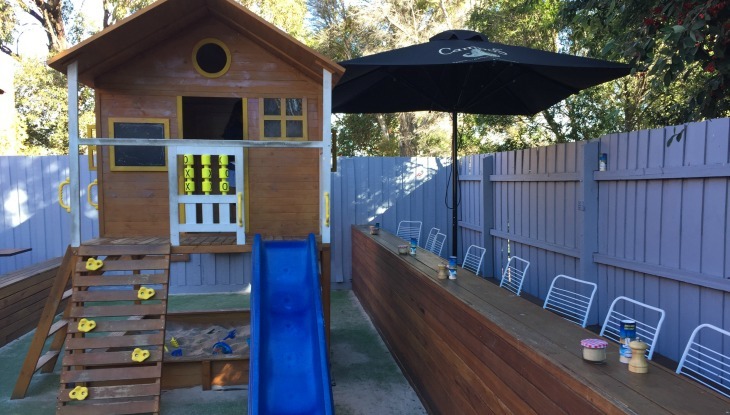 My kids loved drawing on the blackboards and running around playing chasie with some new found friends at the café.
What makes this café even better is that right next door is a council run park so if the kids are up for another play when you're finished, you don't need to go far.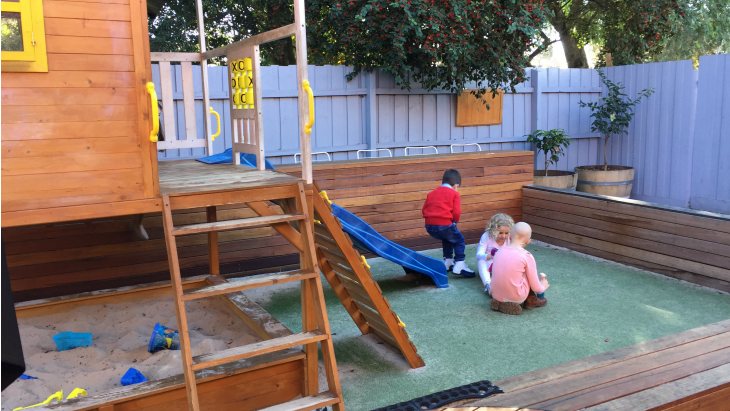 The Service
The service is lightning quick with drinks bought out with minutes and food brought out promptly with kids fed first. Service staff are always around, they are polite and helpful when needed.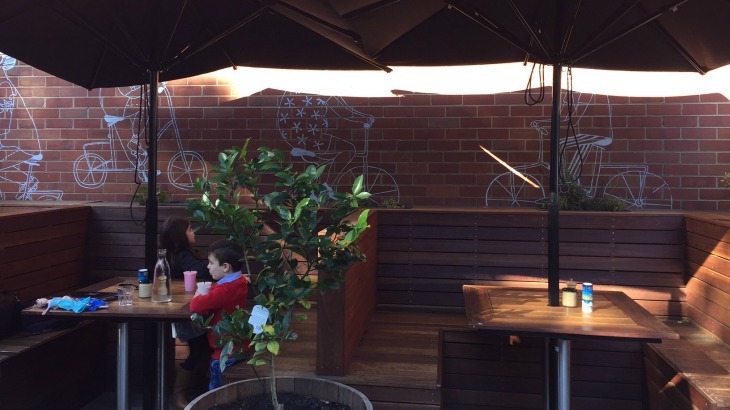 In a Nutshell
What makes the cafe kid-friendly? Leroy's has a gone the extra mile to make this café child-friendly with books to read, easy to access toilets, a cubby house and play area and many high chairs available. You can enjoy a chat with friends while the kids are entertained.
Atmosphere: Trendy and hip atmosphere, easy going and kid-friendly
The Food: Great options of all day breakfasts, burgers, salads, snacks and well-priced kids meals. Café is licenced making beer and wine available.
Value-for-Money? Portions are good sizes and filling for both adults and kids
Special features & Fun bits : 3 areas the inside café maybe if you'd like to go kid free, an outdoor area that is closed in and the yard which is more relaxed and has a cubby house, sand pit, play area and chalk boards.
Who is the cafe best suited for? The outside area is great for those with young children from 12months to 6. Inside is more suited to those without children.
What we loved: The set up outside is excellent for kids to feel relaxed and allow adults to have a coffee in peace. The food is also outstanding.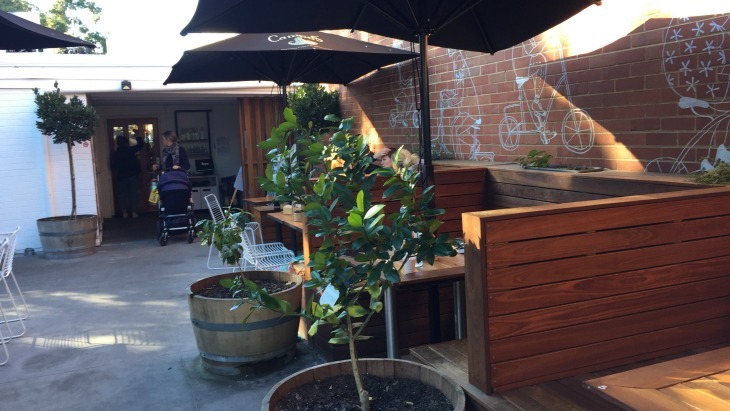 What You Need to Know
Opening Times
7am- 4pm Weekdays
7:30 – 4pm Weekends
Phone: 93994187
Address: 5 Mason Street, Newport
More Info: Visit the website