We Say Ahoy There To The New-Look Riverside Pirate Park In Aberfeldie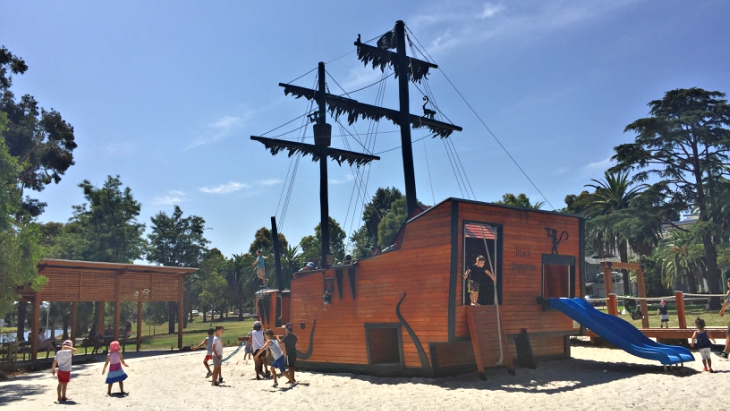 By: Natalie Roach, ellaslist
The Black Sapphire is open for play again and better than ever! Located along the Maribyrnong River and approximately 20 minutes from the CBD this Pirate Park makes a great family day out. It is situated on the quitter side of the Maribyrnong River close to Poyton's Nursery where you can grab a coffee.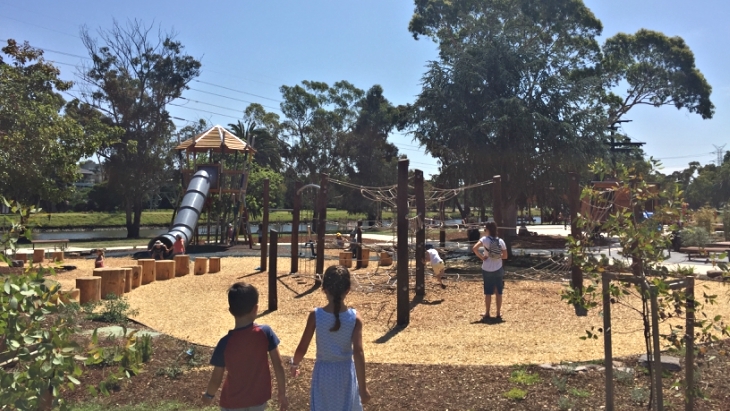 The Pirate Ship is untouched and still the main feature of the playground with Captain's quarters to chat in, bells to ring, a wheel to turn and my favourite a plank to walk. The ship sits in a huge sand pit for kids to jump and play in so bring a bucket and spade for extra fun. It is a great place for kids to do a bit of role playing so bring an eye patch for extra fun. There are lots of seats or places to put a rug to sit and watch your children play.
What's New?
You'll find a new set of swings which is situated next to the pirate ship. It includes a toddler and all abilities harness and seemed to be lots of fun with many kids waiting their turn when we were there. On the other side of the playground is a new climbing frame with lots of different ropes and nets to climb along and manoeuvre through this was lots of new fun for my kids who were up for a challenge. A swinging bed, logs to climb along and an enclosed slide which you can climb the ladders or nets to get up are all new additions.
Make A Day Of It
This park has new BBQ facilities and clean updated toilets to make family days out even easier. There is parking along The Boulevard or in the carpark next to the playground. There are ample grassed areas for picnics and room to play a bit of cricket or kick a footy. If your kids love to scoot or ride this location is great as there is a path next to the Riverside Park which you can ride along the river.
The updated park was a hit with my kids and we will be back soon for another play.
Don't miss the official re-opening of the park on 8th February 10am-12:30pm. There will be activities and entertainment plus coffee and fruit supplied by local businesses.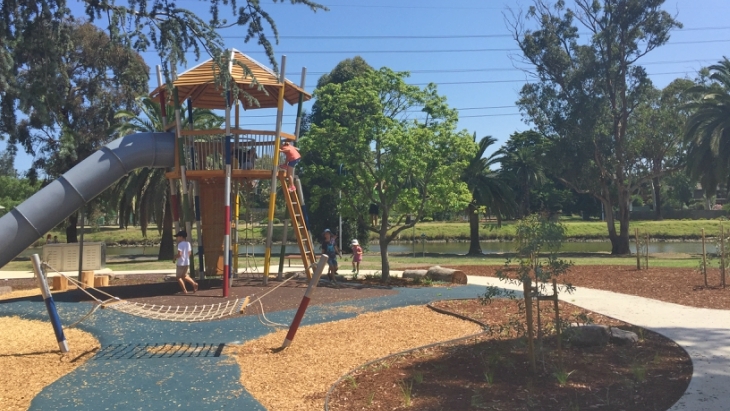 In a Nutshell
Nearest cafe: The Boulevard Café at Poynton's Nursery, Cnr Vida Street & The Boulevard Essendon.
Toilets: 2 public toilets are located on the opposite side of the carpark to the playground.
Shade: There are a few undercover areas with seating and BBQ's plus quite a few big trees around to put a picnic blanket underneath.
Parking: Street parking is available for free and a small carpark next to the park.
Best feature: The pirate ship is the main feature of this playground, where kids can role play being the captain, hang out in the Captain's quarters or play in the sand.
Tips: It can be difficult to see your children if they are in the pirate ship or on the opposite side to you. The river is close by and it isn't fenced off but there is quite some distance between the playground and the river.
Location: The Boulevard, Aberfeldie.