We Met Santa At Sydney❜s Highest Grotto: Sydney Tower Eye
Family
Mums & Bubs
Toddlers
Preschoolers
Kids
Teens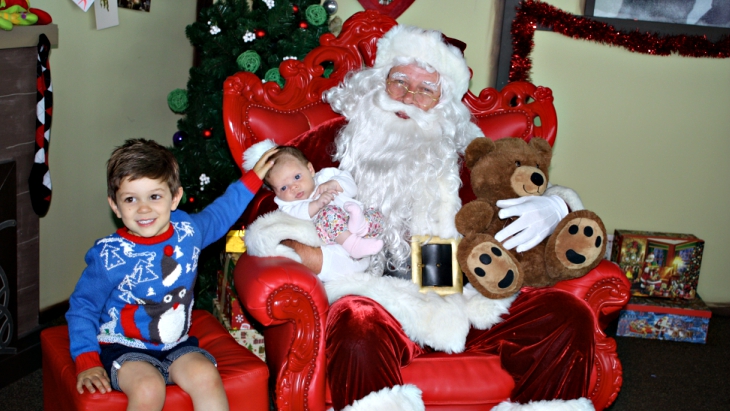 By: Alex Harmon, ellaslist
Tis the season for playing Christmas carols in the car, finding tinsel in everything, eating mince pies at any given time - and threatening your kids with the omnipresent Santa! That's right, it's "Santa's watching" time - and he's alwaaaaaaaaaaays watching. My son is three but this feels like my first "real" Christmas - everything has new meaning, and it's mostly delightful. But when it isn't, all I have to do is look to the sky and threaten that the big man in red might take away his toys. So when I heard about Santa's highest grotto, 250 metres above the ground, I thought, there is no better place in Sydney for my son (and his 7 week old sister) to have their first official meeting with the jolly Saint Nick.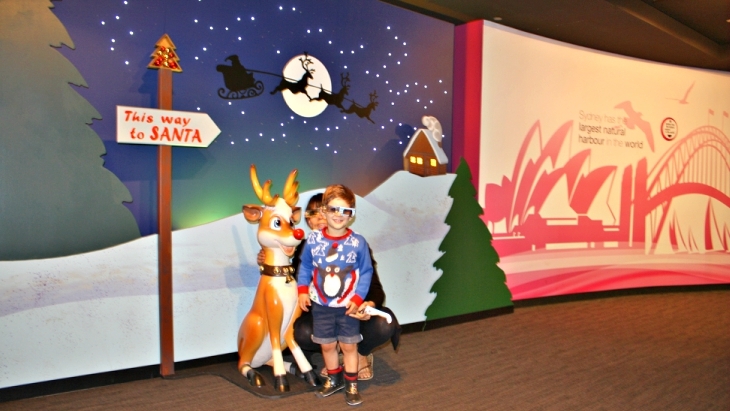 On A Christmas High
The Observation Deck at the Sydney Tower Eye (Centrepoint Tower to those of us who grew up in Sydney!) has been transformed into a Christmas wonderland in the sky. As soon as we got into the car and made our way onto King Street Newtown we could see the Tower glistening away in the distance, the red Westfield sign looking like a big festive decoration in my son's eyes. Seeing this huge tower in the sky added to the excitement of the journey, even when it hid behind the buildings it added to the anticipation. Walking up to Pitt Street Mall where we entered Sydney Tower Eye, the excitement was palpable. My son, who is obsessed with Spiderman told me that he would climb the pole of the tower to get to Santa... although I think he was quietly relieved when we told him we'd take the super fast lift.
But First, A Film
After getting our tickets (kids under 4 are free) we were ushered into the 4D cinema to watch a short film about Sydney. There were squeals of excitement for the surfing, sailing and sharks and the vibrating floor and bubbles in the air added to the fun. After that it was finally time to see Santa. We took the high speed lift all the way to the top and scurried past the tourists taking pictures of the city to find him. He was sitting with the best views in the house, overlooking the Harbour Bridge and Opera House. And the best view for us parents? There were no lines to see Santa!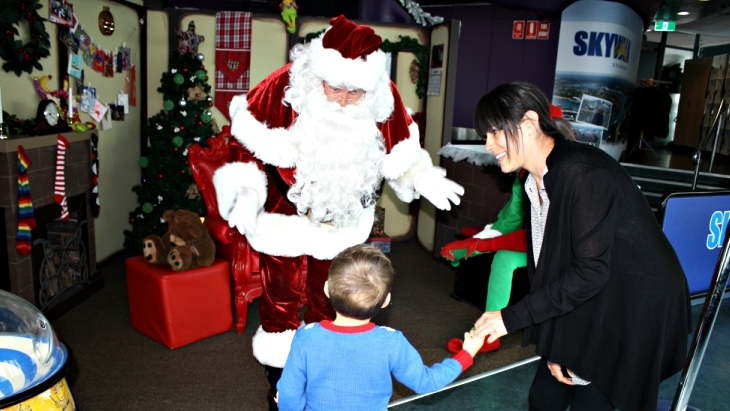 We got the VIP treatment by Santa and his friendly Elf and my son told Santa about all the Spiderman themed items he wants. Like most kids, he is still a little wary of anyone with that much facial hair, but was happy to sit on the little stool beside him for a photo. The festive grotto is complete with a fireplace, music, Christmas tree and Santa's highest postbox for sending those wish-lists in. I thought this was pretty cool, but alas we had forgotten my son's letter!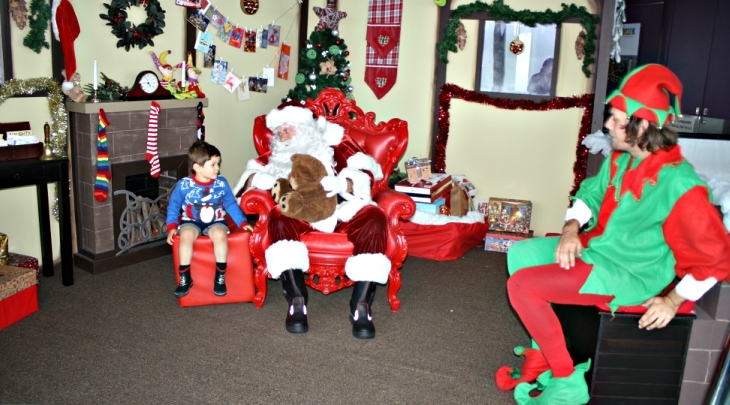 Free Photos For All
As part of the admission price, families get a free photo with Santa on their visit. The photos are emailed to you so they can be easily shared amongst family or posted to social media. Or you can snap your own photos on your phone like I did.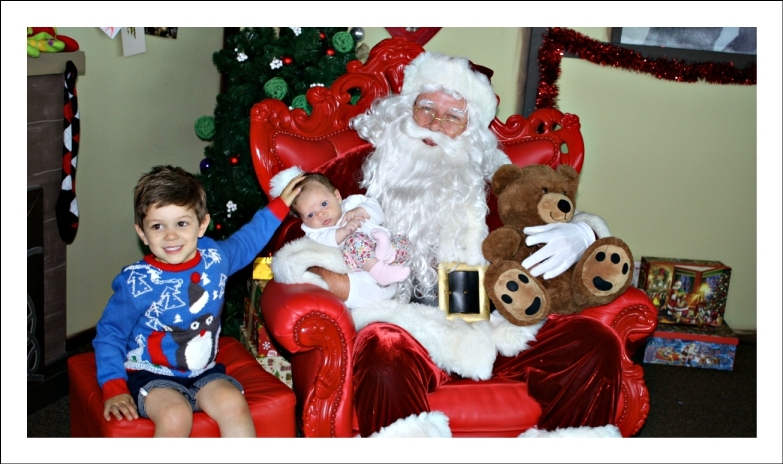 While You're Up There...
Santa's visit might be quick, for those who are a little wary anyway, but then you have the chance to do what Sydney Tower Eye does best - offering you the best views in the city. Even though it was a grey, rainy day, it didn't take away from the view. My son loved picking out the icons he knew and spotting cool things like cranes and construction. There's also binoculars to use and lots of great vantage points for taking family photos.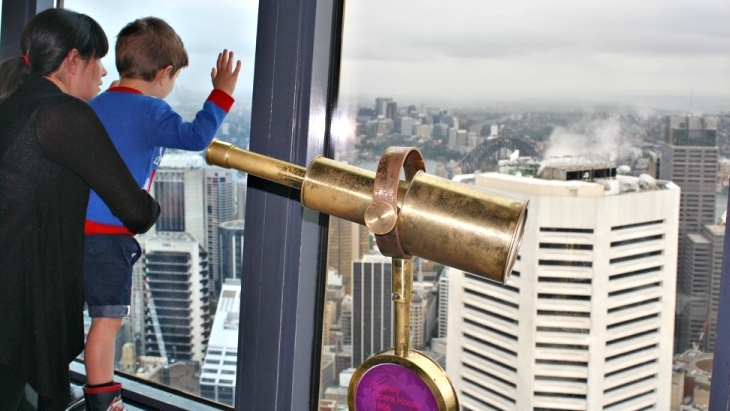 If you're looking for a Santa experience that offers more than your local shopping centre, this is the place. I would highly recommend it to people that have just arrived in Sydney and want to get a bird's eye view of the city. Or people like us who have family overseas. Our family in England loved seeing the shots of us high up in the sky - even on a grey rainy day.... I mean, you can't get more Christmas in London than that!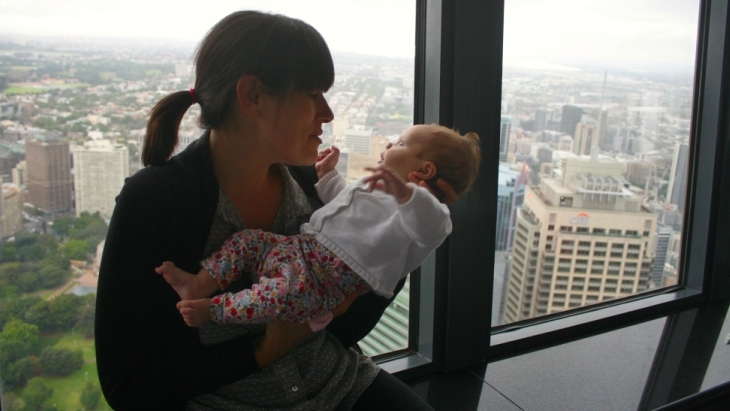 Give Me The Details
Where: Sydney Tower Eye, Westfield Shopping Centre, Cnr Pitt Street & Market Street, Sydney
When: 1 - 23 December 2017; Monday - Friday 4-7pm; Weekends 11am-6pm, then 11am-6pm every day from 16 December
Cost: From $13.30 (Child), $19.60 (Adult)
For more information, visit the website or facebook page.