We Go Bananas At A Monkey Mania Kid's Birthday Party
Mums & Bubs
Toddlers
Preschoolers
Kids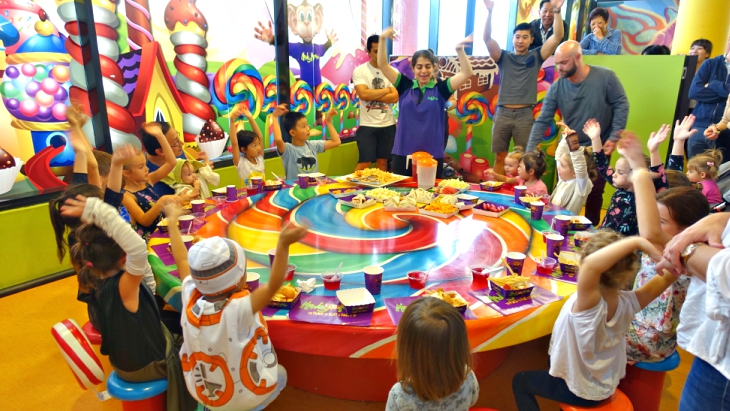 By: Samantha Teoh, ellaslist
Nothing beats the smile on your child's face when everything in their world at that moment is perfect. You want to capture it in a photograph (or two dozen), because the sweetness of it is euphoric. The team at Monkey Mania get this. We recently celebrated my niece's 4th birthday at the Bankstown centre in Sydney's west, and the experience was enchanting. I know, you're thinking "enchanting, really? C'mon, isn't it just another play centre?" Well yes, and no. As the saying goes, don't judge a book by its cover. While there's no denying it's a play centre, if you let the team host your child's next birthday party you'll soon find out it's so much more than that.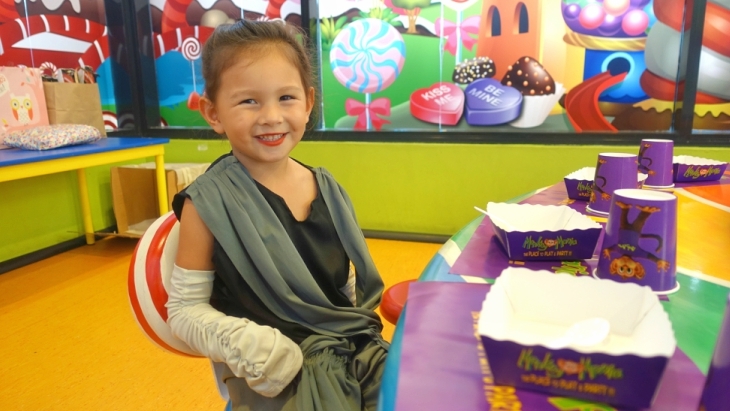 Hostess With The Mostess
We were blown away by our party host Clara and the extra mile she went to make sure our birthday girl had the best day ever. She greeted us on arrival, gave us a quick tour of the centre, kept us updated on the party 'run sheet', was open to our questions and flexible to special requests, and overall made sure the party ran like clockwork. But by far the best (and most unexpected) part - Clara also took the time to have a chat with our birthday girl before the party started.
Such a simple thing, right? I wouldn't have even thought it was necessary. But Monkey Mania do, and we totally get why. After their five minute chat, our 4-year-old birthday girl was beaming. She had been consulted with about her party and had a chance to give her two cents. The party hadn't even started yet, and she already felt like the most important person in the world - which is everything we want our kids to feel, especially on their birthday!
But that wasn't the only reason for the chat. Clara now knew our birthday girl's favourite games to play (including Simon Says and What's The Time Mr Wolf), which she incorporated into the party play.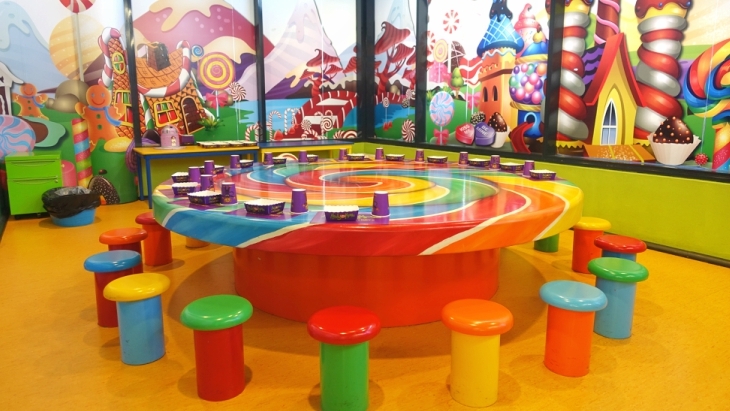 Yup, that's right, you heard me correctly. Monkey Mania hosts play with the kids! As soon as the kids got into the party room (we chose the Candyland themed room) Clara was serving up food and chatting away to all the kids. While they ate, she played some games which continued into the Disco Room (totally worth the add-on!). Parents can get involved, but, let's be real… we love the joy on our children's faces when we play with them, but it's pure bliss to sit back and watch someone else do it!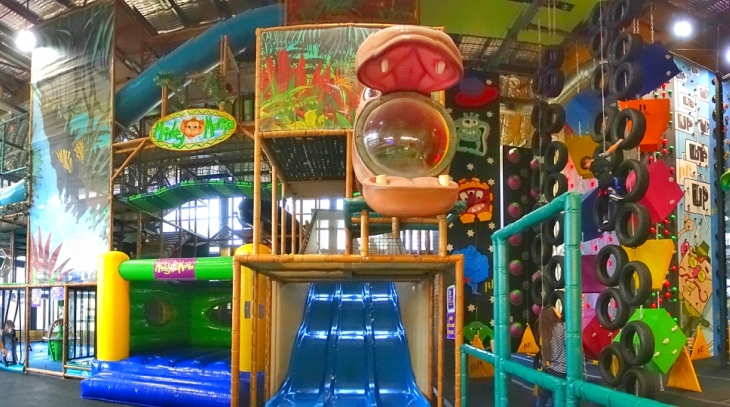 Happy Parents, Happy Birthday
Monkey Mania's whole party offering is designed to give parents the day-off and have the best (stress-free) day ever also. The list of all the best things is long...
They'll make an announcement when your party is starting to round up your guests in the play area, so you don't have to chase the kids up and down the slides!

They provide and prepare all food and drinks for the kids - it's fresh and ready to eat straight away (nothing worse than waiting for food with kids).

They provide a cute Monkey-theme digital invitation for your use.

Entry included for all party guests (including adults) for unlimited play all day.

Themed party rooms are not completely enclosed but have a 'low wall', so you can watch the fun (and take a million photos) without crowding up inside the room.

They can help provide the cake and party bags.

Free balloon for every child when they leave

Plenty of seating for adults, plus food AND COFFEE available at the cafe.

Easy parking at all venues - it was free at the Bankstown Sports Club!

And best of all… Monkey Mania take care of all the mess and party clean up. Basically, minimum fuss for maximum fun. Heaven.

Soft Play Jungle Where Dreams Are Made Of
Of course being a play centre, you expect it to have an awesome play area, and Monkey Mania don't disappoint. There's an instant wow factor as soon as we walked towards the entrance. The soft play jungle runs across one whole side of the centre, floor to ceiling. We were in awe of the jumping castle, giant slides and brand-new rock and tyre-climbing zone. And they cater for all ages - from a special soft play area for Under 3s to a super-charged arcade zone for bigger kids. Our party guests ranged from 18 months to 8-years-old, so everyone had a blast.
Thank you Monkey Mania for a truly enchanting birthday experience. My 3-year-old son keeps telling me, "let's have a party there again one day" and I couldn't agree more!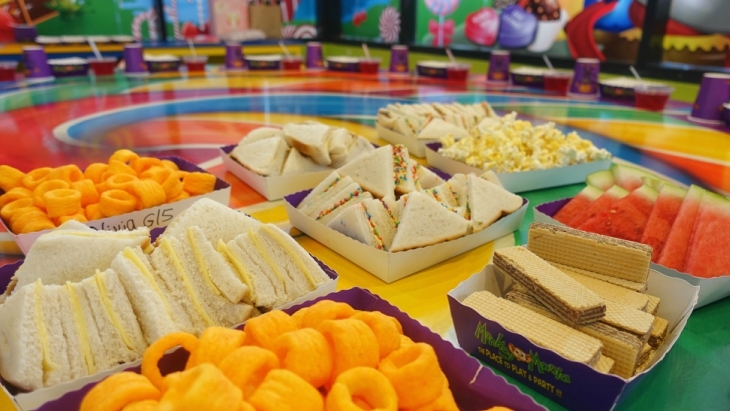 Top Tips
Make your party start time at least an hour before your booked room time, so the kids have some free play beforehand - let them build up an appetite!

Add the Disco Room for a special visit and photo opp with Max the Monkey.

Not all themed rooms are available at every centre and each centre looks a little bit different. We had our party at the Bankstown centre (even though it isn't the closest to us) - it's totally worth the slightly extra time to get there!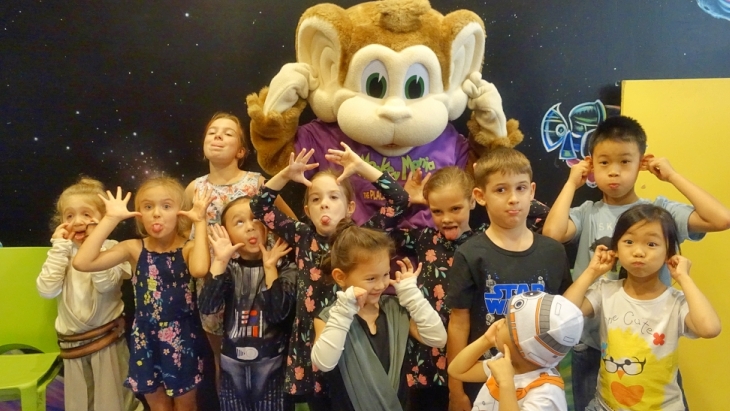 The Details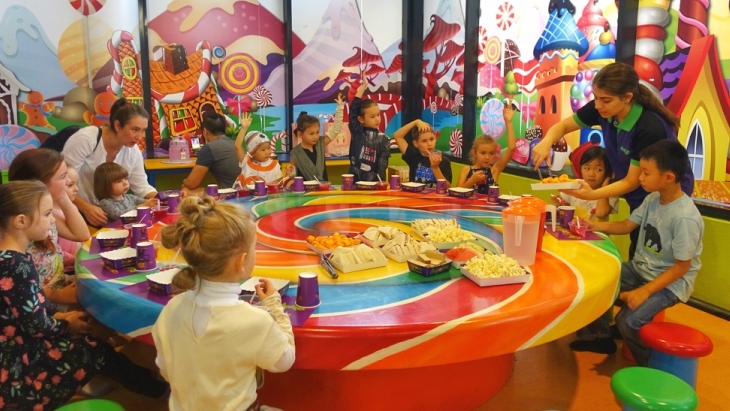 To discover more family inspiration, events and news click here.