Top Things to Do With Kids in Melbourne❜s CBD
Mums & Bubs
Toddlers
Preschoolers
Kids
Family
All Ages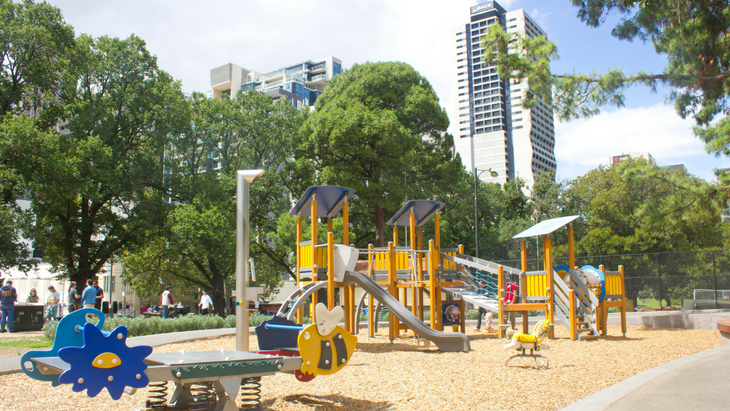 Melbourne's central business district is one of the most kid-friendly business districts in a major city - ever. We are so, so fortunate to be replete with public play areas, family-friendly eateries, parks, children's museum exhibitions, and more, all within walking distance. Or at least walking distance to the nearest ice cream spot!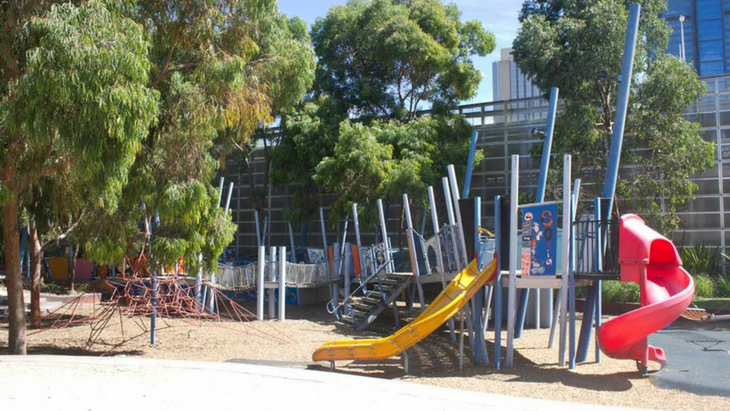 Birrarung Marr
A beautiful park behind Federation Square on the banks of the Yarra River, Birrarung Marr is an excellent spot to take the kids.
Enough room for a stroll or bike/scooter ride among the elm trees, attend an event or pop-up often seen along the walkways or at ArtPlay, and get an insight into our Indigenous culture with the public artworks.
For kids who need to let off a little steam, the ArtPlay playground is such a great place to play. Feel as though your'e far from the hustle and bustle of the city in a chilled out area filled with brightly coloured undulating equipment (or for the more nature-minded, there are shady groves of trees and amazing big rocks to clamber about on), it's an excellent playground for kids of all ages.
The only playground in Melbourne's CBD, with slides, sand pits, swinging hammocks, activity panels, rock and rope climbing features and balance beams - we named it as one of the 6 best playgrounds in Melbourne.
Location: Batman Avenue, Melbourne
Contact: 9658 9658 or head to the website.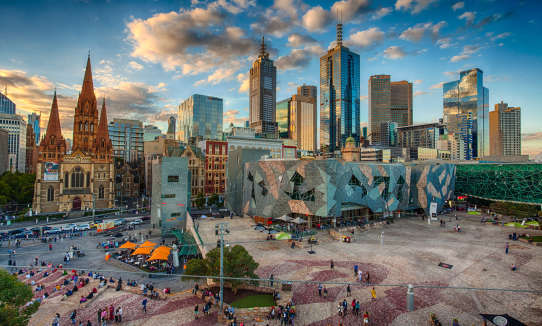 Federation Square
A cultural hub right on the Yarra and across from the iconic Flinders Street Station, Fed Square is home to umpteen fun events, places to eat, and things to do every year.
You can check out what's on at their website, (think viewing the Australian Open on the big screen, arts festivals, summer water play, winter ice skating), or step right into the onsite museums and galleries: the Australian Centre for the Moving Image is free and often has cool media-themed exhibits, check out the Ian Potter Centre art gallery and design store, Tourist Information Centre, the SBS building - plenty of places to keep you occupied (or out of the rain, depending!). You can find a full list of year-round attractions here.
Location: Swanston St & Flinders St, Melbourne
Contact: (03) 9655 1900 or head to the website.
Entry: Free
Opening Hours: 24 hours a day, although each attraction will have different opening hours, which you can check on the website.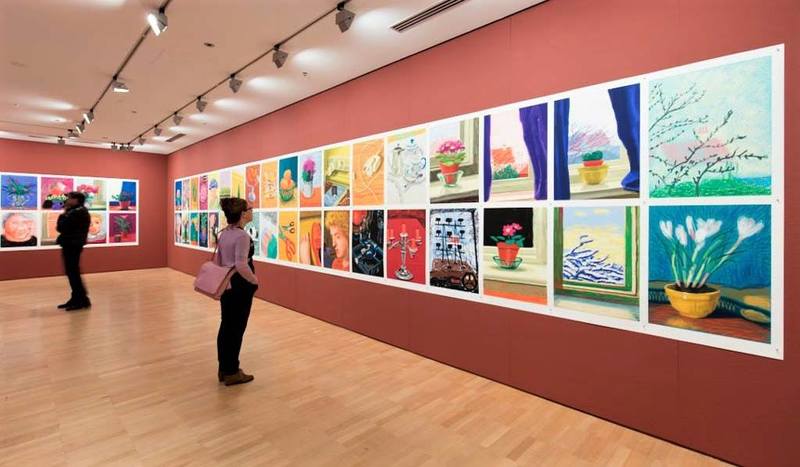 National Gallery of Victoria
If you can get the kids in past the fountain at the front or the waterfall wall at the entrance, you'll find plenty inside the NGV to keep little ones occupied! In addition to the roving exhibits, you'll find plenty of space out the back in the gardens to roam and play, see the collections (our favourites are the Australian Prints and Drawings section, the antiques, and the ancient art) and of course chill out in the the roomthat sits under the largest stained glass ceiling in the world. Yes, it's that spectacular!
You can check out the current exhibitions here.
Location: 180 St Kilda Rd, Melbourne
Contact: (03) 8620 2222 or head to the website.
Entry: Free
Opening Hours: 10am–5pm daily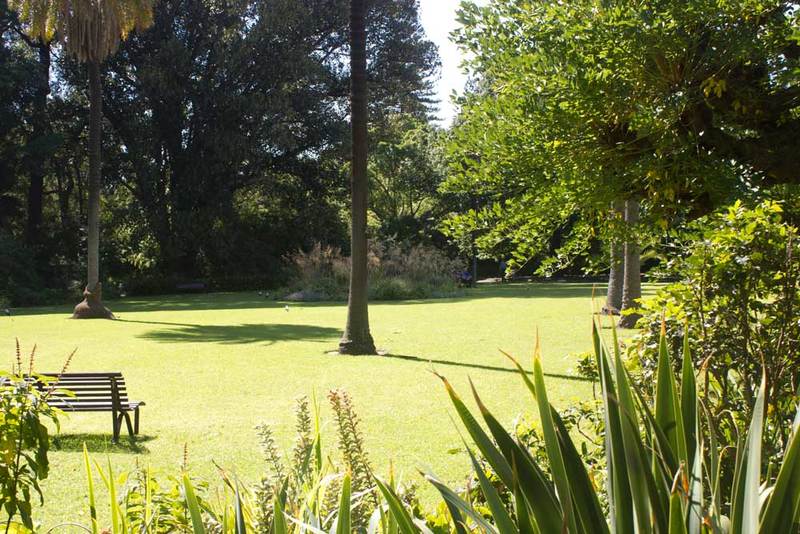 Royal Botanic Gardens
It is utterly beautiful at the Royal Botanic Gardens just across the river from Melbourne CBD, and it's packed full of history, too. Set a blanket out under one of the many gigantic, shady trees or along the soft green grass and watch the day float by. Grab a Tiffin for two from Jardin Tan while you're there if you've not packed sustenance, and don't forget to stroll around the heritage buildings for a look-see. The kids will love the Ian Potter Children's Garden (with water play fun on hot days) and the kitchen garden will have you inspired to grow your own at home.
Location: Birdwood Ave, South Yarra
Contact: (03) 9252 2300 or head to the website.
Entry: Free
Opening Hours: 10am - Sunset, Wednesday to Sunday (Mondays, Tuesdays in term time – booked schools use only)
10am - Sunset, seven days per week during Victorian State School holidays
10am – Sunset all public holidays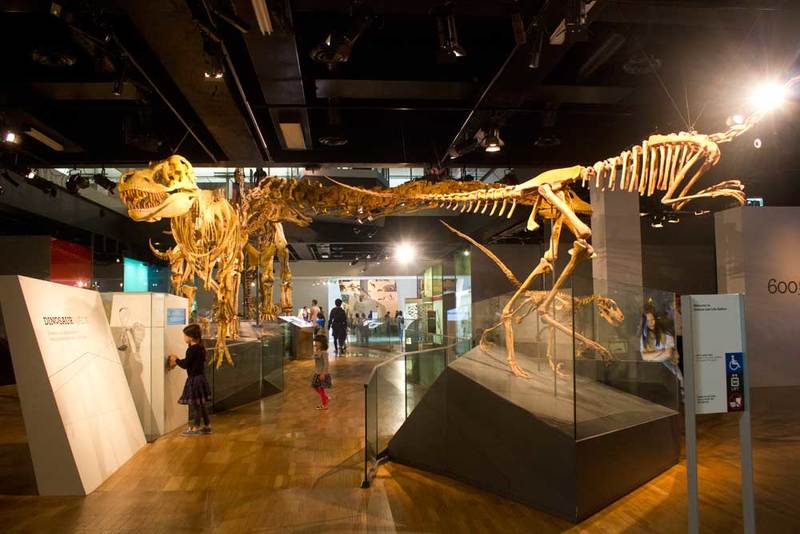 Melbourne Museum
The newly-renovated Pauline Gandel Children's Gallery at the Melbourne Museum is epic, and would be enough for an entire day's outing just in there. Huge climbable play structures for the older kids, "camouflage" dancefloor (where little ones are lit up just like different animals), cubby houses, hidey-holes and educational bits and pieces stuffed into every kid-pleasing inch. The baby and younger kid section is equally as cool, just a bit brighter and smaller, an absolute wonderland for tiny tots.
You can grab a coffee or kid lunchbox pack by the climbable train and tunnel, and sit at the tables provided, outside in the discovery garden play area if you're lucky enough to go on a nice day, or have a scrabble around in the dinosaur dig to unearth some fossils.
The main part of the museum is also full of things to poke, prod, and gawk at – it's an incredibly interactive place. The Dinosaur Walk is unmissable and the Mind and Body sections have enough bodily function info to hold over the most inquisitive of kids. The history of Melbourne area is another fun one, with the full-size pioneer cottages filled with furniture and household goods of the times a huge hit with young'uns (ok and me too!).
Over on the other side of the CBD at 400 Flinders St is the Immigration Museum - also really awesome for kids and a brilliant excursion for families.
Location: 11 Nicholson St, Carlton
Contact: (03) 8341 7777 or head to the website.
Entry: kids, concession, and members are free, adults $14.
Opening Hours: Daily 10am - 5pm.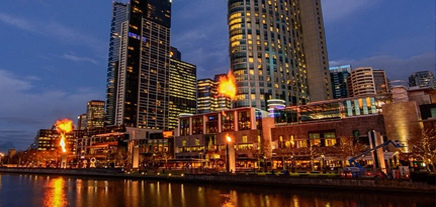 Southbank
Fancy a stroll along the waterfront? Along Southbank promenade not only will you get an amazing view of the city, but you can also spot restaurants, the Arts Centre, helicopters, river cruises, the Crown Casino (which has light shows suitable for kids in their Atrium several times a day), and you can even see Melbourne from 88 floors up at the Eureka Skydeck
Location: on the southern bank of the Yarra River
Contact: head to the website.
Entry: free
Opening Hours: Open 24 hours, shops and restaurants will differ.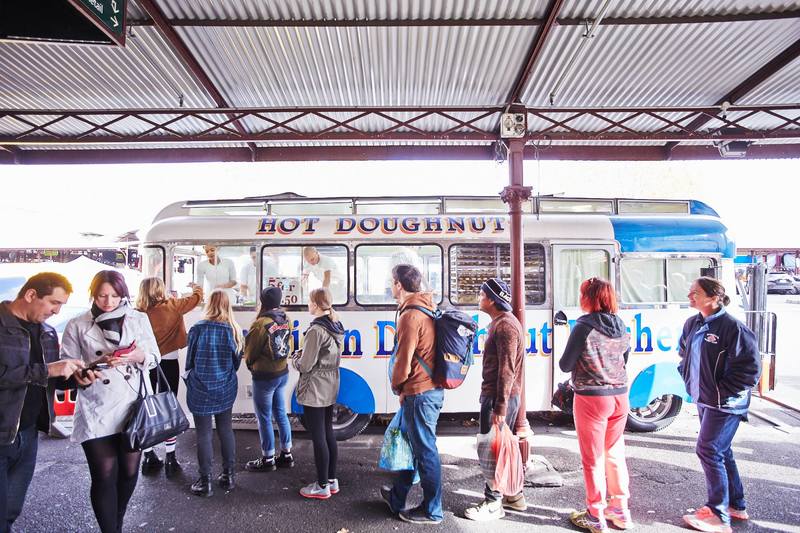 Queen Vic Markets
In amongst all the seasonal activities (Easter egg hunts, Santa at Christmas, etc) the fun at Queen Vic market for littles is year-round. There are workshops and festivities held regularly, from Family Footy Zone activities, to artist-led workshops, to fun kids days out.The Market often runs extensive school holiday programs – you can keep up with what's coming up over on their What's On website section or sign up to their mailing list to get a heads up.
Family-friendly entertainment and stalls for kids' items are plenty – there's always something to see, do, eat, drink, or buy at the Queen Vic Market for kids. But don't dare try and leave without a hot jam donut or 12!
Location: Swanston St & Flinders St, Melbourne
Contact: (03) 9655 1900 or head to the website.
Entry: free
Opening Hours: closed Mondays and Wednesdays. 6am - 2pm Tuesday and Thursday, Friday 6am - 5pm, Saturday 6am - 3pm, Sunday 6am - 4pm.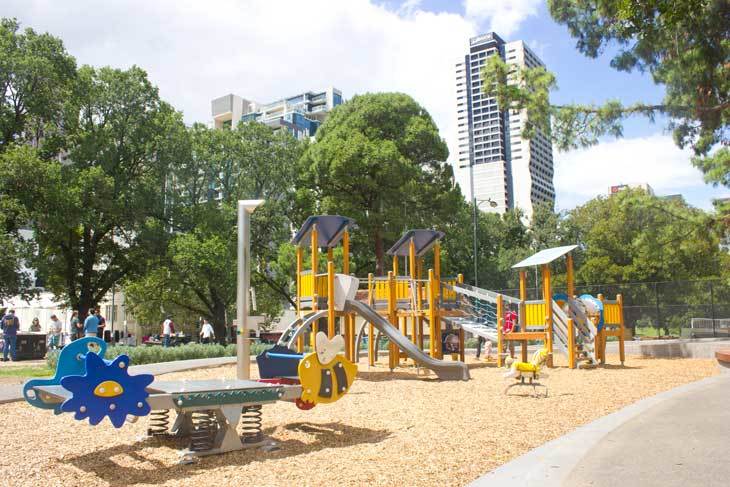 Flagstaff Gardens
Flagstaff Gardens is not only the oldest park in Melbourne (for your mini history buffs!) but is great for kids to run around and let off a bit of steam, either at the playground or kicking a footy around on the beautifully landscaped lawn. Have a picnic, a BBQ, or grab something to eat from the neighbouring Queen Vic Markets.
Playground equpiment includes: climbing frame, circular swing structure, ropes and nets, rocking boat see-saw, wave slide, tunnels, rope ladders, fireman poles, sandpit... plenty to keep everyone occupied!
Location: 9/311 William St, West Melbourne
Contact: (03) 9658 9658
Entry: free
Opening Hours: Open 24 hours.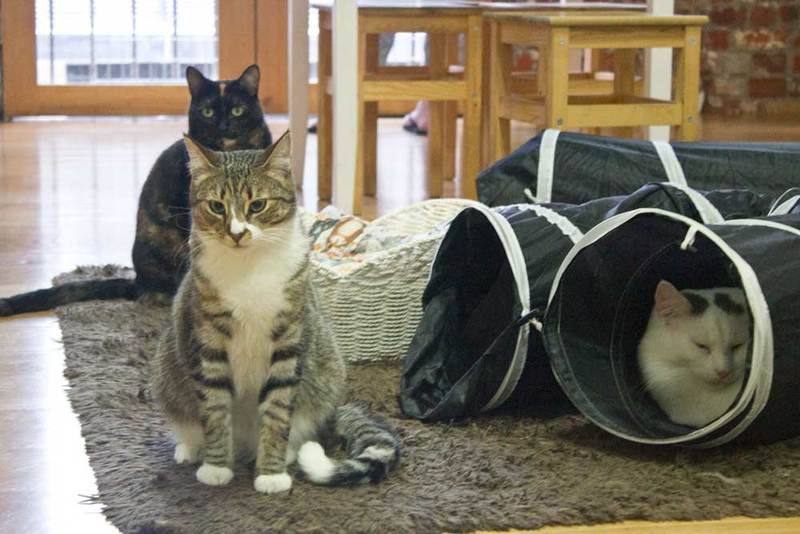 Melbourne Cat Cafe
And now for something completely different (my kids love it), hidden away down one of Melbourne's famous CBD alleyways is a coffee and cat lover's dream: a room full of furry felines with tea, coffee, and treats delivered to your couch.
There are two levels to laze about in veritable splendour, with comfy cushions and couches on the ground floor (there's even video games and books) and the upstairs cafe area with tables and chairs. The cats have the run of the place, with every nook and cranny perfect for a feline nap, and they have their own internal staircase to access each area.
It is SO CUTE.
For a kitty hug with a side of latte, you will need to book online in blocks of one hour for $12 (cafe treats extra and ordered in-house). If you prefer your cats snoozing or full of beans, you can pick and choose which hours will align with the cats' schedules (bear in mind the Cat Cafe is for ages 8 and over, and you will need to make a booking for everyone in your party).
Location: 30 Guildford Ln, Melbourne
Contact: (03) 9642 8540 or head to the website.
Entry: $12 per person
Opening Hours: Session one is 10am - 1pm and session two is 2pm - 6pm every day.
Have you signed up to our newsletter? Join ellaslist to get the best family and kid-friendly events, venues, classes and things to do NEAR YOU!