To Try With The Kids: Jack-O-Lantern Stuffed Peppers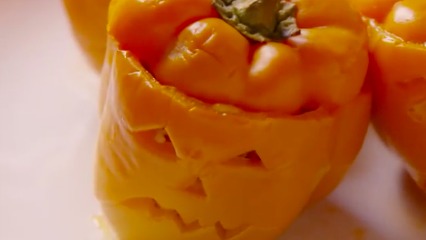 By: Phoebe Ackland, ellaslist
Halloween is fast-approaching, so to get in the spirit and try these Jack-O-Lantern Stuffed Peppers (and make the kids eat something substantial before the candy diet starts!). They're pretty simple, so cooking with the kids does't have to be a nightmare. You'll be the coolest mum around with a dinner like this.
Source: Delish Facebook
What You'll Need


4 Orange bell peppers


1 can fire-roasted tomatoes


1 cup shredded Monterey Jack (mild cheddar or mozzarella is fine)


1 can chicken stock, divided


1 cup cooked white rice


About 1/2 kg ground beef


2 teaspoons chilli powder


2 garlic cloves, minced


1 onion, finely chopped


Pepper


Salt


Extra Virgin Olive Oil
What To Do
Preheat oven to about 175 degrees Celsius (350 degrees Fahrenheit)

THE

PEPPERS

: Cut off the top of each pepper, and put aside. Remove the inside core and seeds. Using a sharp knife, carefully carve a Jack-O-Lantern face into each pepper. Drizzle olive oil into each pepper, and sprinkle generously with salt and pepper. Place peppers and pepper tops upright in a large baking tray

THE

BEEF

: Heat 1 tablespoon olive oil into a large, non-stick skillet. Saute onions for about 5 minutes or until soft. Add garlic and cook for another 30 seconds or until fragrant. Add the beef and saute until browned and cooked right through, breaking up the meat with a wooden spoon. Turn off the heat and drain the fat.
Return skillet to stovetop over medium heat. Season with salt and pepper to taste and stir in the chilli powder. Add the can of fire-roasted tomatoes, 1/2 cup chicken stock, cooked rice and 3/4 cup of cheese. Stir until the mixture is combined evenly.
Divide rice and beef mixture between the hollowed out peppers. Top with the remaining 1/4 cup of cheese.
Pour remaining 1/2 cup chicken stock into pan. Cover with foil and bake for about 30 minutes. Remove the foil and cook for another 10-15 minutes, until the peppers are quite soft and the cheese is melted.
Enjoy!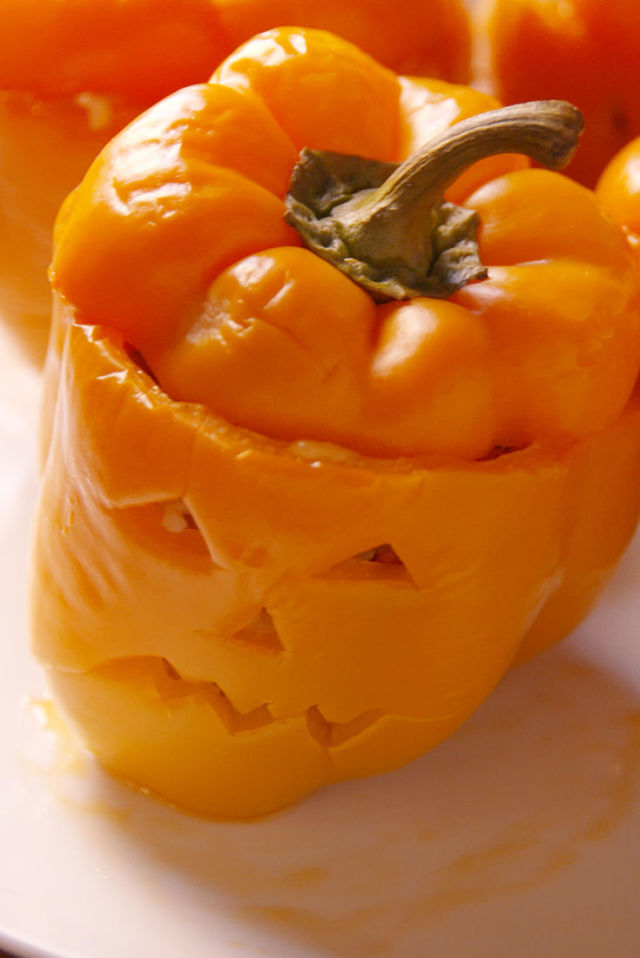 Source: delish
Thanks to delish for the awesome recipe!
More Recipes To Try With The Kids