Thrilling Zip-Lining Experiences At Illawarra Fly With Kids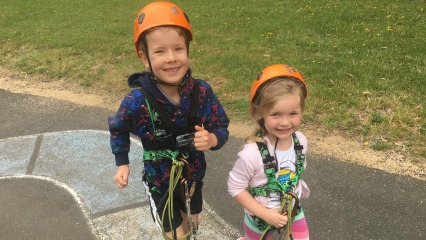 By: Megan Gibson, ellaslist explorer
Our ellaslist explorer strapped on a Go-Pro to get some awesome videos of the Illawarra Fly ziplining experience. Scroll down to watch them now!
Illawarra Fly is in the Southern Highlands, just outside the small village of Robertson. It's roughly an hour and a half drive from Sydney either along the coast via Wollongong or straight down the Hume Highway. The facility to easy to find with plenty of parking. There is a small café and gift shop on site and the toilets are in the main building. There are picnic tables available and many families had packed their own lunch.
These Summer school holidays, kids can learn what it takes to become an official Rainforest Ranger!
Featuring the Ranger Trail and souvenir Rainforest Ranger booklet and lanyard, the interactive experience will see budding rainforest rangers follow an exciting trail of questions where they can learn all about the region's diverse flora and fauna, as well as cool facts about Illawarra Fly's Treetop Walk structure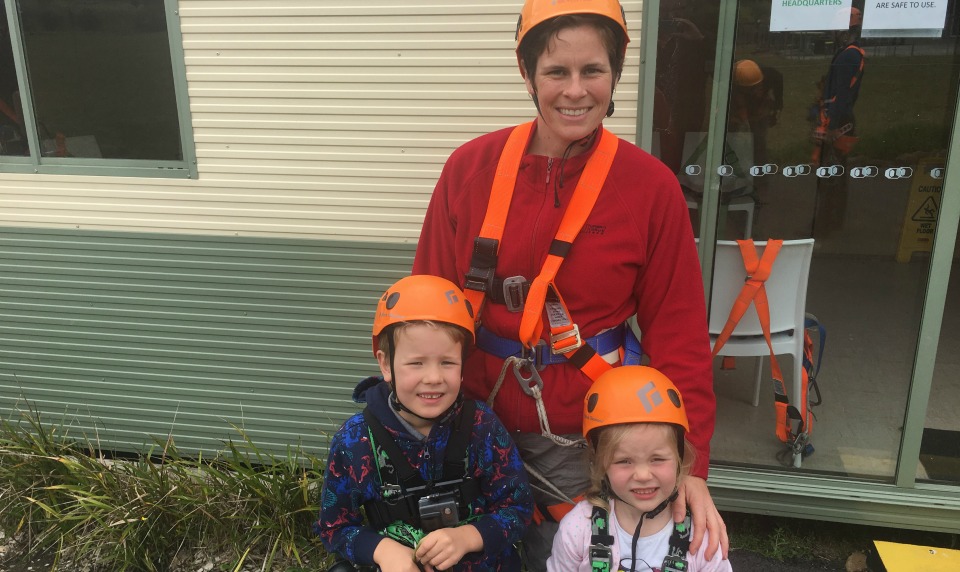 Get Your Adrenaline Pumping With Zip-Lining

The Zip Line experience includes entry to the Tree Top Walk. Zip-Line participants are required to sign a waiver, they must be over 4 years old and 105cm tall (their height will be checked before they enter the safety briefing). Riders between 105-120cms are required to ride tandem with an adult. The combined weight limit for each ride (tandem or single) is 120kg, although the waiver you sign states this as 110kg. Additionally, you are not allowed to ride if you are beyond the first trimester of pregnancy and you are required to have a reasonable degree of physical ability.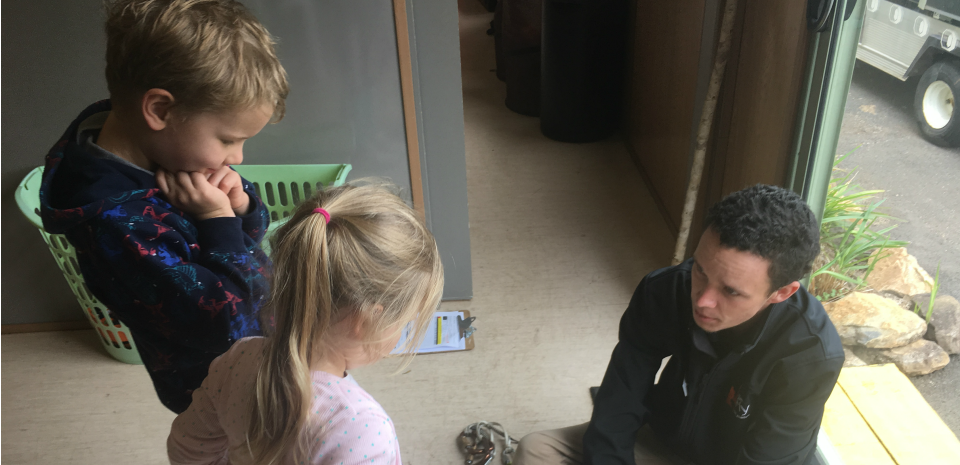 Read This Before You Whizz Off

Zip Lines tours run every 30 minutes. Our ride had 7 participants including 2 couples, my 6-year-old who was riding solo and my 4-year-old who was riding tandem with me.
Next to the entrance is a small building where you are taken for your safety briefing. There is a short video that explains a few simple rules and gives you a taste of what is to come. The rules included, no touching the trees, no bouncing on the platforms (known as cloud stations), and of course, have fun!
Then we are asked to perform a few simple movements to prove that we are physically able to complete the course. The movements are basic things like squatting to prove you could get onto a cloud station safely.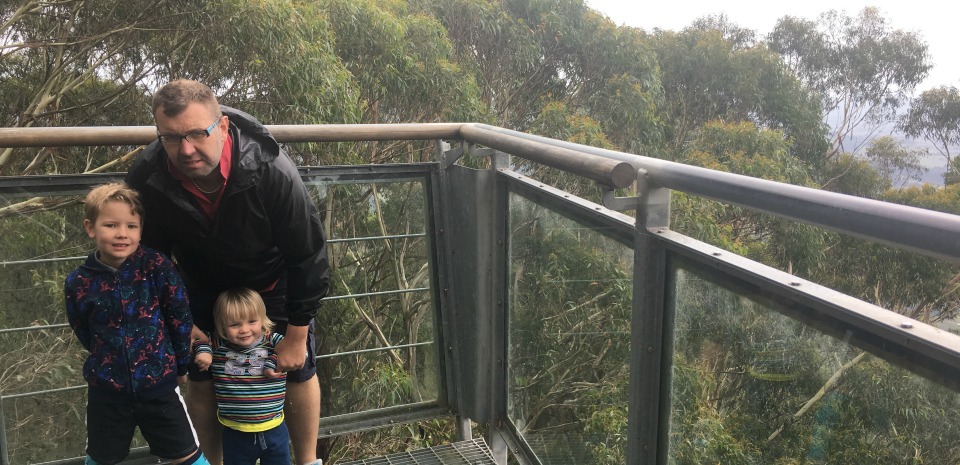 Suit Up
Then it is time to get suited up. Children were guided into their harnesses by a staff member while adults were instructed on how to put them on ourselves, each harness was tightened and checked by the staff and helmets completed the ensemble.
Once you are all suited up, you follow the path down the hill carrying your gear. The walk is not long but children may need help carrying the heavy clip that attaches you to the zip line. Family and friends who are not riding are able to accompany you to the first platform and after you launch can continue down to the tree top walk where they have a great view of the zip line riders overhead.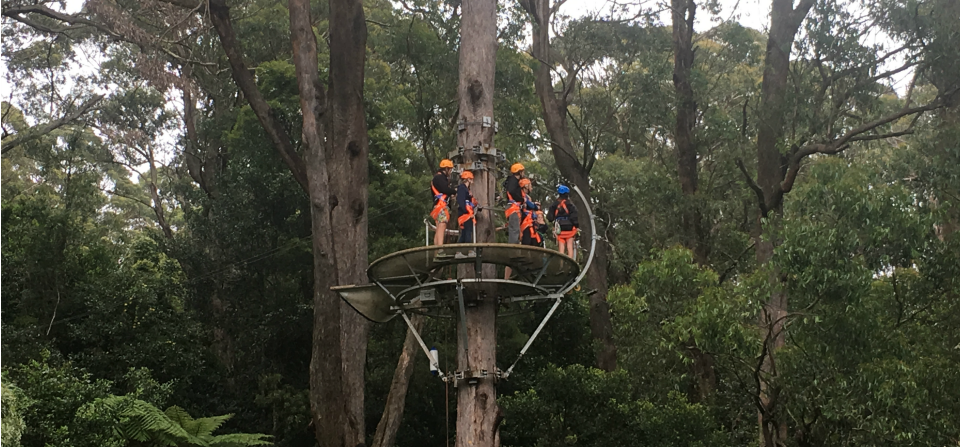 Views Like No Other
Riding is great fun, you are high in the tree canopy and there are gorgeous views all around. There is a staff member to guide you on and off at every cloud station, you simply sit down on the wide part of your harness and lift your feet up to launch. Once you reach a platform you point your toes into a net and stand up – simple. If you are riding tandem however, remember that you will have the extra weight of someone on your lap to lift as you land.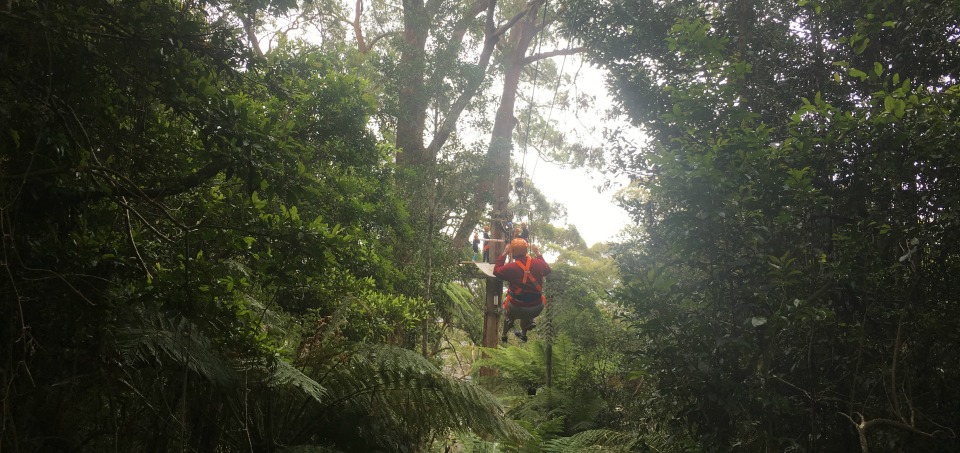 The Awesome Staff Make For Smooth Sailing
The staff members are all really fantastic, helpful and encouraging. My 6-year-old went before me and they made sure to take good care of him when he reached the platforms as well as giving great guidance and being very knowledgeable about the area.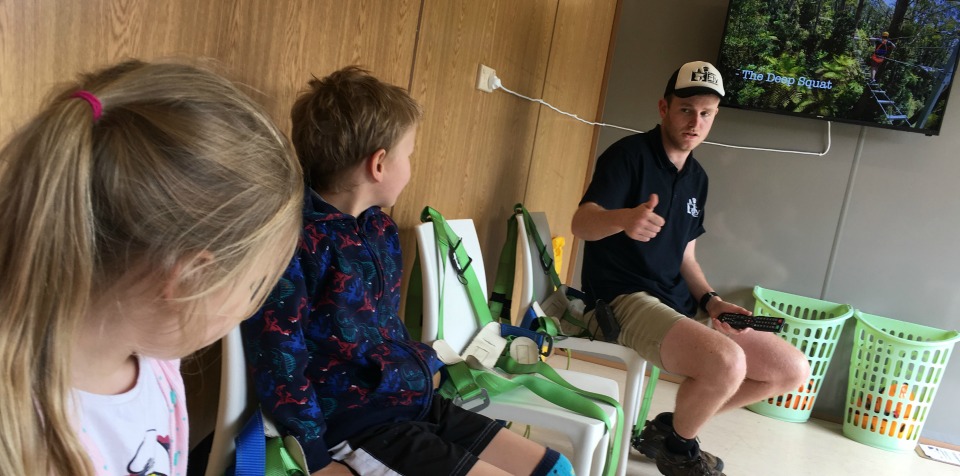 Some Serious Thrills

I am not afraid of heights, and, I knew that we were all securely attached to the pulley system, but still- that moment, when you had to let go of the guide railings to move around a tree 35m in the air, made you feel alive.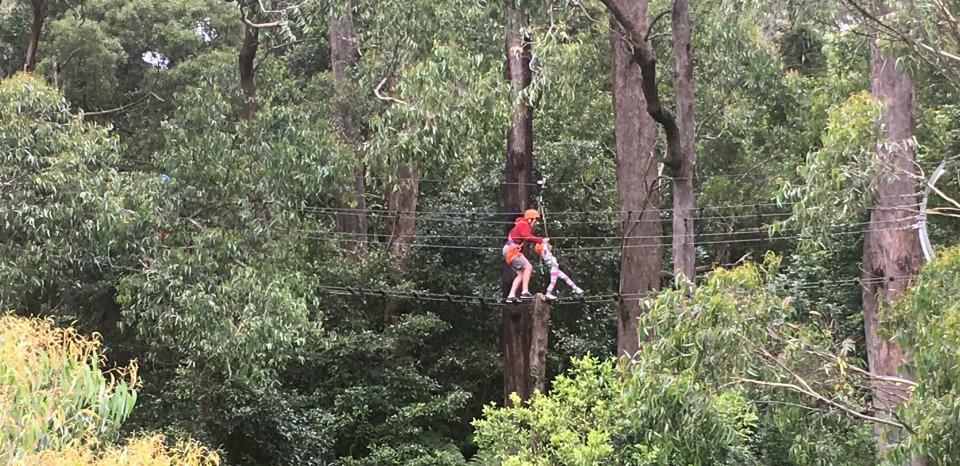 Some Surprises
Now, I knew we were going to be zip lining but the rope bridges came as a surprise (they do tell you about them in the briefing). From the first cloud station to the second and then on to the third you walk over 2 rope bridges. If you walk carefully and step in the middle of the rungs the bridges are quite steady (although you are free to bounce if you wish).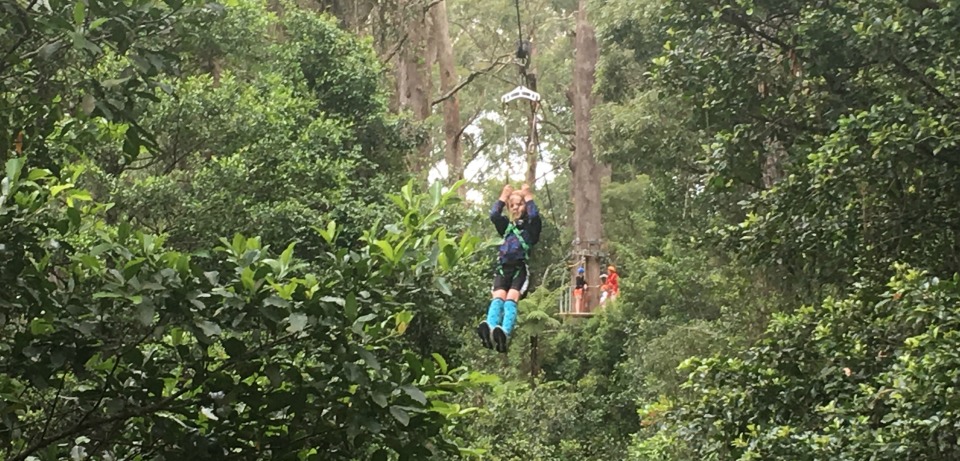 Sense Of Accomplishment
It was a proud parenting moment seeing my 6-year-old step bravely out onto the first bridge. Then it was my turn. My 4 year old did so well, especially since the steps were about as wide apart as her maximum stride. We struggled a little on the first bridge as I was trying to hold her hand to give her support. On the second bridge, we managed to get her hands holding on to the hand rails which was much easier.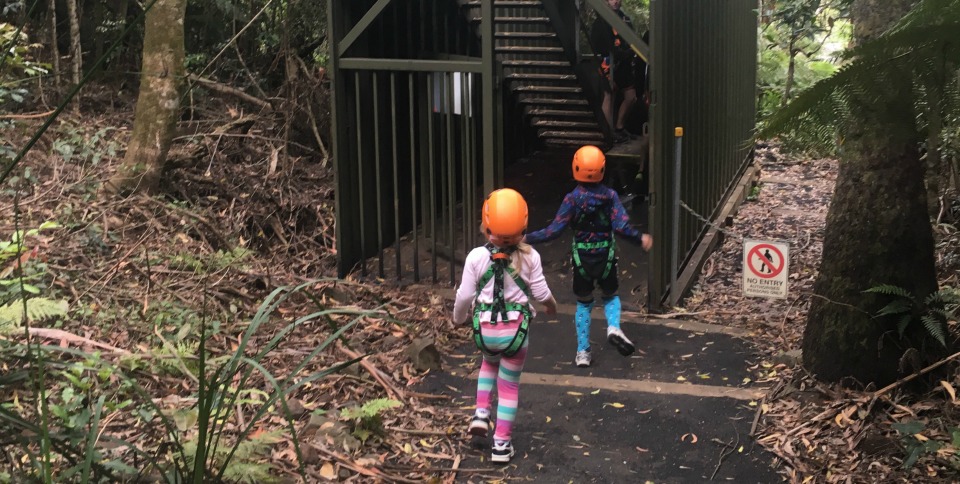 Not For The Faint-Hearted
My two kids handled the experience well- the heights didn't faze them. The guide was telling me that they frequently have to head out on the bridges and coax across people who get stuck. This is not an experience for the faint of heart, those afraid of heights or if you get particularly anxious. The staff, and fellow riders were very supportive and I would encourage you to get out of your comfort zone and try it.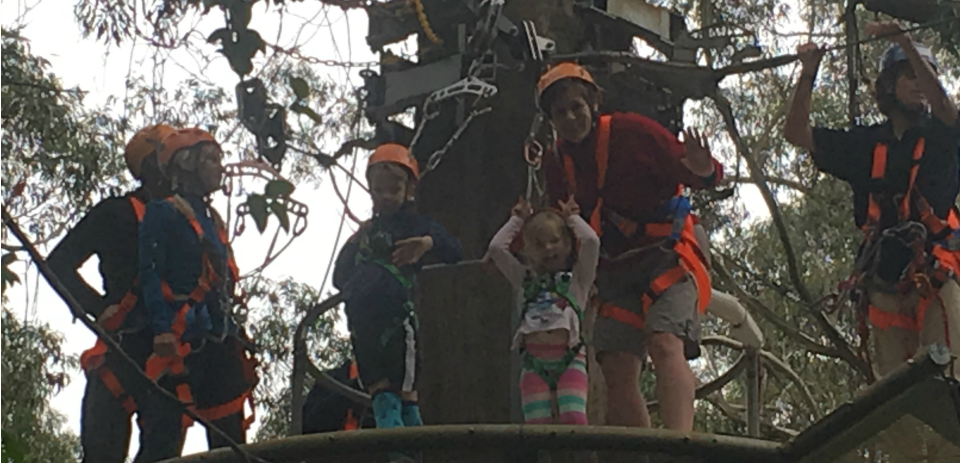 Now For The Fun Part

The remainder of the experience was 2 more zip line rides, a super long one and then another final ride where the guides encouraged us to try some tricks – just letting go and flapping like a bird was enough for some but another member of our group even tried flipping upside down. The zip line finishes right near the start of the treetop walk. A perfect spot to meet other members of your party and take in the views from the elevated platforms.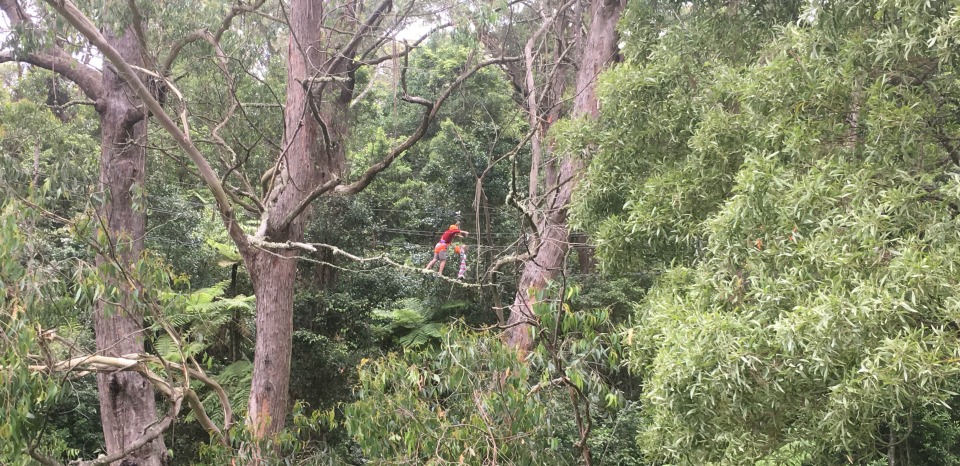 Get High Above It All
The tree top walk is 500m of elevated platforms on the escarpment overlooking the Illawarra region, 710m above sea level. Even on a cloudy day there are beautiful views out to the ocean and up and down the coast.
The walkways are very safe with high fencing so kids can explore. However, you are still standing suspended over the tree tops and can feel the two cantilevered ends sway in the wind so it can be an unnerving experience.
In the middle of the walkway is Knights Tower than rises 106 steps above the platform, so you are standing 45m above the forest floor. The climb is worth the effort, you get an amazing view and kids will get a kick out of being so high.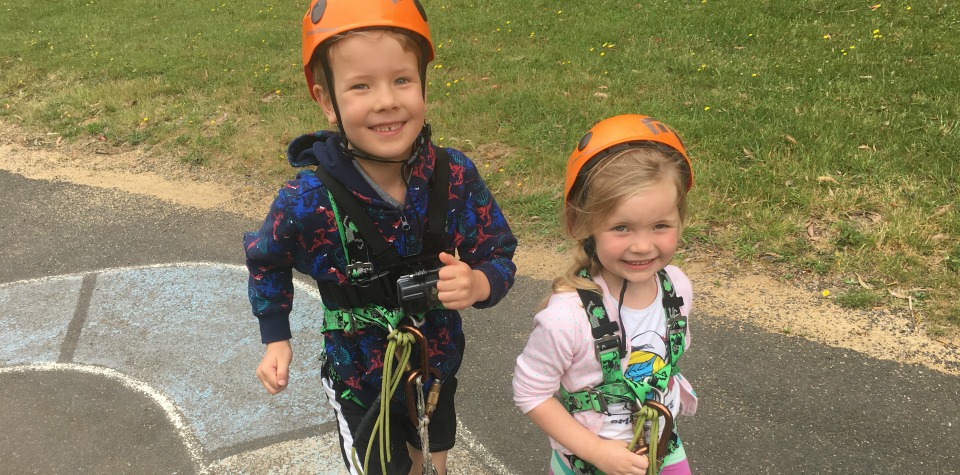 A Full Day Of Experiences To Be Had
The entire experience, zip lining, exploring the tree top walk and wandering back to the shop will take about 2.5 hours. The surrounding bush itself is just beautiful and there are displays along to way to learn about the flora and fauna of the area.
Illawarra Fly is a fantastic experience, a chance for kids to get out and appreciate the natural beauty of our country and the new Zip Lining experience is a great way to inject some adrenaline into a beautiful day out.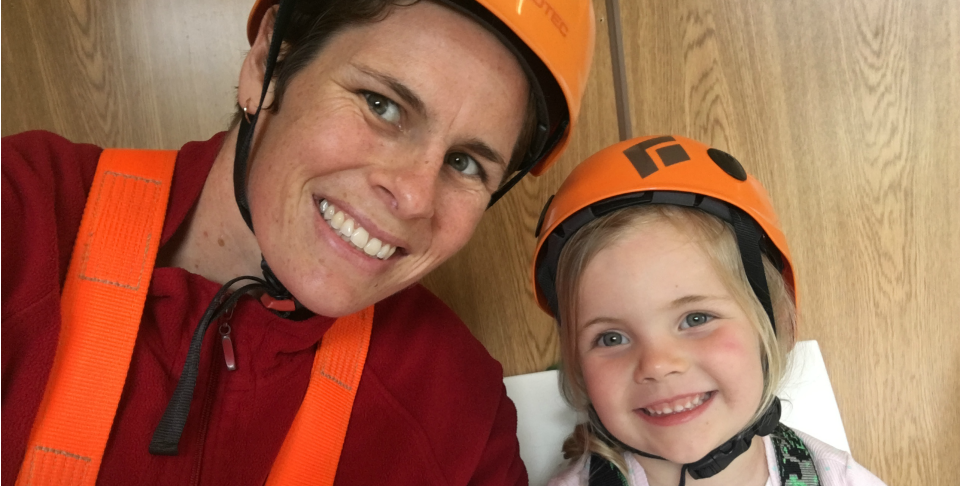 Top Tips
Take warm clothes – it can be rather cool in the southern highlands, even in summer and especially when standing on the escarpment or high up in the trees
Make a day trip of your visit to the area. Stop for pies in Robertson or to visit some cute shops in Bowral or Moss Vale. Let the kids run wild in the nearby National parks, visit Carrington Falls (the lookout is currently closed for renovation), take a walk-through Minnamurra Rainforest, or enjoy a scenic drive along Jamberoo Mountain Road or Macquarie Pass and back along the Sea Cliff bridge
No loose items are allowed on the zip lines. If you wish to take a camera / phone with you it will need to be attached to you with a lanyard or in a pouch. Suitable pouches are available to purchase at the ticket office. Lockers are available to store your belongings while you ride
You can take a Go Pro with you – if it is secured properly. If you are riding tandem however the Go Pro footage will be obscured by the rider in front
Tickets are cheaper if you buy online before you go, with a 10% discount available
If you are visiting during peak time ring and book your spot on the Zip Line tour as they can fill up quickly especially during the middle of the day
Be aware of the limitations of members of your group. For some people the height of the zip line and Tree Top walk will just make them uncomfortable
These Summer school holidays, kids can go on an exciting adventure through the rainforest at Illawarra Fly Treetop Adventures and learn what it takes to become an official Rainforest Ranger!
Featuring the Ranger Trail and souvenir Rainforest Ranger booklet and lanyard, the interactive experience will see budding rainforest rangers follow an exciting trail of questions where they can learn all about the region's diverse flora and fauna, as well as cool facts about Illawarra Fly's Treetop Walk structure.
Source: Megan Gibson
Source: Megan Gibson
I am a Sydney-sider born and bred, but spent 12 years living in Wagga, Canberra and London. I am married to an Englishman and we have three children, Eli age 5, Allegra nearly 3 and Cooper who is just 5 months.
I am a stay at home Mum and keep myself sane by getting out and about and exploring all that Sydney has to offer. The kids and I enjoy parks, museums, picnics, playgroup, gardening, walking, cycling and road-tripping. I am the typical "crafty" mum and love getting my hands dirty, taking photos, and running (sort of). You can read my blog here.