The Utterly Adorable Dino Obsessed Noel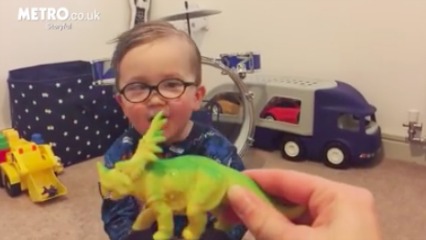 By: Phoebe Ackland, ellaslist
Okay, so we all think our little ones are the cutest, smartest and most polite (usually) tots out there…but we bet Noel from the UK can give any child a run for their money. Watch as he correctly identities dinosaurs we cant even pronounce, with the most impeccable manners we ever did hear. His slicked over hair and glasses? Too cute!
Source: Metro UK Facebook
As if that wasn't cute enough, Noel's mother Laura Hopkins posted a video of her catching Noel in front of her graffiti-strewn mirror. Noel had a very cheeky answer as to who committed the crime.
Source: Laura Hopkins/The Unmumsy Mum Facebook
Check Out Some More Cute Videos On ellaslist