The Ultimate Family Camping Experience With Coleman Camp Club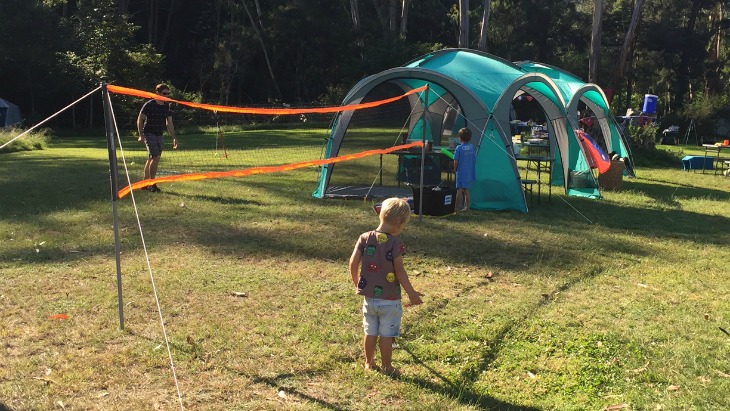 By: Sarah Stores, ellaslist explorer
Camping, Who Me?
I am a Mum of two typical boys. They are infuriating, delightful, messy, joyful, often muddy, always dirty, stubborn and fun. We do a lot of adventuring together. I love exploring Sydney and its surrounds with my boys. Generally, we do lots of day trips with the pretty regular weekend trip further away usually staying at rental properties. So, outdoors all day but safely enclosed indoors (and with 4 walls) for afternoon rest time and evening sleeping. We have tried glamping at Cockatoo Island and enjoyed that but it has always been in the back of my mind that my 2 boys would love doing something a bit more rustic, isolated, more outdoorsy and, well, without any walls to speak of. Something like: camping.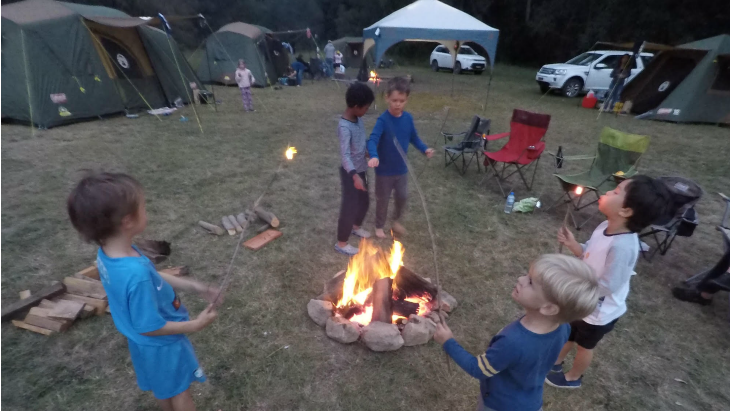 But the idea of camping with the boys had always slightly terrified me. We have close family who love to camp with their young girls. When I asked how they handle early mornings, or trying to have some quiet time or a relax without losing them as they wander off into the wilderness to explore and get eaten by a bear – they say that in the afternoons or quiet time the girls will just colour. For hours. My boys coloured in for 5 minutes last week and I took a photo because that was the longest time they had sat still without a TV in months. How would I contain them for a whole weekend without walls?
Given this state of play I was reluctant to step into the foray of camping. From the outside looking in, the lack of 4 walls to contain my terrors almost seemed like negligent parenting and the amount of gear you needed seemed overwhelming. Plus, it would be an additional negative if my husband and I needed a divorce after a family weekend away if we fought over putting up the tent.
So, when I heard about the Coleman Camp Club I was intrigued. The basic premise is: Go camping and enjoy the outdoors and all the perks of camping without any of the hassle or hard bits. Tents, beds, chairs, lamps, 3 meals and even snacks all provided. Not only this, but a night in a beautiful location at the Upper Colo River as well. We were in!
Maybe I CAN Be A Camper! Coleman Camp Club Makes It A Breeze
We arrived at the site on a glorious autumn afternoon. We went to the check-in location and the friendly staff got us all kitted out with our Coleman coolers (filled with drinks), new reusable water bottles, head torches for each family member, glow sticks for the kids and a snack pack (including ingredients and 'how to' cards for making s'mores). While we grabbed some delicious lunch the kids were delighted running around and inspecting the area.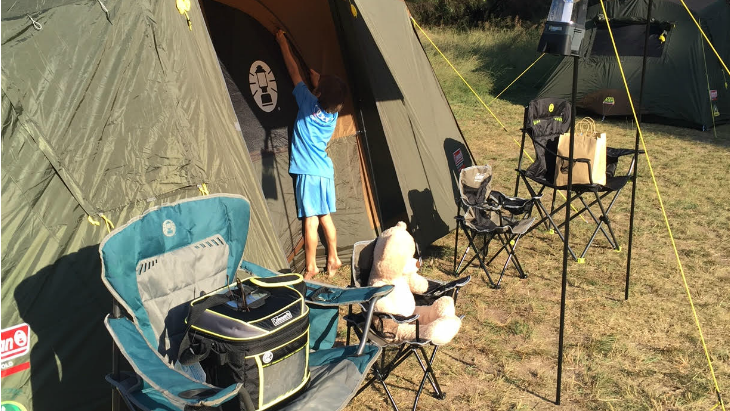 The team set up our tents and camp chairs within minutes (they are either experts or magicians). The tents were large and spacious. There was more than enough head room to stand up and then enough space for a queen air bed, 2 single air beds and then enough room for all the stuff this novice camping family brought with them (none of which we needed!). After making our beds with the bedding we brought from home (pretty much the only thing we actually needed to bring along with clothes) we were ready for an afternoon of exploring. Straight away we headed for the glorious Upper Colo River which we explored and the kids ignored the coolish water (as only kids can do) and swam for a bit.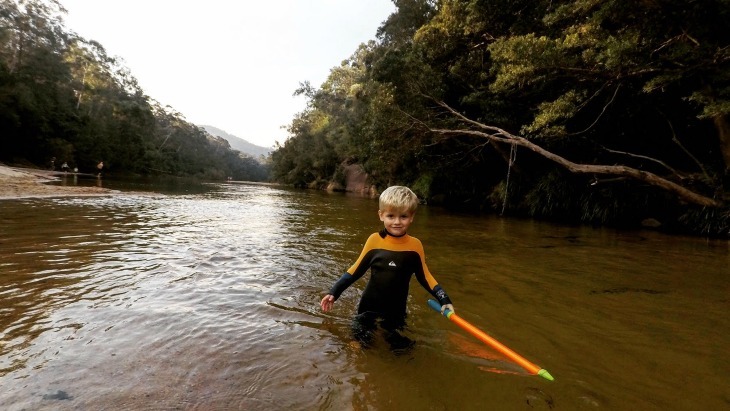 Games Of All Sorts
As the sun started to set we headed back to camp, where the team had the fires going and we explored the craft and games tents. This part of the experience was a great touch and really blew me away. They had board games, all sorts of craft activities (from painting, to mask-making to beads for jewellery) and lots of games as well. We spent hours playing all the classic outdoor games. From cricket to hula hoops to ring tossing to volleyball, soccer and croquet.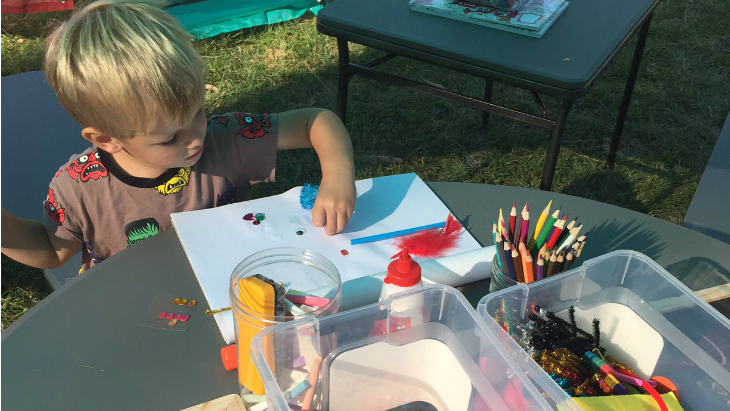 As the sun set the adults enjoyed a beer and pretended to know how to tend to a fire while the kids got out their head torches and glow sticks and played glow in the dark tag with all of the other kids at camp. Dinner was served around the fire and all the kids and adults enjoyed the wide variety of food.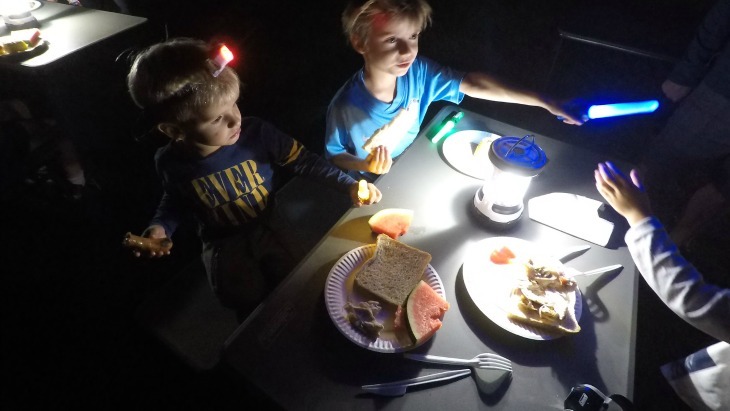 The kids stayed up later than usual and then fell asleep almost instantaneously. Then the Husband and I sat around the campfire for hours and admired the amazing stars.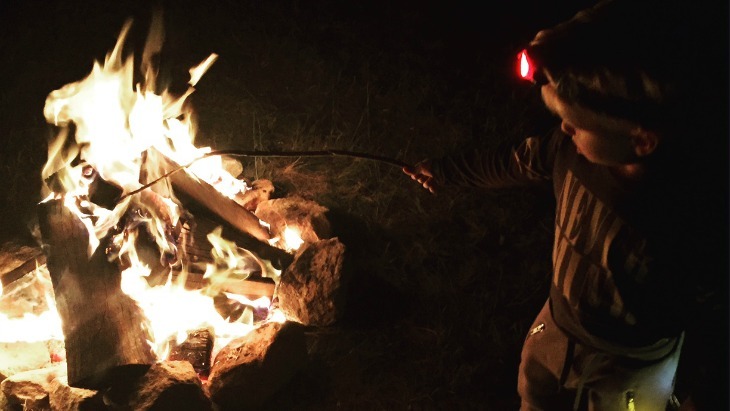 Morning 'Fog Walk'
In the morning the kids piled onto our air bed for a while and we told stories about the best bits of the previous day. Then off for an early morning 'fog walk'. The site was even more beautiful in the morning and there was something special about hearing the campsite slowly come to life in the morning. After a delicious breakfast of cereal, toast, bacon and eggs we played, even more, games and crafts.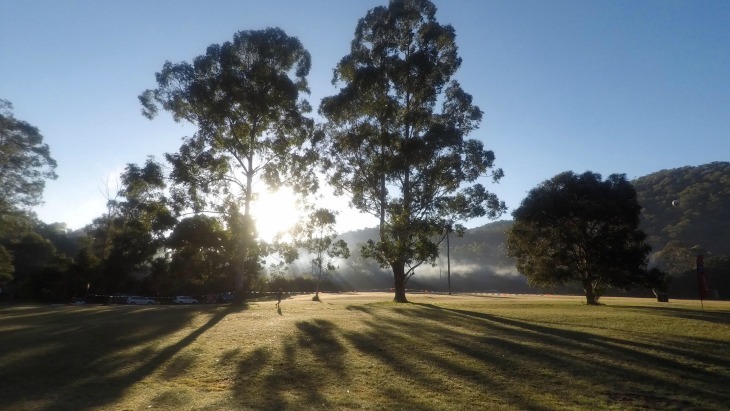 My worries about camping all faded away. The kids knew this was special and so they behaved like angels. They had such an amazing time running around and being outdoorsy while the Husband and I enjoyed the time outdoors (the incredible star display I saw when I did my midnight toilet dash was one site I won't forget in a hurry!).
And the best bit? It only took 5 minutes to pack our stuff and then we drove away much dirtier and happier than we were when we had arrived 24 hours before. The team handled all the pack-up and washing up!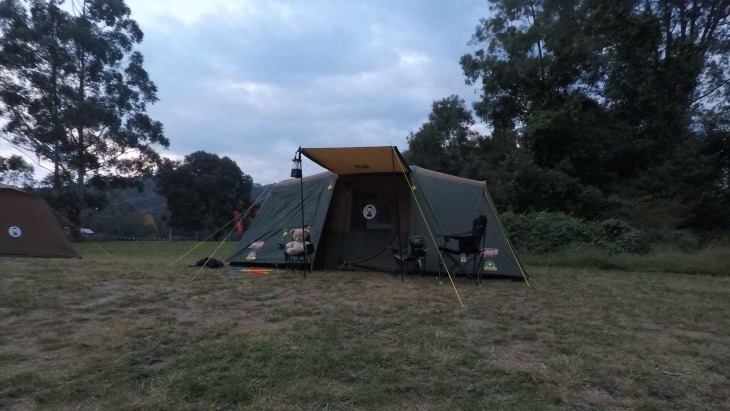 So, Can I Really Be A Camper?
Maybe, yes, I think so. Well, definitely, at the Coleman Camp Club.
We really, really loved our time. I now totally understand why people love camping. The dedicated and undistracted time with the kids combined with actually being in nature – it was so restorative for all of us.
Plus, the kids have already asked to go back and spent the next night running around the yard with their head torches on pretending they were camping.
We've Already Booked Round Two!
I will definitely re-visit Coleman Camp Club. In fact, I have already booked for the next one! It has certainly got me thinking about putting a toe (or even a whole foot) into the camping world. I have visited camping websites to look at tents and am excited that I could now have Father's Day and the husbands' presents sorted for the next few years as apparently camping = new gadgets, and the husband loves gadgets.
It was such an authentic, family orientated and fun filled experience. The Coleman Team had really thought of everything to make this experience as enjoyable, easy and fun as possible. There were so many little touches were I felt they went above and beyond and made this experience one of the best ones out there. It is also incredibly well priced for all the inclusions. I can't recommend it enough.
What You Need To Know
Where: Upper Colo Reserve, Hulbert Road, Colo (1.5 hours from Sydney)
When: The next camp has not been scheduled yet but you can keep up to date by subscribing to their mailing list here.