The Perfect Easter Treat: Carrot Patch Brownies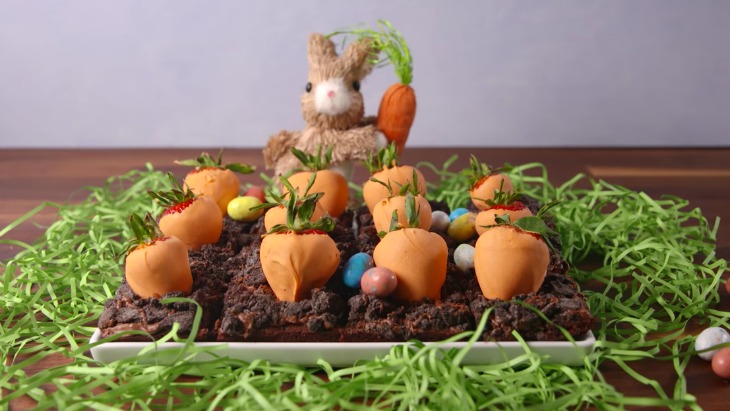 By: Phoebe Ackland, ellaslist
It's not an Easter egg, but it's so cute we definitely think it deserves a place on your Easter dessert table. Check out these delicious carrot-patch brownies, that aren't all that tricky or time-consuming to make yourself. Thanks to Delish for the recipe!
Source: Country Living Magazine/Delish
Here's What You'll Need
Cooking spray, for pan
Parchment paper, for pan and baking sheet
1 box brownie mix, plus ingredients called for on box
1 1/2 c. white chocolate chips
1 tbsp. coconut oil
10 drops Orange food colouring
12 wooden skewers, for dipping
12 large strawberries
1 tub chocolate frosting
1 package oreo cookies, crushed
Robin Eggs candies, for garnish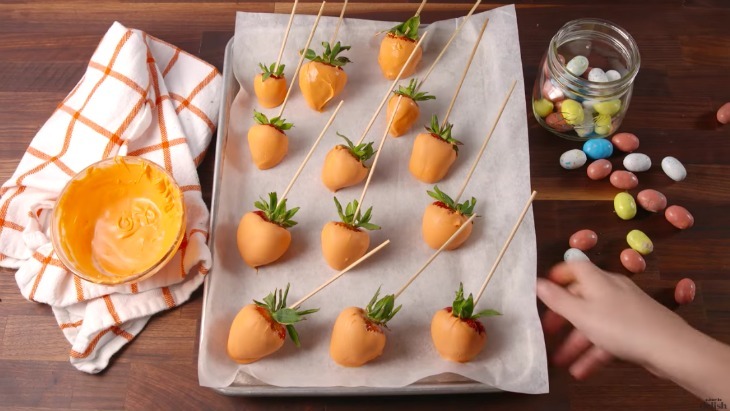 Here's What To Do
Preheat oven to 175°C and spray the inside of a 9"-x-13" baking pan with cooking spray. Line pan with parchment paper and spray parchment paper with cooking spray.
Prepare brownie batter according to package instructions. Pour batter into prepared pan and bake until a toothpick has moist crumbs, 28 to 30 minutes, then let cool.
Make orange frosting: In a small, deep bowl, microwave white chocolate chips on high for one minute, stirring every 20 seconds to remove clumps. Add coconut oil and orange food colouring, then mix until combined.
Make carrots: Line a large baking sheet with parchment paper. Pierce each strawberry with a skewer and dunk the strawberries in melted orange chocolate, repeating to coat, if necessary. Place on lined baking sheet and refrigerate until set, 15 minutes.
Make carrot patch: Remove cooled brownies and frost with chocolate frosting, then top with crushed Oreos. Top brownies with strawberries and garnish with Robin Eggs. Slice into squares and serve.
Courtesy of Delish.