The Great Centennial Park Egg Hunt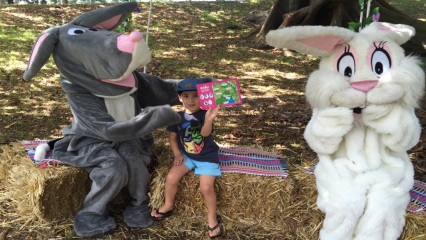 By: Julien Meinrath, ellaslist explorer
The Great Centennial Park Egg Hunt is back this Easter-time, on 15 & 16 April 2017. Tickets cost $17.50 per child. Be sure to BOOK NOW so you don't miss out on this exciting event! More information here.
This year we decided to spend the Easter Long Weekend at home in the city. It was unusually peaceful with the crowds having escaped to their respective holiday destinations. With the wonderful weather on display the Centennial Park Egg Hunt was a fantastic activity to get the children outdoors, active and entertained for an hour or so in the wide open Parklands. We weren't the only ones with the same idea, it proved to be very popular! But it didn't feel crowded as the Park managed it extremely well by having designated start times for each participant.

A Special Destination for Families
The Egg Hunt was located near the Learning Centre which can be found off to the left toward the end of Dickens Drive – a one-way street heading east through the Park.
Centennial Park is a nature lovers escape from the big smoke and the Learning Centre is positioned amongst a densely treed area which was used for the first activity – an Egg & Spoon Obstacle Course. It was easy to find each stage of the activity with plenty of helpful and friendly staff easily visible in their blue shirts directing the children around a clearly marked area with signposts. The other activities included Hop Hop Scotch, Ring Toss and then the Egg Hunt followed by a photo opportunity with the Easter Bunny and Bilby. At the end of successfully completing each activity the children collected an easter egg and a stamp in their Egg Hunt Map. At the Finish Line the children received a large Milk Chocolate Nougat Egg with a little toy chick inside.

Amenities
Toilets were nearby as well as food options provided by Kombi Canteen vans parked on sight. There was even a face painting option for an an additional $5 which proved popular with the children. A room was also set up with tables and chairs as well as colouring in activities in the Easter theme.

Best Moments
The event was geared toward younger children although it was a real family affair event with smiles all around. Having the five different activities was a great way to mix it up and keep the children interested until the end. Levi's favourite part was the Egg Hunt where loads of numbered eggs were in baskets hanging from a large tree. The children had to locate 3 eggs each with their age written on the egg. Levi loved searching for his 3 eggs with his age written on it among the baskets!