We Explore The St George Area Foodies And Farmers Markets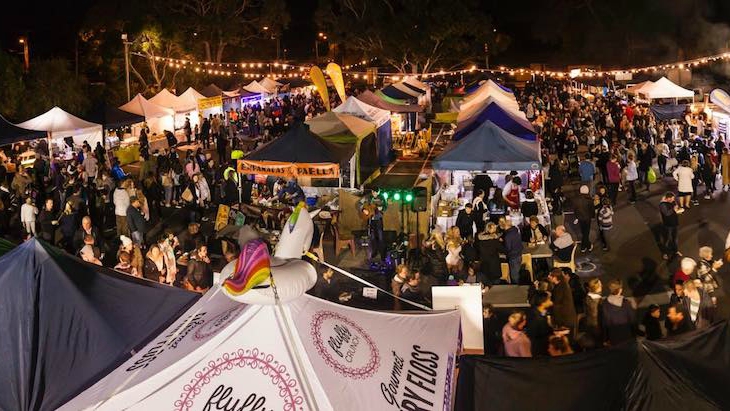 By Hayley Dean, ellaslist
I am a very proud Inner West resident and love that I am raising my kids in such a diverse community but I am even prouder to say that I grew up on the south side of the bridge. A loyal Dragons supporter to end, the St George district was, in my humble opinion, the best place in the world to be. The centre of my small universe was the wonderful Gannons Park in Peakhurst; its where I learnt to ride a bike, played soccer, met up with my fellow friends from the Hood, celebrated many a birthday and enjoyed the local Lions fair every year. It's been over 20 years since I moved away but my heart will always belong to Peakhurst, and now, so does my stomach.
The Foodies and Farmers Markets have successfully stayed as one of Sydney's best foodies markets, known for quality produce and a brilliant family day out. They operate in three locations around the St George District; my childhood suburb of Peakhurst, Ramsgate and Canterbury.
Peakhurst Foodies & Farmers Market
"We love joining to them, especially (my daughter) Abs, she is a bandit for them, hardly missed one" says local Peakhurst resident Deanne Farrugia.
The markets are Peakhurst are held on the last Friday of every month from 3pm – 9pm. It's not just the locals who love them, they have become a staple in the Sydney foodie scene with over 70 food stalls on offer each month including the Two Hungry Italians, Hungary Bites and Raw Obsession (to name a small few!)
There is very much a fair like atmosphere for the kids which brings so much joy.
You definitely get the sense of some real community spirit at this market "It's a great fun night out where you always bump in to people you know" offers Kerry Kent who also lives in the neighbourhood; "there is a huge variety of food vendors that suit every taste bud".
Peakhurst Foodies and Farmers Market on the corner of Isaac St & Forest Rd, Peakhurst. Last Friday of the month between 3pm-9pm.
Ramsgate Foodies & Farmers Market
The Ramsgate Foodie and Farmers Markets are on every Saturday from 8am to 2pm at Ramsgate Public School; 33 Florence Street Ramsgate.
You get the feeling that the locals around here have made this place their weekly routine. The music, the vibe, the food, the flowers, the laughter - it's so intoxicating.
Here you will find Sydney's most popular farmers including Rita's organic farm, Tathra Place and Country Valley Dairy. Stall holders are so friendly and it is an awesome way to educate your little ones about good, real food!
Ramsgate isn't a hugely well know suburb of Sydney unless you grew up in the area but it's close to the beach (so why not have a dip afterwards) and the famous Bruce Lee statue (Yes, Sydney has a famous Bruce Lee Statue – bet you didn't know that right?!)
Ramsgate Public School, corner Chuter Ave, Hawthorne St, Ramsgate Beach. Every Saturday from 8am-2pm.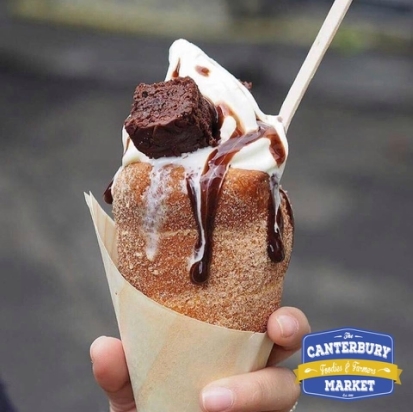 Canterbury Foodies & Farmers Market
Canterbury Foodies and Farmers Markets are the closest to the Inner West of the three. They are held at the Canterbury Park Racecourse on select Friday nights between 5pm and 10pm. The next event is now in the New Year on January 5th. Check their website for dates.
These markets have a slight twist in that the Australian Turf Club and the Foodies Farmers Markets have combined so the night races are being held at the same time. Some may like to watch the races whilst enjoying fine food. Others may just come for the markets themselves.
Like so much of the area, there is such a wonderful multicultural feast for the senses. Middle Eastern, Vietnamese, Italian, Spanish and oh those dessert selections – hubba hubba! You name cuisine, it's here. My mouth is seriously watering as I type. Of course, you can also do your weekly fruit and veg shop here too, purchasing the freshest local produce around.
There is just so much to do, see and each of the Foodies and Farmers Markets. We highly recommend you take a visit and of course, tell them ellaslist sent you!
Images: Foodies and Farmers Markets Facebook and Website.