The Coolest FREE Events For Kids At Sydney Festival 2019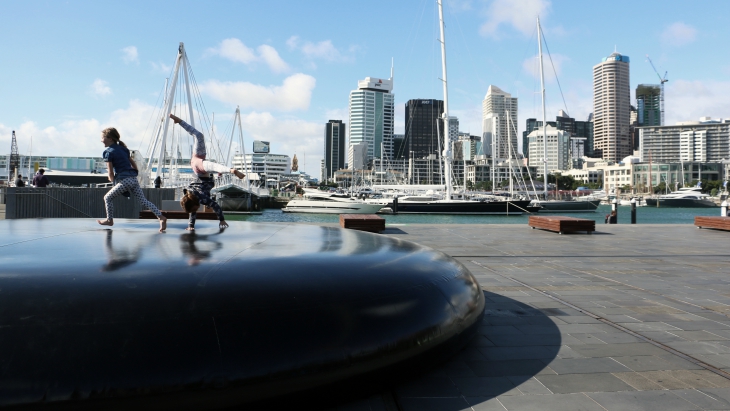 By: Alex Harmon, ellaslist
Nov 29, 2018
Think Sydney Festival is just for the cashed-up? Think again! There is so much FREE stuff on offer throughout 2019's jam-packed program. These are the best freebies we've found for families...
Fly Me To The Moon Parade + Workshops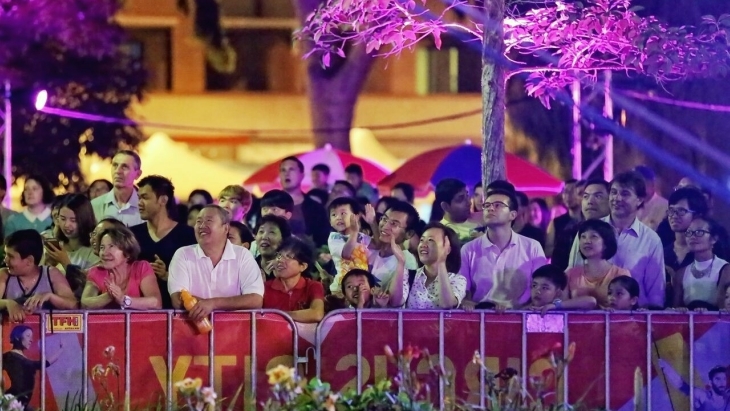 Prince Alfred Square will come alive with a grand bicycle parade through Parramatta, featuring the Heliosphere, unicyclists, penny farthings, a one-man-band and you! That's right, you can be part of the parade by dressing up in your finest flying garb (think superheroes, pilot goggles, fairy wings and more) and taking part in the grand pedal-powered parade. There's also a range of workshops on for kids if you bring your bicycle, pram, scooter or wheelchair along on Thursday 10 or Friday 11 January and turn it into a DIY creative flying machine with wheels and wings, with the assistance of multi-platform Australian artist Duncan Maurice. Find out more here.
Apollo 11 at Barangaroo South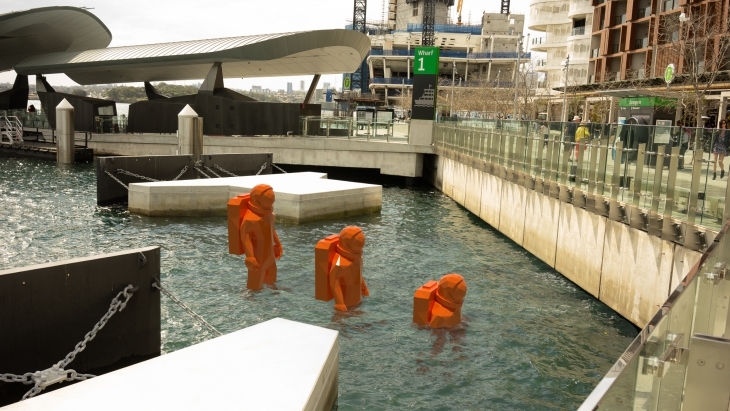 Could this be the most Instagrammable event? We'd put money on it and double down on the fact that your kids are going to love it too. The public artwork pays tribute to the heroes of space travel, from astronauts to mathematicians and beyond. Go exploring around Barangaroo South to spot the giant orange figures that are here as part of a city-wide commemoration of Apollo 11, the 1969 space flight that first landed people on the moon.
When and Where: 9–27 January, Barangaroo South
How much: Free
Ferrython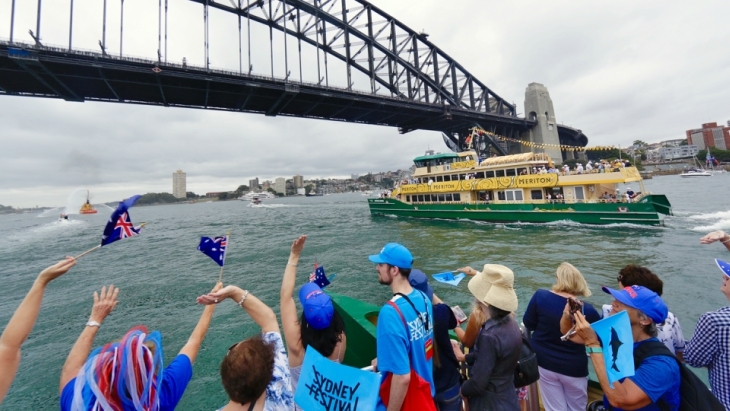 A sight to behold and a firm fave with the kids. Head down to Sydney Harbour on Australia Day for one of the city's most popular and iconic free events. See our beloved ferries as they venture from Circular Quay to Shark Island and then back to a glorious finish at the Sydney Harbour Bridge. Pack a picnic and gather on the foreshore to barrack for your favourite ferry. Find out more here.
The Heliosphere
Look up into the sky and be amazed. Floating twenty metres above the crowd, a giant, glowing lunar balloon filled with helium flies and dips, suspending a talented aerialist. Working with two technicians on the ground, the aerialist performs elaborate twists, turns and tricks to create the illusion of weightless levitation, swooping down to shake hands with the audience one minute and soaring back up into the skyline the next. The Heliosphere appears at Prince Alfred Square in Parramatta for Circus Comes To Town, 11 to 13 January, don't miss it! Find out more here.
Article 14.1
For 10-days Australian artist Phuong Ngo invites viewers to join him as he relieves a momentous journey – his parents' immigration by boat from Vietnam in 1981. Join Ngo as he folds thousands of origami boats and listen to recorded interviews with Vietnamese refugees. On at the Museum of Contemporary Art - on the last night there will be a special boat burning ceremony taking place at sunset in memory of those lost at sea. Find out more here.
Fly Me To The Moon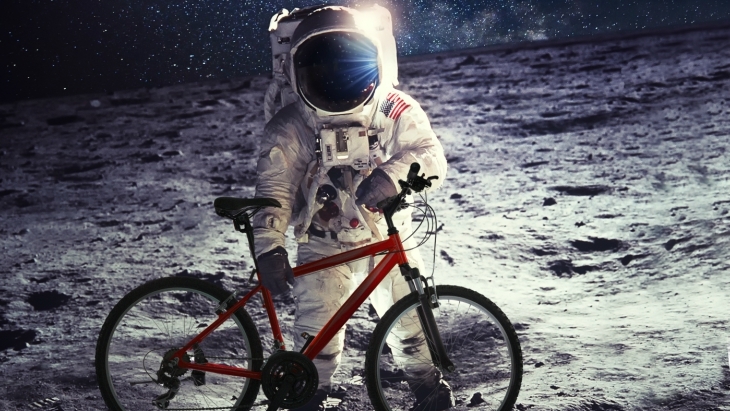 Yep, the 50th anniversary of the moon landing celebrations keep coming with this interactive event that needs you to take part! This visiting art installation at World Square has you peddling on the wild "flying bike" sculpture to collectively cycle the 384,400 kilometres to the moon. Can we make it? Start peddling, get involved in organised rides or donate the kilometres from your daily bike travel or gym sessions so we can get to the moon!
When and Where: 9-27 January, World Square
How much: Free
Nick Cave: Until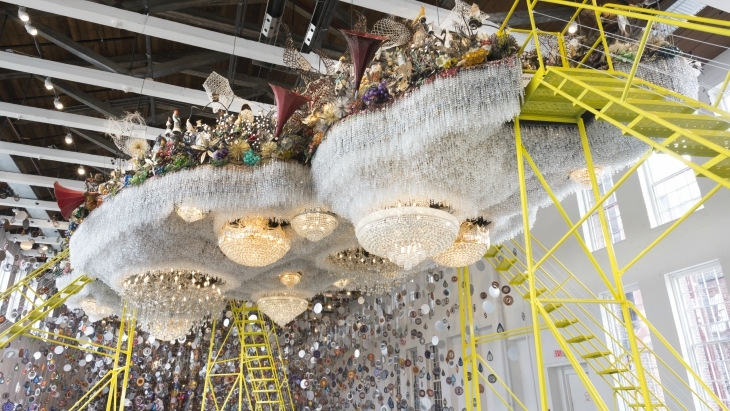 This one has already begun at Carriageworks and we can tell you, it's spectacular! Walk amongst shimmering crystals, thousands of wind spinners and ceramic birds, millions of plastic beads, 17 black-face 'lawn jockeys', 13 gilded pigs and a crocodile. On until March 3, 2019. Find out more here.
Moon Drops at Darling Harbour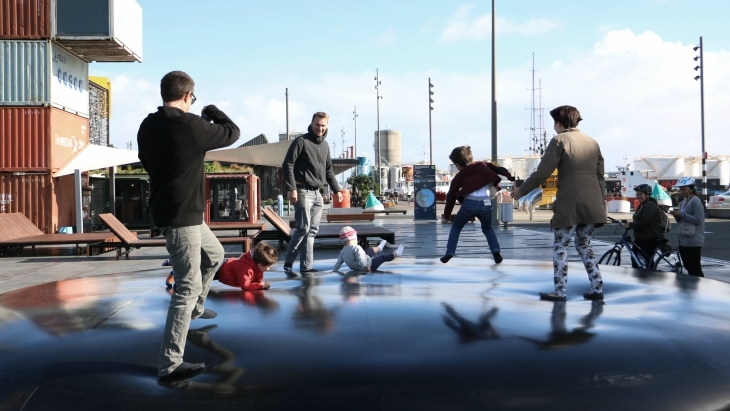 Kids will be lining up for this, we reckon! Ever wanted to experience weightlessness? You'll feel like you're on the moon as you float through the air flying off the five bouncy pads that look like water droplets. Find out more here.
BOXWARS At Apollo 11 Workshops At Barangaroo South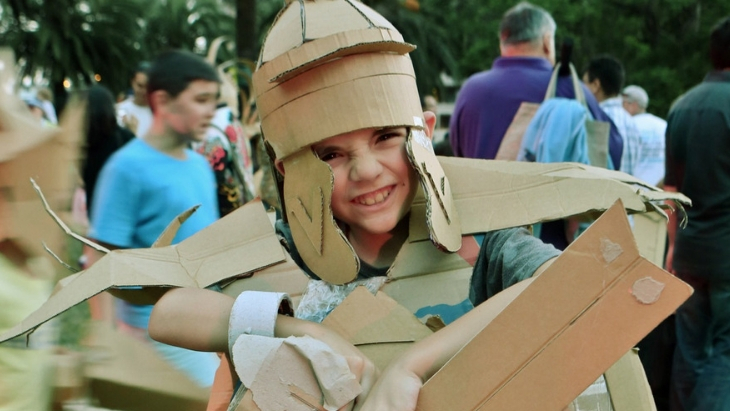 Kids will love exploring the Apollo 11 sculptures at Barangaroo South, in recognition of the moon landing's 50th anniversary. But the best part? They can then join a BOXWARS workshop to craft together their very own rocket ship and space suit out of recycled cardboard for interstellar travel! Find out more here.
Want to know our top picks for the whole Sydney Festival 2019 period? Click here!
Have you signed up to our newsletter? Join ellaslist to get the best family and kid-friendly events, venues, classes and things to do NEAR YOU!