The Benefits Of Choosing A CBD Childcare Centre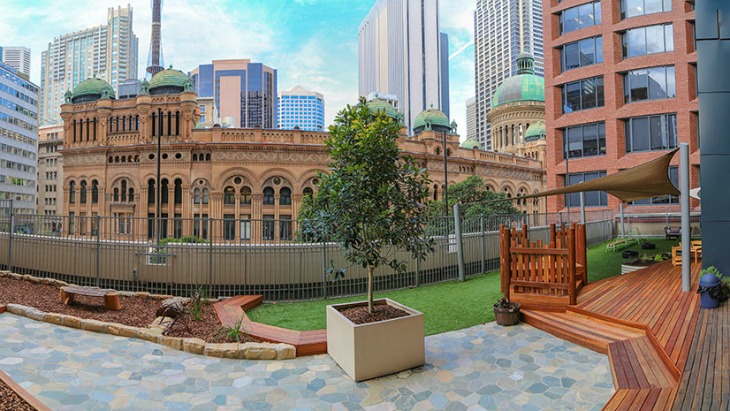 By: Alex Harmon, ellaslist
It's the age-old debate - do you choose a child care centre near your home or near your place of work? Personally, I have done both and I can see the pros and cons for each situation. But what about you? Today we investigate further for those parents working in the Sydney CBD...
The pros of a CBD childcare
Obviously the main one is that you're nearby should you need to pick up your child if they're sick or need you. But there's also that extra time you get to spend with your child on the commute, which is so important when they're young and changing so rapidly. Also think about the after-care facilities that the city offers to young minds. As Krissy Andrews, the Centre Manager at Guardian Early Learning Centre - Barangaroo in the city says, "The CBD is rich with culture and offer children the opportunity to participate in cultural celebrations across the CBD."
And at Guardian's CBD centres you don't need to worry about lugging big bags of supplies with you. "Our centres in the CBD provide children with all the necessities for the day including meals, nappies, formula, bed sheets, hats, sunscreen etc so families do not need to travel with large bags when commuting," adds Krissy.
Of course one of the best benefits is being able to drop in on your lunch breaks to enjoy a precious moment with your little one. "CBD centres allow for families to visit children during the day and to engage in the educational program, attend centre events and interact with and get to know other families in the CBD," says Krissy.
The cons of a CBD childcare
You've got to think about those days where you're not working in the city, or maybe you'll get a new job in a different area. There can be a lot of upheaval by choosing a childcare near your place of work. Then there's the journey time which, won't always be fun and games and bonding time! "It may be close to work but it isn't close to home," says Tara Carbone, Centre Manager at Guardian's Kent Street Early Learning Centre, "therefore they are having to travel to and from home with their children which can prove to be difficult especially with younger babies, while people who have childcare centres near home can do the commute alone."
Although, personally, having done both I have to say I missed my little one when I stopped doing the journey to and from the city with him. Seeing public transport through his eyes was a joy!
Isn't parking a nightmare in the city?
If you're not doing the commute by public transport then you probably worry about the issue of drop-offs and pick-ups, particularly where to park in the hustle and bustle of the city!? A number of the Guardian CBD centres offer flexible arrangements for families to safely complete drop offs and pick ups with children. This includes several centres with onsite parking or drop off zones located close to the centre. "At the Kent Street Centre the Wilson car park downstairs gives families 30 minutes of free parking for dropping off and picking up their children," says Tara.
Most CBD centres are also located within short walking distance to bus and train stations, so it's sometimes easier (and better for your carbon footprint!) to just leave the car at home. "We also offer services such as pram storage across our CBD centres," says Tara. "So, again this supports families to be able to have the flexibility of using several modes of transport into the CBD."
On top of the convenience of being close to public transport, many CBD centres offer safety incursions from Sydney Trains which "support children in understanding ways in which they can manage their own safety at train stations," says Krissy.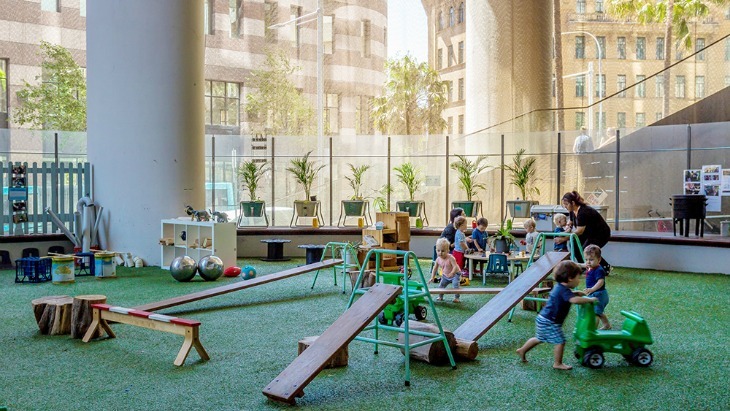 'But the city lacks a natural environment'
You're probably thinking that a CBD childcare means your children are missing out on that important nature-based play and natural light. That's not the case. "We add a considerable amount of greenery to our spaces," says Krissy. "Out here at Barangaroo we even have plants hanging from our roof, lining the windows and filling the documentation wall. Not only do they look fantastic, create and define spaces but they provide a number of opportunities for children to learn about the environment like life cycles of plants, interdependence of plants and animals."
"We use a lot of natural resources which create a more natural feel even in a city setting," adds Tara. "We also use a lot of re-purposed and recycled materials as well."
Plus, think of the excursion opportunities at the doorstep of a CBD centre. Guardian regularly take the children to natural wonderlands like Barangaroo Reserve, Hyde Park the Botanical Gardens and Circular Quay.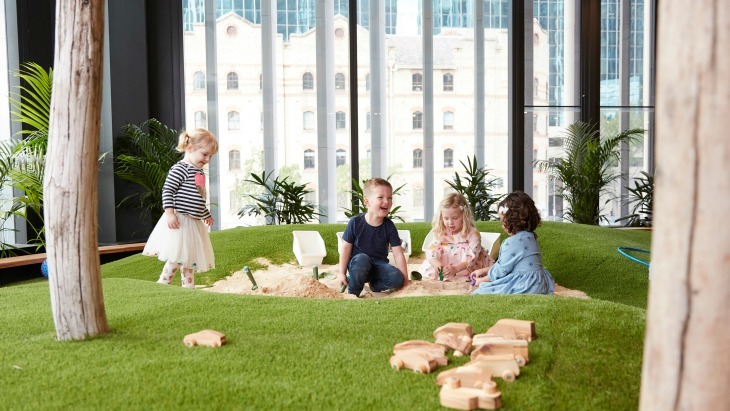 Think of the lunch date opportunities
Not only will it get you away from your desk for a little bit, but imagine being able to stop by your child's centre for lunch with your little one! That has to be one of the biggest perks in choosing a centre near your place of work. Many parents believe that centres shy away from this as it can disrupt the children's day. Not at Guardian - they have an open door policy meaning you can come in as much as you want - so long as your boss allows it!
"At Barangaroo ELC we have families who stop by every lunch break –not only just our breastfeeding mothers, but also families who are just stopping in for a lunch time play or to enjoy a meal with their children," says Krissy. "Some days we have 4 or 5 families here for lunch."
The centre even encourages families to attend events and excursions or just to participate in the program. "We have families who join us on excursions or who hang out reading stories to groups of children," adds Krissy.
To learn more about Guadian's CBD Centres head here.