Take a Flight on the Wild Side
Preschoolers
Family
Kids
Parents Only
Teens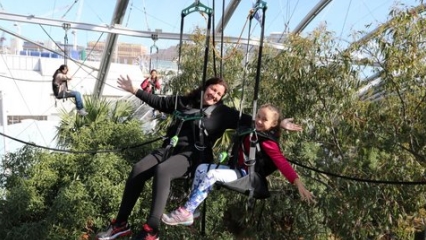 By: Jo McPherson, ellaslist explorer
A new attraction has come to Wild Life Sydney Zoo at Darling Harbour. It's called Wild Flight. It can be found towards the end of the Wild Life Zoo attraction, upstairs next to the café and the Koala encounter.
WHAT IS WILD FLIGHT?
Wild Flight is a self-propelled ride where 7-year-olds and above can experience moving through the attraction's aviary and over Rex the crocodiles enclosure.
The great thing we found about this brilliant experience was that the harness was comfortable. You get strapped in to a seat harness and then you use ropes to pull yourself around the suspended track.
My daughter, Ellie and I had our harnesses attached to each other so that I had control of Ellie's movement. I could imagine one might get an arm stuck behind a rope and a young child might panic if an adult was not nearby to help (however, we did not get caught up).
It's not a long track and as it was not busy when we went we were able to move forwards and backwards throughout the enclosure. We were on the ride for about 20 minutes however I imagine if it is popular then you will be encouraged to move on quicker.
UP CLOSE TO THE ANIMALS
Both Ellie and I felt completely safe and it wasn't long before we were pulling ourselves along quite swiftly. The highlight was being up-close with the budgerigars and lorikeets as they flew past and landed on the tree branches.
I thought the cost was very reasonable at $10 a person or $8 if you have a Merlin Pass. You also get your photo taken and that cost just $5.
I would recommend timing this ride with one of the keeper talks in the Kangaroo Walkabout as then you may see more animals than we did. We loved the ride and our wonderful day out at the WildLife Zoo.
A FEW TIPS
Wild Flight Times
10am to 4:30pm from now to 5 October 2015 and 10am to 6:30pm from 6 October 2015 to 19 April 2016.
How old does my child need to be
Children 7 years and older are permitted to ride WILD Flight. Children between 7 and 12 years old must be accompanied by a paying adult.
Bookings and more info
Visit www.wildlifesydney.com.au/ for more details and to book your tickets.
We are a small family originally from the UK. Dave (my husband) and I are in our 40's and moved to Sydney about 10 years ago; we can't imagine living anywhere else now.
We have one daughter, Ellie, who is 7 and into anything that we offer her. She loves craft, drama, dressing up, swimming (particularly as a mermaid), cycling and anything else you may suggest she does. We also have a gorgeous dog, Rosie who is our best friend and ball lover.
Dave is an IT architect and in his free time used to play many computer games however now we have a home, his free time is used to garden and do the
DIY
jobs that I am really hopeless at.
I'm a teacher and work with children and their families that have autism. It is a rewarding job and I love it. I also love the school holidays where Ellie and I can go off and explore Sydney.
We all love travelling and doing new things; we are often browsing the 'net for interesting things to see and do. Every school holiday we are busy doing things. My friends are always saying "you do so much with Ellie; you are always doing something different"! I wouldn't have it any other way.