Elegant Kids Birthday Party Theme Ideas
Preschoolers
Family
Kids
Mums & Bubs
Teens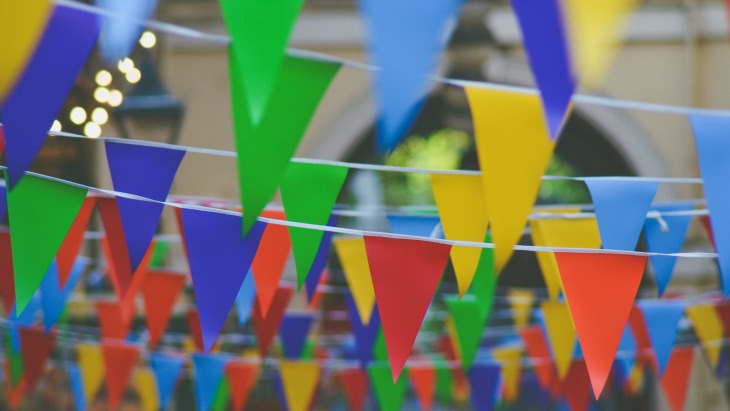 It's your little one's special day, so there's no stopping you when it comes to planning the perfect birthday bash. Kids wait all year to celebrate their big day, and with one of these amazing party themes, they're sure to have the best day ever.
From parties inspired by glitter, sprinkles, cupcakes, and ice cream to princess parties of every variety to boy-perfect soirees featuring mad scientists, pirates, superheros, and even circus carnival, Emily Campbell from Emiko Blue has rounded up the best themes for the guest of honour!
While Frozen has been a very popular birthday party theme we are starting to see customers move away from this theme into more creative themes for their child's special day.
Farmyard – Always popular, especially as a 1st birthday theme. For a fresh look use blue, yellow and red for the colour palette. Using fresh fruit as centrepiece, cookies in the shape of a tractor and farm animals, milk bottles with fresh milk inside and little boxes with freshly chopped strawberries and raspberries will have your little guests feeling as though they are back on the farm for the day.
Belle & Boo – This vintage theme is perfect for both boys and girls. Belle is a bob haired little girl who has a bunny friend Boo. This theme is loved by grown-ups and children alike, with every treasured party piece designed to embody all that adults and children love about traditional, old-fashioned story telling. To bring this theme alive decorate your party area with matching cups, plates, napkins, children's garland and balloons.
Rainbow – With so many vibrant party products on the market it is easy to create your own rainbow party using colourful plates, cups and napkins along with decorations such as confetti balloons and honeycomb balls. Fill jar with colourful lolly's which can be used as a table centrepiece.
Baking Party – Convert your party area into a bake shop with decorations such as tissue poms and a garland made out of cupcake liners. Simply thread the liners onto string for a fun touch and get the kids mixing and decorating their own cupcakes or cake to bring out their creative flair.
Circus Carnival – A popular theme that is vibrant and fun but best of all it works for girls or boys of any age. Set the scene with hot dogs, popcorn and delicious creamy cupcakes for all to enjoy and decorate with bundles of balloons, party hats and flags in your chosen colour scheme.
Ice cream – You scream, we scream, we all scream for ice cream! Set up an ice cream station where little guest can make their own ice cream creation. Popular toppings include sprinkles, marshmallows, M&M's, chocolate flake, wafers, honeycomb pieces and cut fruit such as fresh strawberries and banana.
Pirate – Always exciting for little boys. Mix red, white and black partyware, in stripes and polka dots. Decorate with giant round balloons and mini treasure chests filled with gold chocolate coins. Make your little guests feel like pirates, for an added effect give them a pirate hat or bandana to wear at the party.
Princess – Most little girls dream of being a princess. This always a special theme filled with lots of pink, lilac and blue. Decorate the table with pink tulle fabric and a sprinkling of gold stars down the middle. Gold confetti balloons with pink ribbon and gold plates, napkins and teacups or plastic wine glasses for the girls to drink hot chocolate and apple cider out of will give the party a royal feel.
Mad Scientist – This fun theme will keep the kids entertained all day. Using red, orange and blue, fill plastic test tubes with your little ones favourite lollies, make biscuits in the shape of beakers and test tubes, decorate with giant balloons and cups, plates and napkins to match the colour scheme. Make your little guests feel like budding scientists, for an added effect hire mini lab coats for them to wear at the party.
Superhero – Who doesn't want to be a superhero? For a modern take on this theme use blue, green and purple as your colour palette. To create a fun dessert table simply combine cupcakes, cake pops, lolly pops, jelly cups and biscuits and decorate with giant balloons to match the colour scheme.
About Emiko Blue
Emiko Blue stocks leading Australian designers such as Sambellina and Paper Eskimo, along with award-winning international designers Meri Meri and Talking Tables Belle & Boo to name a few, with new products being introduced all the time. Birthday parties for kids have come a long way from fairy bread, white paper plates, streamers and a few balloons, so whether you are a time-poor mum or someone who simply loves to create memorable occasions for your children and guests, you will be able to draw inspiration from Emiko Blue's 'shop by theme' or 'shop by colour' and create the perfect event.
To view our extensive range of product range, head to www.emikoblue.com