Something To Salivate Over: Doughnut Fries
Family
Kids
Teens
Parents Only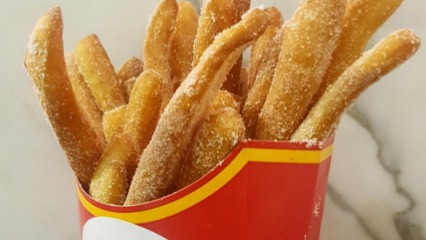 By: Phoebe Ackland, ellaslist
Doughnut fries: the reason why your next family vacation needs to be to Brisbane. In case you haven't noticed, there's a heap of delicious junk food crazes around Sydney at the moment- we just love the ooey-gooey Nutella-filled Tella Balls, 'freakshakes' that are simply overflowing with deliciousness out of the cup and the magical Unicorn Hot Chocolate that you can make from the comfort of your own home.
Although Sydney does us proud on the dessert front, Brisbane's The Doughnut Bar admittedly makes us a little envious.
The Dessert To End All Desserts

You just HAVE to check out The Doughnut Bar's crazy menu (who claim to be the inventors of the "doughcone") including Doughnut Fries, that have caused quite the social media stir. These delicious babies are described as "Hand cut brioche doughnut pastry fried to perfection w/ your choice of Chocolate, Caramel or Raspberry dipping sauce." French Fries? Donuts? Can't decide? Now you don't have to.
Other menu items include a Golden Gaytime shake, Nutella-Coconut ice cream spiralled high into a cronut-cone, an ice-cream sandwich made with a milky bun that comes with a syringe of Nutella to inject over the top, Nutella frappuccinos, and all flavours of doughnuts imaginable including Ferrero Rocher, Oreo, Nutella and Golden Gaytime. Jealous? It might be a bad time to mention that The Doughnut Bar delivers for free in Brisbane….
Heading to Brisbane anytime soon? Follow them on Instagram or check out their Facebook so you can track them down and treat the kids.