Six Of The Best Things To Do In The City With Kids
Family
Kids
Todders
Preschoolers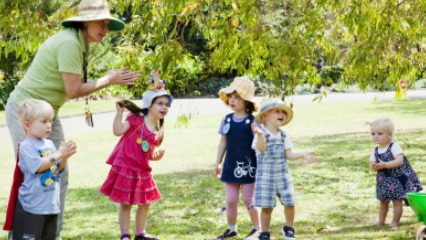 By: Megan Gibson, ellaslist explorer
Sydney is a great city to explore with kids, but its best to plan your day according to weather, seasonal events and the ages and attention spans of the children you are taking. Here are the best things to do that shows that Sydney City is a haven for kids!

1. The Darling Quarter Kids Playground
This park has all you need to keep the kids entertained for hours (including a handy McDonalds). There is a flying fox, balance ropes and a huge ring swing for the big kids, along with a slide hill, sandpit and climbing nets for the smaller ones.  And let's not forget the awesome
water park -
with water screw, pump station and a squirt play area, swimmers and towels recommended year round. The playground is large and busy -especially during the warmer months, weekends and school holidays.
MORE

INFO

HERE

.
[caption id="attachment_113598" align="aligncenter" width="700"]
Source: ARCHITECTUREAU[/caption]

2. Powerhouse Museum
The recent introduction of
free entry
for under 16's only makes the powerhouse an even more fantastic place to take the kids.  Especially on school days, some of the exhibitions are practically empty (apart from the occasional school excursion) allowing kids to explore and touch at length. Not your typical "quiet" museum, children are encouraged to explore, climb and touch to experience all there is to offer.
They offer awesome holiday workshops too. 
MORE

INFO

HERE

.
3. Royal Botanic Gardens
The Royal Botanic Gardens wrap around the foreshore starting at the Opera House. Whether you just need the kids to run off some steam or have time to explore more fully, the gardens are amazing year round. Featuring a fernery, succulent house, statues, herb gardens, fountains and café, along with a dose of history and equal measure of scenery make the gardens well worth a visit. We also picked it as a family favourite
picnic destination.
Hint: have a chocolate feast at
Piccolo Me! 
MORE

INFO

HERE

.
4. Art Gallery Of
NSW

and The Domain

You wouldn't normally expect an art gallery to be on a list of places to explore with kids, but the Art Gallery of

NSW

is perfect for dipping into, as long as the kids can contain themselves and then they can run and shout in the Domain just across the road. While some of the gallery guards may look sideways at small children in the galleries, and calm is key, kids can absorb so much from a quick walk through a selection of galleries.  Some of the lower galleries even have

children's activities

set up in quiet corners. And the Domain is perfect for a running race, history lesson, picnic or photo shoot with the amazing Moreton Bay Figs.

MORE

INFO

ABOUT

ART

GALLERY

OF

NSW

HERE

.

[caption id="attachment_113603" align="alignnone" width="770"]
Source: Art Gallery NSW[/caption]

5. Ride The Ferry To Manly
While not technically "in" the city, a ferry ride to Manly begins at Circular Quay. Everyone rushes for an outside seat as the ferry gates open – with good reason, the views are spectacular, whichever side you sit on. (Some) Kids will love the increase in rocking as the ferry passes the heads.  If you have the time, once you arrive stroll down the Corso (and have a splash in the fountains) to the beach and have an ice-cream and a paddle before you commence your return journey. Check out the cool places
ellaslist
found for kids to do in Manly!
6. The Australian Museum
The Australian Museum also benefits from the recent introduction of
free entry
for under 16's.  What child can deny the excitement of dinosaurs, bones, turtle shells, birds and more?  There is something to see for everyone and a special "kids space" area that allows kids free range to explore and engage.
For a great cafe with a view
, you're in the right place.
MORE

INFO

HERE

.
I am a Sydney-sider born and bred, but spent 12 years living in Wagga, Canberra and London. I am married to an Englishman and we have three children, Eli age 5, Allegra nearly 3 and Cooper who is just 5 months.
I am a stay at home Mum and keep myself sane by getting out and about and exploring all that Sydney has to offer. The kids and I enjoy parks, museums, picnics, playgroup, gardening, walking, cycling and road-tripping. I am the typical "crafty" mum and love getting my hands dirty, taking photos, and running (sort of). You can read my blog here.