Six of the Best Kid-Friendly Highlights of the Night Noodle Markets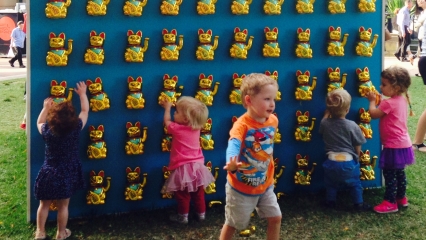 By: Lisa Wolff, ellaslist
We went to the Noodle Markets last weekend. We had read all the tips on how to tackle night noodle market with kids so we were well prepared. And we all loved it! In fact, I would say this year's Noodle Markets beats them all.
Hot Tip: Get there at Opening Time
We were there just before opening time at 4pm and left at around 6pm so we avoided the crowds and pram clashes. To be honest, the markets for me was less about the food and more about the atmosphere and fun for the kids (and there was plenty of that). Even though I'm a passionate foodie, when you've got three little ones under four, I felt lucky to get even one or two samples of what was on offer. So here are my six highlights of The Night Noodle Markets 2015. Thank goodness it's on for two weeks (until 25 October)…we're already planning our next visit.
1. Lucky Cats
If you are approaching the Noodle Markets from the Market Street entrance of Hyde Park, the first thing you'll see is the Lucky Cat Wall. This is a wall filled from top to bottom with those golden cats with waving paws that are often dotted around Asian shops. The kids were mesmerized. In fact, I reckon hubby and I could have nipped off for a meal and they wouldn't have even known we had gone. (No, I don't suggest you try that!). Some of the kids were removing the easy-to-remove waving paws and others were putting them back so it was all quite harmonious (most of the time). Although, I hope the organisers have a good supply of those paws – I'm not sure how long they are going to last.
When the kids were starting to get a bit cranky when it was time to leave, we made a pit-stop at the Lucky Cats and they cheered up instantly.
2. The Food
If you're visiting the markets with older kids, or as an adults-only date, food can be the focus. This year, there are over 50 stalls ranging from gourmet noodles, Ramen burgers, dumplings to decadent desserts.
If you've got little ones with you, you'll need to be a bit more strategic about your choices. If you want to try one of the more popular dishes, you may be standing in a queue for a little while – unless you head there first thing. But if you're not too fussy, there is loads of choice and you'll be able to get a variety of delicious dishes for the whole family in minutes.
I had my list of places I wanted to try but I landed up getting to only two. They were:
Scrumptious Sliders
The scrumptious Asian-style sliders from One Tea Lounge & Grill. There was a bit of a pick'n'mix going on with the mini-burgers. I landed up choosing one of each – a ramen burger (a bun made of crispy ramen noodles) filled with wagyu beef ; a rice burger (a crispy fried rice bun) filled with teriyaki chicken and a matcha (green-tea) steamed bun filled with chilli tofu. It was pricey at $22 for the three but wow, it certainly packed a punch of taste.
Gourmet Ice-Cream Sandwich
Gelato Messina's Lucky Fortune Bar – This well-known gelato pop-up spot has a few weird and wonderful combinations on offer, with their main focus being the bao – a deep-fried doughnutty balls with a variety of toppings. We went for the Gold Bullion Bar: Layers of gulamalaka gelato (still not sure what that is), condensed milk gelato, passion fruit jelly, a nut crunch, and banana bread. ($10) It was certainly the most gourmet ice-cream sandwich I have ever had.
The other places on my list:
Hoy Pinoy – this is the smokin' hot pork or chicken skewers prepared Filipino style. Last year I stood in line for one and it was yummy. This year, the queue started developing even before opening time so be prepared to be patient. I did notice that due to demand, there was now a second Hoy Pinoy barbecue cart on the other end of the market. One warning though, those long skewer sticks are lethal so just be careful if you're eating these around kids.
Mrs Mi – Apparently they have a robot at their stall making noodles. I'm definitely going to check that one out next time.
Ramen Zundo – is offering a Ramen Hotdog, which is ramen in a roll with a choice of karaage, crumbed prawn, or vegetarian fillings. Sounds Interesting
Mamak – This Malaysian restaurant is famous for their Roti teamed with curry sauce. Yum!
3. Harvey Norman Fit Zone and Disco
This year, there are a number of different sponsored zones offering fun facilities, activities and places to sit, relax, dance and eat. The kids loved exploring these different districts and the sponsors have really gone all out to attract visitors. Our favourite was the Harvey Norman Fit Zone. It boasted bean bag chairs and cubes for some chilling-out and a disco area complete with DJ. The kids had a ball jiving to the funky beats, doing some hula-hooping and investigating the fake hedges.
4. Ping Pong, Floating Markets and Mercs
Nova 96.9's Ping Pong Parlour was a great spot to watch some flying balls or play a game yourself. There were also chairs making it a good place to sit and eat. Apparently they are giving away prizes for the best (and worst) players.
Also, check out the Schweppes Floating Market and the impressive Mercedes Temporium.
5. Citi
VIP

Zone

I got my Citi credit card when I first moved to Australia and I'm thankful for it every year during Good Food Month when I get instant VIP status at the Noodle Markets (and I love being a VIP). The Citi VIP area is reserved for clients of the bank and offers a large seating area, private bar and even a food concierge service. I was just grateful to have a "home base" where we could leave the pram and our bags and go exploring. The kids loved clambering over the chairs and exploring the area. Thank goodness, the staff were welcoming and were very kind to our little mob.
6. Inflatables
One of the highlights for the kids were the giant inflatables and other big structures. Their favourite was the humungous lucky cat inflatable near the Park Street Entrace. You can't miss it! Also check out the statue of liberty and the huge Macau Tourism palace. It's a perfect place to plant to watch the hustle and bustle of the market around you.
2015 NIGHT NOODLE MARKETS ESSENTIALS
WHERE: Hyde Park, Sydney
WHEN: Every night from 8 to 25 October 2015; Mon & Tue 5pm-9pm, Wed & Thu 5pm-10pm, Fri 5pm-11pm, Sat 4pm-10pm & Sun 4pm-9pm
ENTRY: FREE
Night Noodle Markets Map
Night Noodle Markets Menu