Six of the Best Healthy Lunchbox Ideas
Preschoolers
Family
Kids
Mums & Bubs
Parents Only
Teens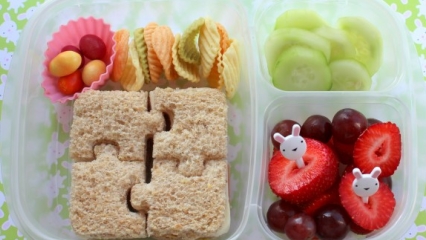 ellaslist COVID-19 update: Please note that all the information on the website is correct at the time of publication. Please check the relevant website before visiting a venue or destination for the latest COVID-19 information. ellaslist is not responsible for any cancellations or closures.
By: Lisa Wolff, ellaslist with Mandy Sacher, Wholesome Child
I have the worst lunchbox blues. It's so disheartening packing a lunchbox with love and (what I think are) yummy things to eat and then opening it up at the end of the day and it's virtually untouched.
I recently attended a Workshop that rocked my lunchbox world. It's called Lunchbox Solutions and it's run by Mandy Sacher, a Paediatric Nutritionist from Wholesome Child. (Read all about what I learnt at the Workshop).
Mandy shares with us her top tips to re-invent your child's lunchbox.


1. Get a good quality lunchbox that you child can open easily. The Bento-style lunchboxes forces you to make a varied lunch and allows you to ditch the packaging. I love our Yumbox, Tupperware lunch. The Stainless Steel LunchBot is also very popular.
2. Try, try and try again – it can take up to 16 times for a child to "like" or accept a new taste, so stay positive, stay calm and keep trying. The first time your child may not even want to look at the new food, next time they will sight it but not taste it, the third time they may touch but not taste and so on. You can also try offering them the same foods in different ways – cut into fun shapes, laid out in colour patterns, steamed rather than raw etc.
3. Be Prepared! Use a lunchbox planner and cook in large quantities and freeze. Use leftovers and have back-ups in the cupboard like tinned tuna and salmon. Try out one new recipe a week. Get your kids involved to help with making their lunchbox. They are more likely to eat up their lunch if they get a say in what is included.
4. Aim for a nutritionally balanced lunchbox with:



Two pieces of fruit – This could be fresh, dried or even freeze-dried. If your child loves sultanas, keep in mind that they're very high in sugar so one tablespoon is enough.


Protein – most kids' lunchboxes lack protein of any kind, so aim to include a protein as part of their snack for recess. This is the best way to stabilise blood sugar levels and increase concentration span.


Vegetables – This is my greatest challenge. My daughter's is vegetable averse and will barely tolerate cucumber (the one and only veggie in her diet). Mandy assures that practise makes perfect and suggested I send veggies in her lunchbox whether she eats them or not. I am also going to try some of her fantastic hidden vegetable recipes.Mandy also hosts a Fussy Eating: How to Get Them To Eat More Vegetables workshop. I think this is going to be my next port of call.


Carbs – Mandy suggests choosing the best kind of bread and crackers for your kid's lunchbox. In the workshop, she provides an extensive list of the better options for these staples.


Treats – There is no reason not to include treats in the lunchbox. But Mandy suggests it's far healthier to make these yourself. Give Mandy's cupcake recipe below a try. The kids will love them.
5. Try to steer away from providing pre-packaged snacks which are high are in sugar, salt and unhealthy fats – follow Australian schools' leads and recognise that this plastic packaging also has a damaging effect on our environment and go "waste free for morning tea".
6. Good Snacking! My daughter is starving when I pick her up from school. There's inevitably an argument about what snacks she wants (chocolate!) and how much (lots!). Mandy says: Whilst snacks are useful to stabilise blood sugar levels, they can also fill up tummies and dampen appetites for the main meals coming just an hour or two later.
There's no need to plunge in at the deep end and stop all your old favourites at once. With kids, it's best to start out slowly and learn together what they like, what they're not so keen on, and what they'd like to help you create for their school snacks. In the workshop, Mandy includes recipes for yummy healthy snacks from root veggie chips, bliss balls, muffins and muesli bars.
Mandy's Vanilla Cupcakes



½ cup of coconut oil


10 dates, medjool (to soften soak for 3-5 min in hot water – discard excess water)


1 tsp vanilla powder (if using the pod, scrape out insides)


2 eggs


2 cups of spelt flour


1 tsp baking powder


½ tsp baking soda


1 cup steamed and drained cauliflower


½ tsp Himalayan sea salt


½ cup of maple syrup
1. Preheat oven to 180c.
2. In a high speed processor, add dates, eggs, oil, cauliflower and maple syrup and blend together at a high speed until a smooth consistency is reached.
3. Next, add the flour, baking powder, baking soda, salt and vanilla powder and process together on a medium speed until a smooth consistency is reached.
4. Place non-stick inserts into mini-muffin tray and add 1-2 tbsp of batter for each mini-muffin.
5. Bake for approx. 15 min. To check if they are ready, pierce the middle with a knife, if it comes out clean then they are ready.
Tip: You can substitute the spelt flour with a gluten-free baking flour or an organic all-purpose flour for a fluffier cupcake.
Coconut Cream Frosting
1 can coconut cream
2 tbsp of maple syrup
Natural food colouring – Queen or Hopper brand (optional)
1. Place one can of coconut cream in fridge for approx. 20 min.
2. Open and separate cream from the liquid.
3. Place in a small mixing bowl, and using a hand-held whisker or processor, whisk for 5min or until cream has reached hard-peaks. Cream should be very stiff.
4. Add in maple syrup, colouring and whisk for 1 more minute.
5. Place coconut frosting in piping bag and pipe over cupcakes, or ice cupcakes using a knife.
Tip: Best to ice cupcakes as close to the time you are going to eat them.

Give your Lunchbox a Makeover! Reserve your place at Wholesome Child's Lunchbox Solutions Workshop. Check out the
Wholesome Child Website
for future dates.
Date: Tuesday, 1 September
Time: 7:30-9:30pm
Venue: Randwick Public School
Cost: $40.00 pp
Date: Thursday, 10 September
Time: 7:45-9:45pm
Venue: Rosebay
Cost: $40.00 pp