Seeing Beauty in the Beasts: We Review Deadly 60 Down Under at the Sydney Opera House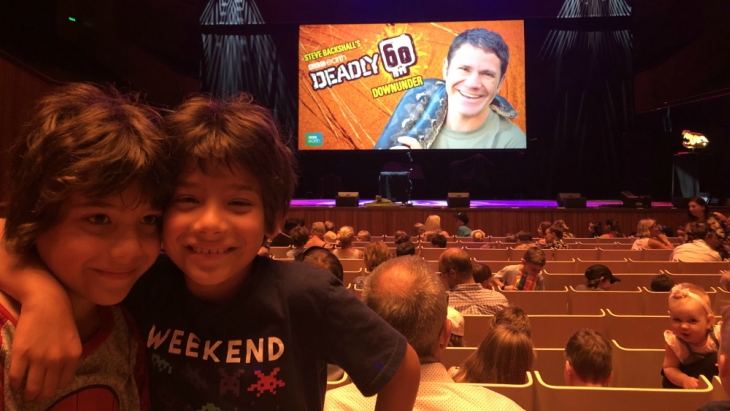 By: Grace Titioka, ellaslist
Jan 15, 2019
Spiderman, Batman, Aquaman. Toss aside all these fictional superheroes for a close up with a real live warrior of the wildlife – Steve Backshall!
For two consecutive days at the Sydney Opera House, Steve Backshall and a number of real live deadly critters graced the stage of the jam-packed Concert Hall.
We first stumbled across the BBC Earth presenter a couple of years ago when searching Netflix for educational wildlife programs and found his Deadly 60 series where he treks all corners of the globe in search of the most dangerous, venomous and poisonous creatures. We have been big fans ever since.
When my twin boys and I walked in to take our seats for the much-anticipated show and stepped into the buzz of excitement, we knew we were going to be in great company.
In just a little over a fast-paced hour, Backshall keeps the fascination alive as he not only handles creepy critters like a black headed python, a giant centipede, a massive tarantula, baby salt water crocodiles (so cute!) and lace monitor lizard, but invites young volunteers on stage to have a first-hand experience too.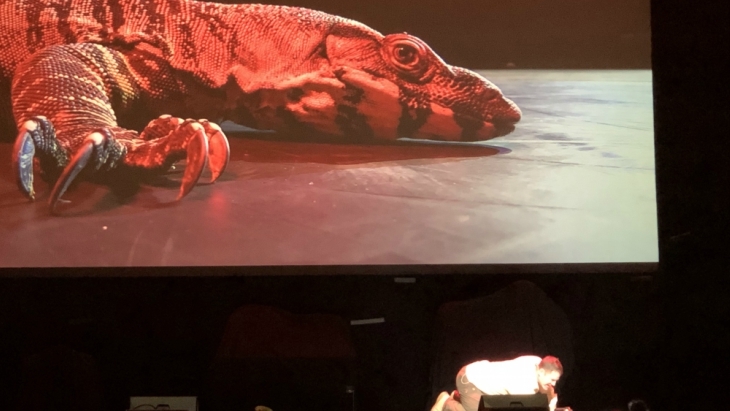 Realistically many of these wild creatures couldn't be brought into the Sydney Opera House, but we were able to enjoy footage of Backshall's adventures on a huge screen. We watch him diving with humpback whales, being chased by Komodo Dragons and snorkelling with a blue ringed octopus.
There were also appearances from "special guests" that may not have been real, but life size enough for us to get a good idea!
All the while, Backshall kept the children's interest piqued by asking questions about the animals' names and the level of their strength and bite force.
Watching my boys full heartedly taking part in the interaction was an absolute joy.
I watched them enthusiastically yell out all sorts of creatures' names that I had never heard of. It was pure evidence of who's been paying attention when watching all of those Deadly 60 episodes!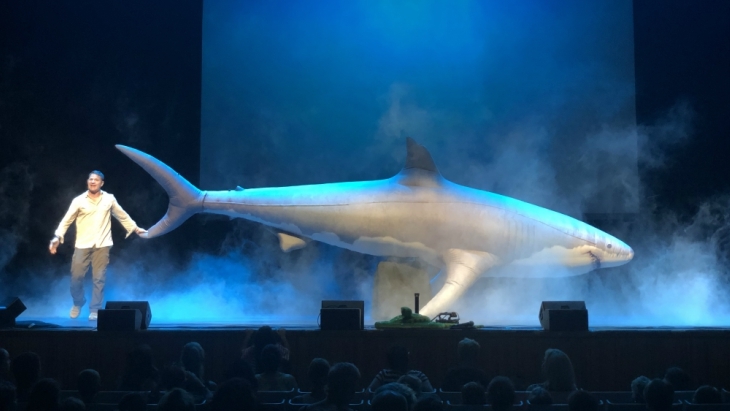 Backshall's passion for the wildlife is tangible on stage. But even more so is his natural ability to interact with children. You have to admire someone who works tirelessly educating our future generation that while dangerous, there's so much beauty and power to be admired in these animals. And that, for the most part, if we leave them alone, they'll pay us the same courtesy.
Heading towards the end, there was an interactive Q&A session where one of the questions came from a little girl, asking Backshall if he'd ever met the late Steve Irwin. Backshall replied that while he's worked with members of Irwin's camera crew, he sadly never had the opportunity to meet the Crocodile Hunter. He continued with a small tribute to our wildlife warrior and the legacy he leaves behind. The entire Concert Hall responded with a heart-warming round of applause.
Backshall reminded us that our world is constantly losing so much of its wildlife. Just last year alone, 150 million sharks died in our oceans, only to be replaced with as much (or more) plastic.
His hope is that out there in his crowded shows, there's the next Dian Fossey, Richard Attenborough or even a Steve Irwin.
And with all that energy and enthusiasm he shares on stage, I have no doubt there are a number of them.
Find out more about Steve Backshall's Deadly 60 shows here.