Sculpture by the Sea with Young Kids: Survival Guide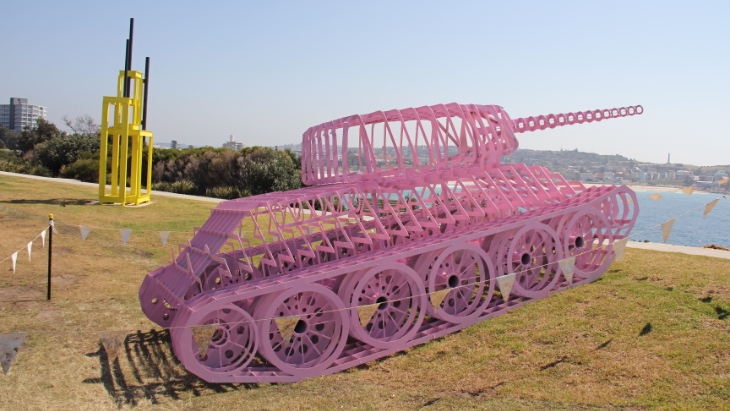 Every year the Bondi to Tamarama coastal walk transforms into the world's most gorgeous seaside art exhibition - Sculpture by the Sea. This is one of ellaslist's favourite annual family-friendly events and never fails to deliver an excellent day out. Expect the most beautiful, unusual, fun, wacky, clever, irreverent and mind-deconstructing exhibits along the most stunning coastal backdrop.
In 2019, the exhibition celebrates its 23rd anniversary in Bondi. It will run from 24 October – 10 November 2019, so don't miss it!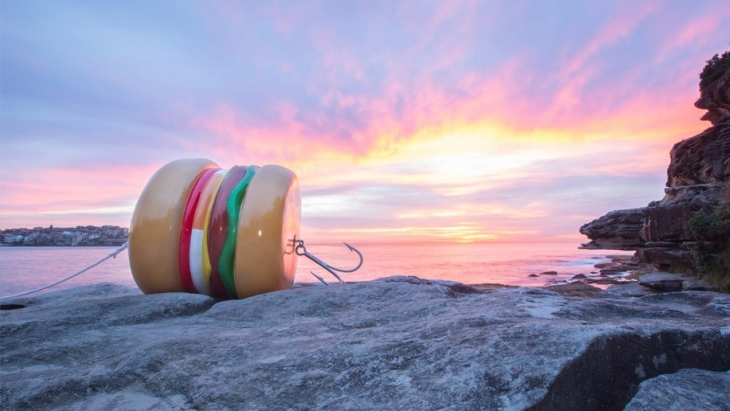 WHATS NEW FOR 2019?
Expect over 100 sculptures from international and local artists to feast your eyes upon.
The showcase includes a work by the Czech Republic's most infamous and controversial artist, David Černý, who famously painted the Monument to Soviet Tank Crews memorial in Prague pink in 1991 and was later arrested for hooliganism. Černý's rebellious act has be reborn at Sculpture by the Sea, Bondi as a large-scale steel sculpture titled Pinktank Wrecked (hero image).
It may even be the last year for the Bondi location with the local council hoping to install a new coastal path to boost disabled access through Marks Park. The organisers of Sculpture By The Sea say this would disrupt the event and have threatened to move to a new coastal location! More on this here.
KIDS ROAM FREE: The two main spots where kids can roam free are Mark's Park and Tamarama Beach (more about this below).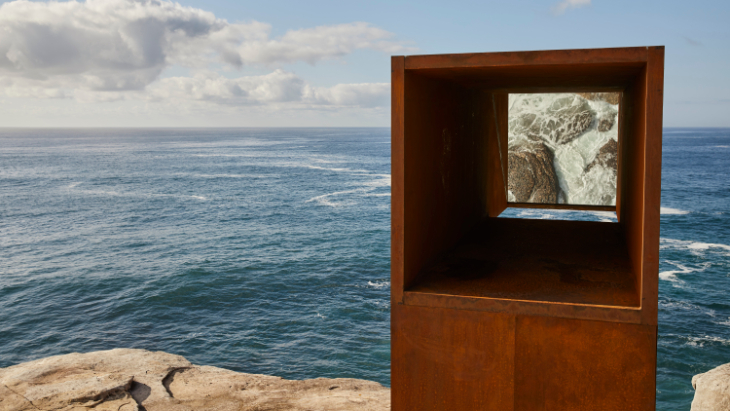 THINGS TO KNOW! Going along with kids 5yrs+ is a fantastic after school (before school!) or weekend activity – grab a Kids Guide at the catalogue marquees for $6. Don't forget to take your camera for some amazing photo opportunities, blue sky days are the best. There's no shade on the walk – so bring hats, sunscreen and water.
GOING WITH A PRAM: Yes you can if you plan, although backpacks are better! If you're heading there with a baby, toddler or preschooler, expect it to be crowded with some steep stairs to consider or avoid – arm yourself with our survival tips below to have a great day out!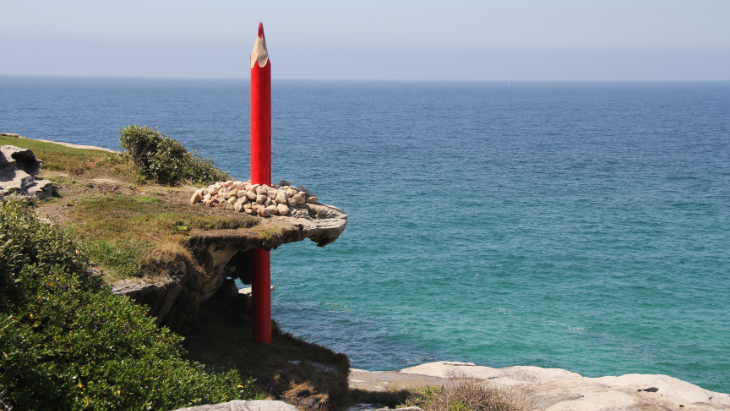 1. Weekends – Get There Early (Really Early!)
The closer to sunrise the better, seriously! On weekends those crowds really start to gather from 8.30am onwards which makes the coastal walk (especially with a pram) really tight and not enjoyable. So get up and out early – our kids seem to be getting up at 6am these days anyway!
Pop them in the car early-doors with a breakfast on the go and you'll score yourself the following… an easier park in Bondi, a beautiful sunrise, the ability to take photos of the sculptures without an entire tour-bus crowd standing beside you, much cooler temperatures and just an all-round better time for everyone!
2. Or, Make It A Weekday Mother's Group Outing
If you can go in the week – do it! A day at Sculpture By The Sea makes for a great meet-up destination. Once again, early is better.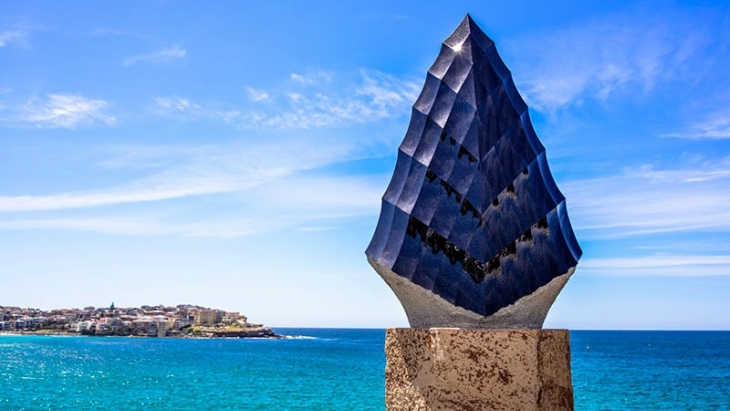 3. Need To Take The Pram? Bring A Friend!
Don't do this alone if you need to bring a pram. A light compact stroller you can fold for the stairs is a much better option. While 80% of the exhibits are accessible on paved walkways, you need at least one other adult (preferably unattached to a kid) to help you get up some of the steep stairways if you plan to do the full walk.
There are 5 stair sets to contend with – see our stairs map below with the steepest ones to avoid or tackle. But they are do-able with effort and a friend and they shouldn't put you off going at all. Please take your children OUT of the pram when you carry it up or down any stairs.
ellaslist Tip: A front or back-pack is brilliant for little kids at this event, borrow one if you can. These allow you to explore it all easily.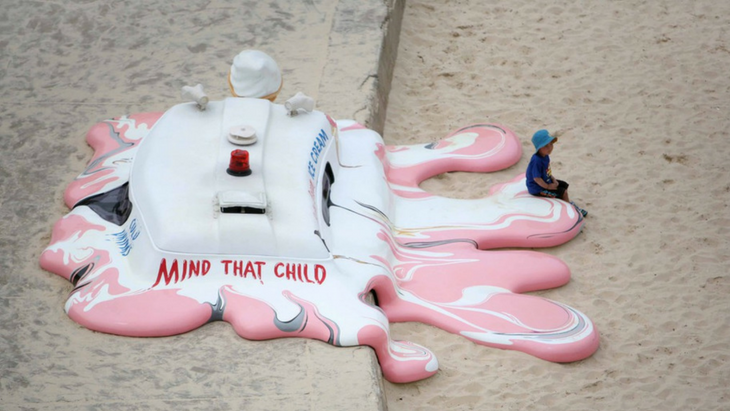 4. Choose Your Starting Point
The walk is from Bondi to Tamarama (or vice versa). Marks Park is a high up flat park in the middle where there are lots of exhibits. To access Marks Park from Bondi or Tamarama you need to either climb stairs or climb a bit of a hill. Or you can start at Marks Park directly if you don't want to do the full walk or avoid a climb completely.
If you need to return to the same end as you started to collect your car – consider returning through the residential back streets instead of doing the whole coastal walk again.
*BONDI START: Hunter Park on Notts Ave, Bondi – If you're dead set about seeing the exhibit in sequence, start on this end closest to Bondi Beach. Pram-wise, this section of the walk is the most difficult with 2 steep staircases plus a really long steep set up to Marks Park. You can manage both with a friend and a bit of carrying. If the staircase to the exhibits on Marks Park look too daunting, just keep following the coastline. There is another set of stairs but not as many and then you can access Marks Park from the Tamarama end. Prams can be pushed up a grassy hill.
*MARKS PARK: Level access from Fletcher St, Tamarama – If you want to see some exhibits but not do the whole walk – you can just visit the Marks Park exhibits. Marks Park is flat, with level access from Fletcher Street and is pram friendly. There's a little playground here too. You'll also find the Sculpture Inside gallery which showcases artists' smaller works. This is a good option for a Mothers Group meet up if you all have prams and no helpers.
* TAMARAMA: Gaerloch Reserve on Tamarama Marine Drive, Tamarama – The south end of the exhibit puts a playground, a kid-friendly beach cafe, good toilet facilities and the beach at your full disposal. This is also a lovely spot for a mums group meet up, where there's lots of exhibits to see without the effort of the full walk.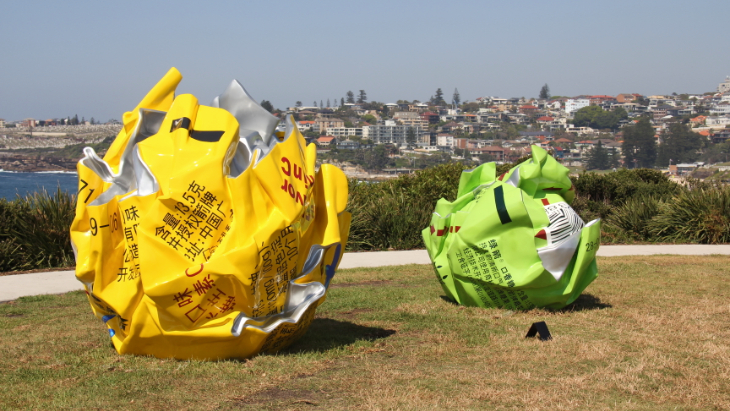 5. Plan Your Parking
If you're driving down, plan ahead for parking. There's paid parking at the council car park on Bondi Beach for $7.40 per hour but it gets packed quickly on weekends. Residential street parking a few streets away from the coastal walk are mostly free 2P spots. Also, be sure you're aware about the local road closures.
6. Take Advantage Of The
FREE

Shuttle Bus Service

The kids are tired (so are you!) so if you want to avoid walking back to your start point, take advantage of Hyundai's SUV Courtesy Fleet to transport you between the exhibition start and finish locations in Bondi and Tamarama. All vehicles will have booster seats and baby capsules available to assist parents with small children. The service will operate on Saturdays and Sundays during the exhibition from 10am-5pm. There will be stops at stops at Notts Avenue, Bondi and Tamarama Beach.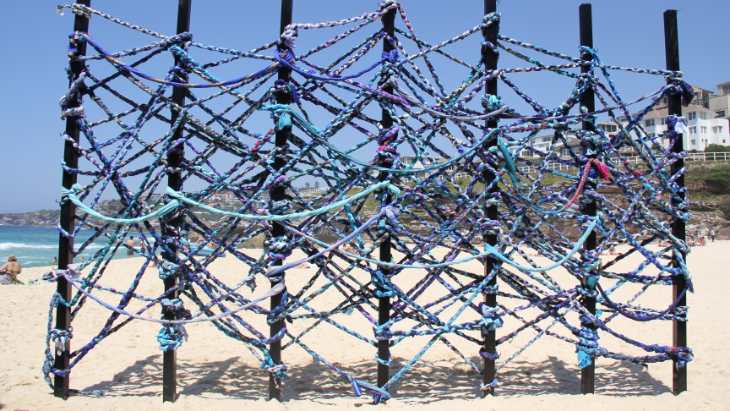 SCULPTURE BY THE SEA 2019 – THE ESSENTIALS
When: 24 October – 10 November 2019
Where: Bondi to Tamarama coastal walk, Sydney
Entry: FREE
For more information, head to Sculpture By The Sea 2019 - you can check out the program, artists talks and download a map.
Have you signed up to our newsletter? Join ellaslist to get the best family and kid-friendly events, venues, classes and things to do NEAR YOU!