Best Places To Take The Kids To Play Putt Putt Golf Around Sydney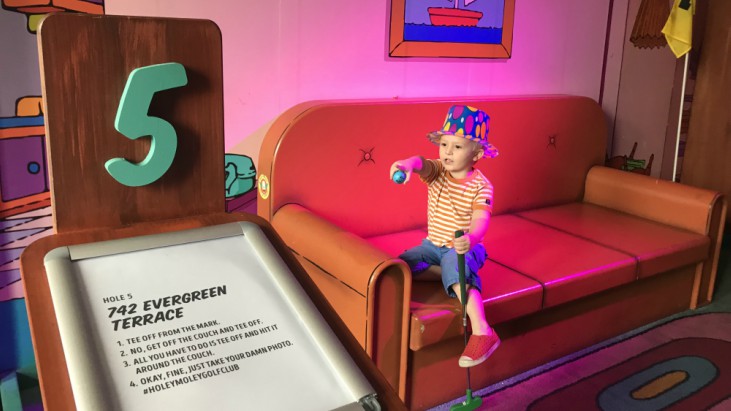 By Hayley Dean, ellaslist
Putt Putt or Mini Golf is a great activity for kids of all ages and although the last few years have unfortunately seen the closure of a number of centres around Sydney, we have managed to slice together a list of the facilities that have kept the greens open, as well as some new players in town.
Holey Moley (Newtown, Castle Hill, Potts Point)
Holey Moley is Sydney's first putt-putt / mini golf bar. Don't let the bar bit put you off. Kids are welcome when accompanied by an adult before 5pm. We took out kids in around lunch time on a Saturday and the vibe was indeed very family and kid friendly – it wasn't loud or overly crowded. The staff at Holey Moley were very keen to assist and to answer our questions.
Holey Moley is located on the site of what was formerly The Sandringham Hotel (aka The Sando). It comprises 2 x 9-hole mini-golf courses (one course is upstairs, the other course is downstairs). We weren't sure if our kids (2 boys; a 4 y.o and a 2 y.o), especially our youngest, would last the distance to do 18-holes so we just signed up for 9 holes. Our youngest was probably happy with playing just the 9-holes but our 4 y.o wanted to pay another round!
Holey Moley is not your typical castle and windmill themed course. It's more of a pop-themed course. Hole highlights for us were the reproduction of The Simpson's living room - complete with couch (we couldn't help but stop for a family pick on the couch), a hole inspired by the 80's video game Pac-Man and a Donald Trump-inspired "ass hole", and – our absolute favourite – "The Stage Dive" hole, where you have to putt a ball across a drum kit and down the neck of a guitar!
Downstairs, there is a café area, with what looked to be a good food menu. Unfortunately we couldn't stay for lunch as our youngest was due for his midday nap. Our kids loved every second of our visit to Holey Moley. They were very sad when it came time to leave. Our oldest son reminds us of our promise to return to Holey Moley each and every time we drive down King Street. And for those of you wondering – yes! Holey Moley has special packages for children's birthday parties.
Details:
Website: www.holeymoley.com.au
Ph: 1300 727 833
Newtown
387 King Street, Newtown, NSW 2042
Opening hours: Monday – Friday: 12pm – Late, Saturday – Sunday: 10am - Late
Castle Towers (read our review here)
6-14 Castle Street, Castle Hill NSW 2154
Opening hours: Monday – Sunday: 10am – Late
Holey Moley – Potts Point
82-94 Darlinghurst Road Potts Point NSW 2011
Opening hours: Monday – Sunday: 10am – Late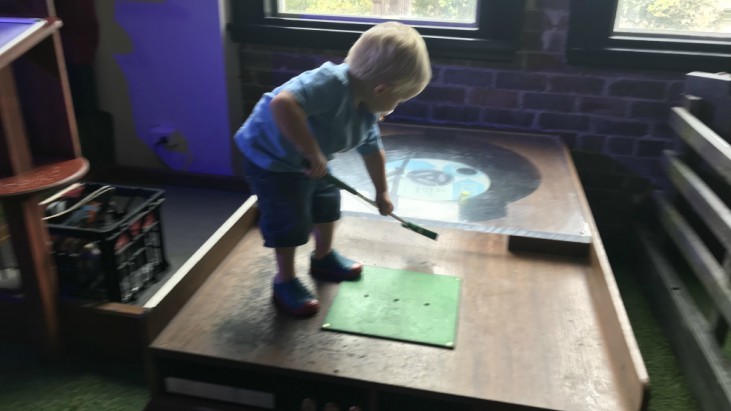 Putt Planet, Miranda
From their website: Discover another time and place when you board your Putt Planet flight from Miranda to Mombasa. Putt through the bustling market places, homes and even the sewers of Old Mombasa whilst exploring this ancient doorway to Eastern Africa. Larger groups of travellers are welcome. Putt Planet caters for birthdays and special functions can be accommodated in the upstairs function room with its distinctive décor.
Details:
Unit 1, 295 Port Hacking Road Miranda
Ph: 02 9522 7888
Website: www.puttplanet.com.au
Opening hours: Sunday – Saturday: 10am – 10pm (closes 6pm on Tuesday)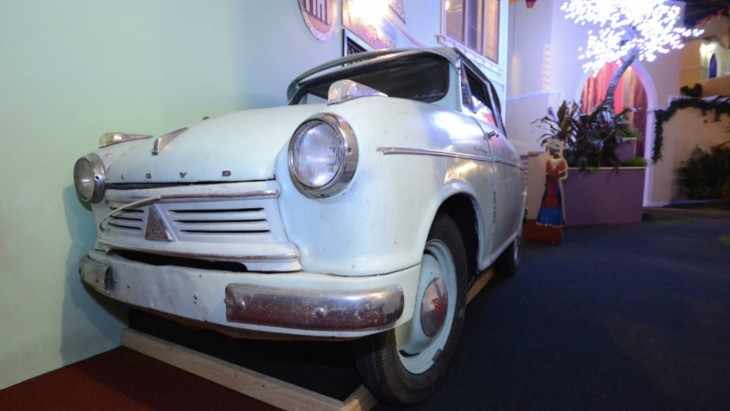 Image: Putt Planet Miranda website
Mega Mini Golf, Campbelltown
Fully indoor and air conditioned cenre with fun moving greens and scenery. There are three distinct themes: American, Under the Sea and Egypt. Kids are half price if you enter before 10am with a full paying adult. Onside eatery with a Hot Dog menu, tea/coffee.
Details:
1/8 Rose Street Campbelltown NSW 2560
Phone: (02) 4626 6222
Website: www.megaminigolf.com.au
Opening hours: Monday – Thursday: 9:00am – 4:45pm, Friday – Saturday: 9:00am – 9:00pm, Sunday: 9:00am – 3:30pm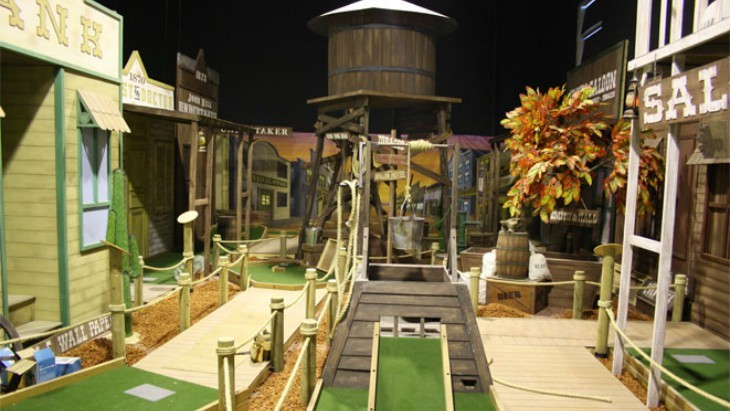 Image: Mega Mini Golf website
Dural Putt Putt
Dural Putt Putt in the Gardens is outdoors and more reminisamt of the old school style of Putt Putt of our childhood with 18 or 36 holes on offer. The gardens are very sweet and well maintained. Children under 5 are only $5, with adults starting from $14 for 18 holes. Their two themes are Camelot & Space Trek, which wind their way through picturesque landscaped gardens. Claimed courses are challenging and will entertain the whole family. Let us know what you think!
Details:
Corner of Cranstons & Old Northern Roads Middle Dural NSW 2158 (Entrance via Cranstons Road)
Phone: 9651 1334
Website: www.duralputt.com.au
Opening hours: Friday – Sunday: 9:00am – 5:00pm, Monday – Thursday: Group bookings by appointment only, School Holidays – open 7 days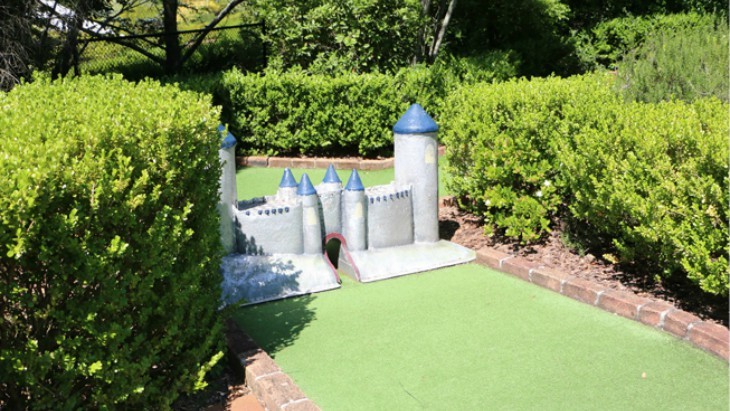 Image: Dural Putt Putt website
Unreal Mini Golf
Under indoor centre, such is the trend these days, with both adult and kids themes such as jungles and mini mad science labs. Kids under 3 play free with a full paying adult. Kids over 3 are $10 and Adults $15. They offer an extensive range of Dippin' Dots Ice creams and arcade games too. Their location is in the hub of kid central with lazer skirmish and bowling next door.
Details:
10/69 York Road South Penrith
Phone: 4722 9229
Website: www.unrealminigolf.com.au
Opening hours: Monday: closed, Tuesday – Wednesday: 12:00pm – 6:00pm, Thursday: 12:00pm – 6:00pm, Friday: 12:00pm – 10:00pm, Saturday: 10:00am – 10:00pm, Sunday: 9:00am – 5:00pm, All school holidays – open from 9:00am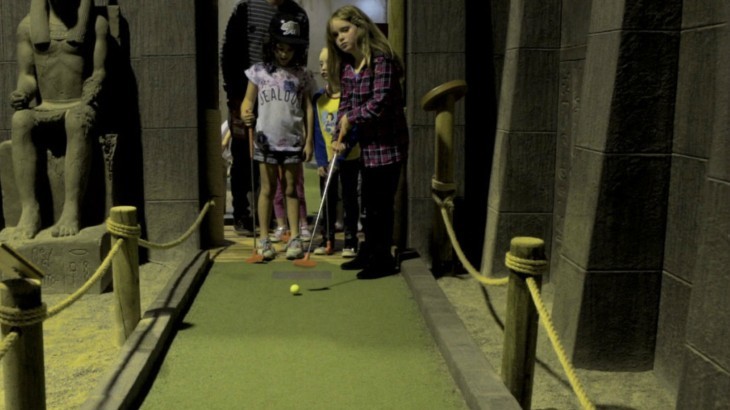 Image: Unreal mini golf website
City Golf Gordon
From their website: Brand new, European designed 18 hole miniature golf course, is both challenging for adults and yet playable by children, an ideal venue for all the family. Each of the 18 holes can be played 2-3 different ways and offers players various levels of difficulty. Floodlit for evening play, with plenty of on site parking. The images on their website look great. Its outdoors, and their offer kids party packages. Nice to see a green actually outdoors!
Details:
817 Pacific Highway Gordon NSW 2072
Phone: (02) 9499 8914
Website: www.citygolfgordon.com.au
Opening Hours: Monday: Closed, Tuesday – Thursday: 10:00am – 10:00pm, Friday - Saturday: 10:00am – 11:00pm, Sunday: 10:00pm – 7:00pm, All school holidays – open 7 days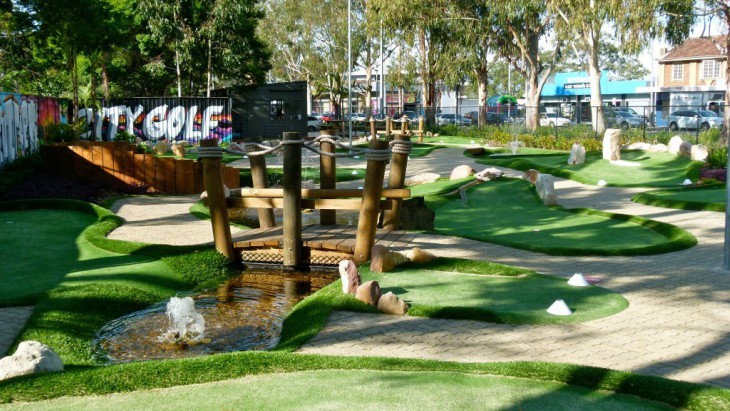 Image: City Golf Gordon website
Thornleigh Mini Golf
With two 18 hole course, the Thornleigh outdoor mini golf courses has been designed to ensure that players of all ages with varying skill levels will have a ball (pun intended). They are open 7 days a week and have an on site cafe. It's part of the bigger Thornleigh Golf Centre which has a driving range and golf shop. By the look of their facebook page, its a very active and progressive centre with new things happening all the time, which is great to see considering so many centres have closed in Sydney, but this place is thriving (they even had a marriage proposal on the 10th hole!)
Details:
Brickpit Park, 142-178 Pennant Hills Road Thornleigh NSW 2120 (entry via Dartford Road)
Phone: 9875 5445
Website: www.thornleighgolfcentre.com.au/mini-golf/
Opening hours: Monday – Friday: 8:30am – 10pm, Saturday: 8:00am – 10pm, Sunday: 8:00am – 9:00pm
Image: Thornleigh Golf Centre Facebook page
Have we missed one? Please write in and tell us so we can add it to the list.
Reviews

Reviews get lonely too
Be awesome and write a review