25 of the Best Playgrounds in Brisbane
25 of the Best Playgrounds in Brisbane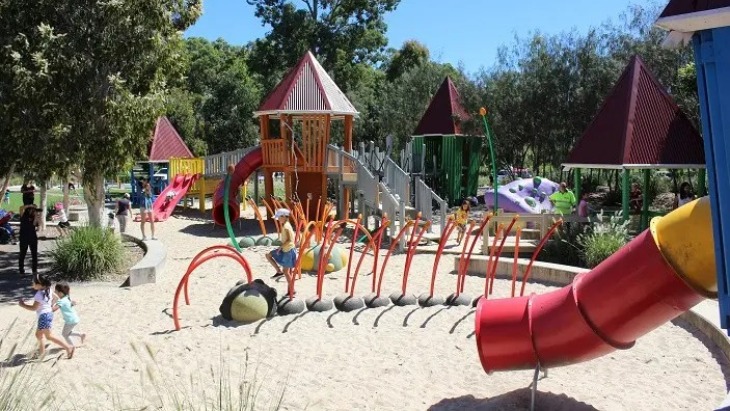 Did you really even have a childhood if you didn't visit the playground? And are you really even a parent if you don't try and get the kids out of the house and burning energy at a nearby playground nearly every day of the year? Yep, the best playgrounds in Brisbane have come to the aid of many a tired parent and many an energetic child time and time again - and we love them for it!
If you're looking for a new playground in Brisbane to test out, we've scoured the streets for 16 of the best playgrounds to make the most of the glorious Brisbane weather - enjoy!
25 of the Best Playgrounds in Brisbane
1. Frew Park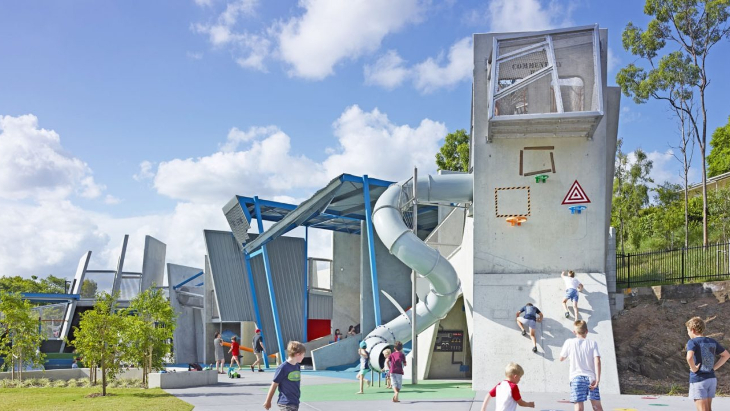 First up on our list of the best playgrounds in Brisbane is everyone's favourite Frew Park. The ginormous, space-like playground in Frew Park is located where the old Milton Tennis Centre used to be and offers plenty of outdoor play for Brisbane kids including tennis courts, playing fields, and the sprawling all-ages playground.
Location: Frew Street, Milton
RELATED:
Awesome Water Parks in Brisbane
2. Calamvale District Park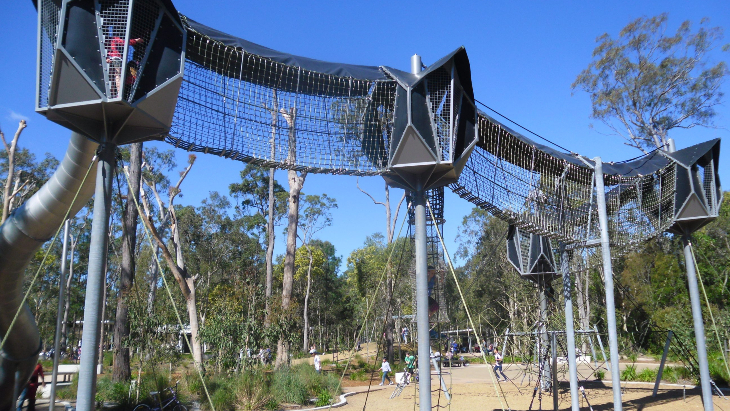 Calamvale District Park is a huge hit with Brisbane kids who love to climb, run, jump, swing and fly!
The ginormous skywalk is undoubtedly the biggest drawcard of Calamvale District Park, but kids will also be drawn to the plentiful features of this Brisbane playground, including the flying fox, basket swings, spinning discs, a miniature skywalk for the littlies, and bike tracks for little racers.
Party-goers can also book one of the three designated sites within the park for birthday parties and special events.
Location: 31 Formby Street, Calamvale
3. Rotary Park
Another awesome playground in Brisbane for kids who love scaling to new heights, Rotary Park in Bellbird Park is all about climbing and sliding!
With a giant tube slide, climbing nets, rope climbing dome, and climbing structure with its own lookout, it's safe to say the kids will be pretty puffed after all that climbing! There are also smaller climbing nets and a tube slide for the littlies, plus swings, bike tracks, picnic tables and seating.
Location: Just off Columbia Drive in Brentwood Forest, Bellbird Park
4. Playgrounds at South Bank Parklands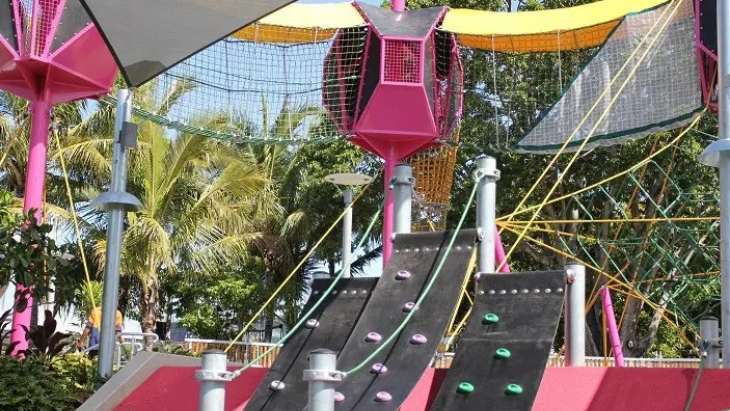 The sprawling South Bank Parklands delivers the playground goods with not one, not two, but three playgrounds.
Frequented by families who love to picnic and play, Picnic Island Green offers plenty of green open spaces surrounded by native vegetation and tranquil wildlife (don't miss the fishpond!), plus an adorable playground with a basket swing, cubby house and slides.
Riverside Green Playground is one of the most popular playgrounds in Brisbane, and for good reason. The brightly colour playground is pure adventure heaven with a pirate-themed toddler zone, climbing wall, skywalk, belt bridge, giant hamster wheel and something called a supernova spinning wheel!
For those keen for some water play with their playground adventures, Aquativity is South Bank's water park and will keep kids entertained and refreshed with wading pools, fountains, tipping buckets and more.
Location: Cnr Little Stanley and Tribune Street, South Bank
5. Roma Street Parklands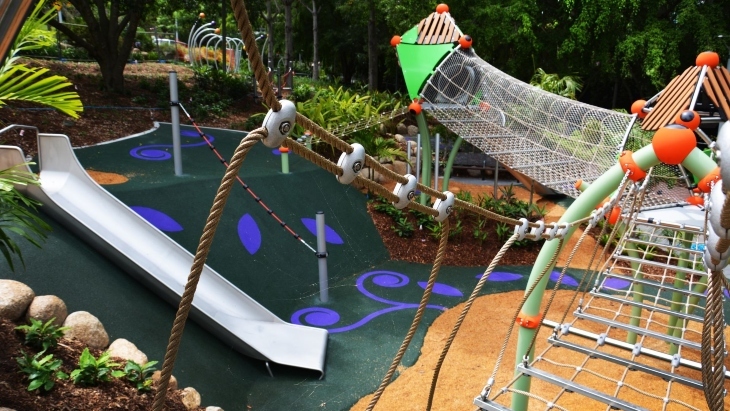 The stunning green oasis in the heart of Brisbane City that is Roma Street Parklands isn't just for nature lovers, but playground lovers too.
The Children's Garden Playground within Roma Street Parklands is a state-of-the-art play space nestled amongst the stunning natural gardens of the Parkland. Kids can get active and explore imaginative play on the jungle-themed treehouse, slides, tunnels, rope bridges and more.
Location: 1 Parkland Blvd, Brisbane City
6. Lower Moora Park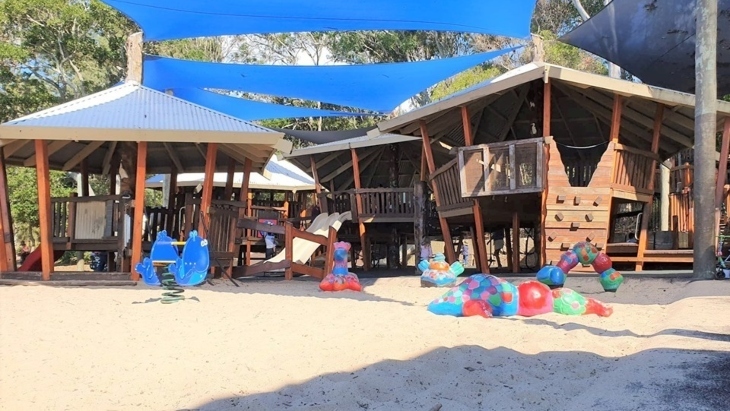 If you're looking for a playground in Brisbane that's close to the water, Lower Moora Park at Shorncliffe is the spot to go.
Part fort, part wooden pirate ship, the theme at Lower Moora Park playground has a nautical/adventurous feel and will ensure hours of imaginative play as kids get to explore all the nooks and crannies of the wooden play structure and get busy in the sandpit. And once you're finished at the playground, a stroll along Shorncliffe Pier is a must just for the great views.
Location: 65A Park Parade, Shorncliffe
7. Whites Hill Reserve
Whites Hill Reserve is a beloved Brisbane playground for southside families.
The playground is massive and features lots of accessible play equipment, including swings and diggers and even has an enclosed dog park if you want to bring your furbaby along for a family day out.
Location: 205 Jones Road, Camp Hill
8. Darlington Parklands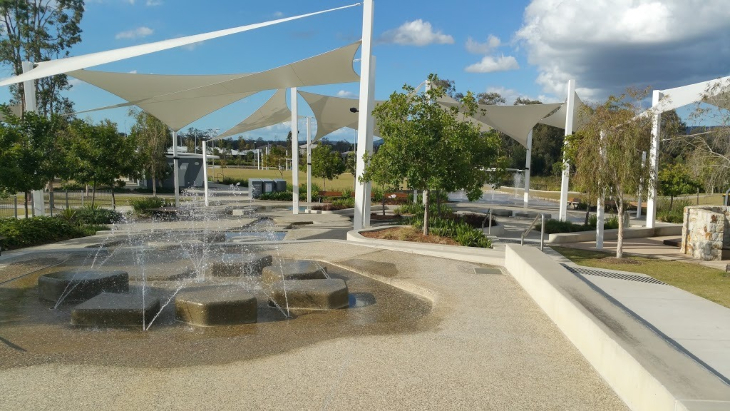 The massive playground at Darlington Parklands has so much to offer kids they won't know where to start!
The super playground in Yarrabilba opened in 2014 and has kept Brisbane kids entertained to no end with wall-to-wall fun starting with the free water park. Water fountains, water spouts, splash pools, rock pools, running streams and more are accessible 365 days a year.
And as for the playground portion of Darlington Parklands, get ready for the epic 30-metre twin flying fox, climbing dome, multi-swings, toddler play zone, balance beams, mini exercise equipment and more, plus there are oodles of picnic facilities, green-open spaces, wetlands, walking paths, bbqs, and the famous boardwalk.
Location: 47-125 Yarrabilba Drive, Yarrabilba
9. Hidden World Playground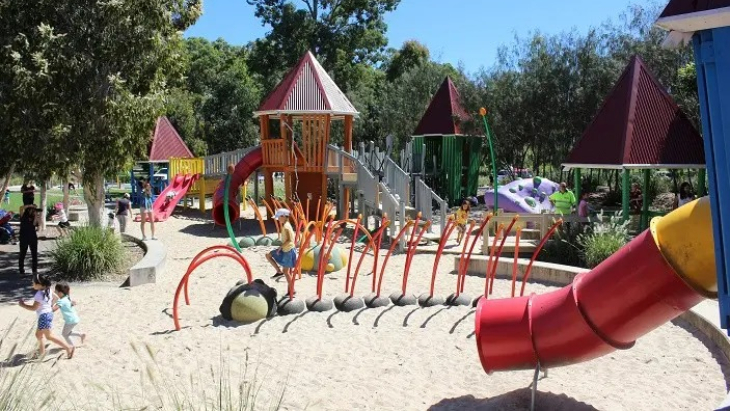 For kids who love imaginative play, Hidden World Playground in Fitzgibbon will become one of their favourite playgrounds in Brisbane.
The colourful playground resembles a princess castle or knight's fortress with its multiple towers and adjacent bridges and walkways. The bright red spiral slides lead down to the huge sandpit area, and there's plenty of room for kids of all ages to run about - and don't forget to look for the hidden purple creature!
Location: 411 Roghan Rd, Fitzgibbon
10. Hawthorne Park
Hawthorne Park is a fabulous bright, and colourful playground in Brisbane that is fully shaded with shade sails that provides a unique play opportunity for kids of all ages and abilities.
Location: 140 Riding Road, Hawthorne
11. Milton Train Park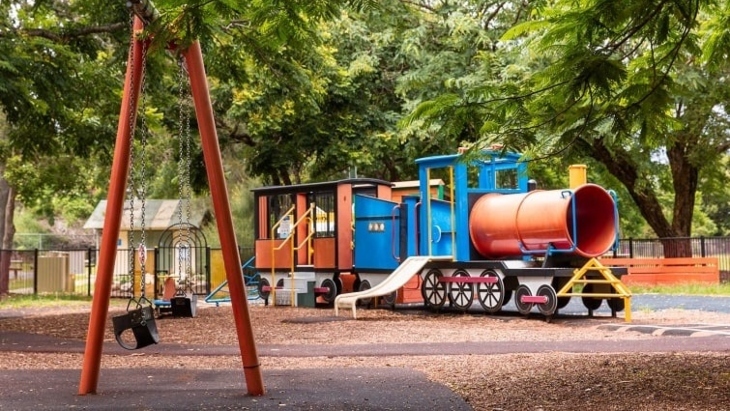 Attention train lovers! Head to Milton Train Park for its fully fenced playground with a train theme.
This Brisbane playground is a winner for us as it has netball and basketball courts to keep the older kids entertained while the little ones run around.
Location: 28 Eagle Terrace, Milton
12. Buxton Park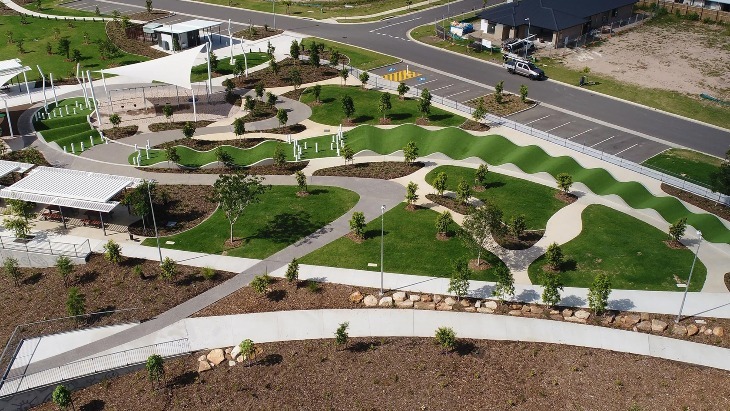 Also located in Yarrabilba, Buxton Park has one of the coolest things we've ever seen in a Brisbane playground: a grass caterpillar!
The grass caterpillar at Buxton Park gets its name from its bumpy shape and the fact that it snakes its way around the playground offering loads of fun for kids to run, jump and ride on.
Other playground essentials included at Buxton Park are a huge 8-metre play tower, two huge slides, in-ground trampolines, and even an outdoor obstacle course!
Location: Buxton Ave, Yarrabilba
13. New Farm Park Playground
Another sprawling botanical oasis in the Brisbane CBD, New Farm Park offers not only gorgeous natural surrounds, but also a fun creative playground.
New Farm Park Playground is nestled amidst the giant fig trees of the sprawling 37-acre park and is the perfect spot to test the limits of adventurous kids.
The New Farm Playground has fort-like structures for no end of imaginative play, plus swings, slides and plenty of space to run.
Location: 1042 Brunswick Street, New Farm
14. George Clayton Park
Also known as Wynnum Bandstand Park, this gorgeous playground is protected by shade structures and trees and has a nautical theme. There is a play carousel for wheelchairs and also a supportive swing seat with a safety chain and harness.
Location: 298 The Esplanade, Manly
15. Keong Park
Keong Park is also known as Turner Playground and is a real hidden gem as far as playgrounds in Brisbane go.
It features a large green space with lots of room to run around and a bike and scooter track nearby as well, so the older kids don't get bored. You can also hire the community centre that's attached to the playground for kids' birthdays and special events.
Location: 38 Appleby Road, Stafford
16. Teralba Park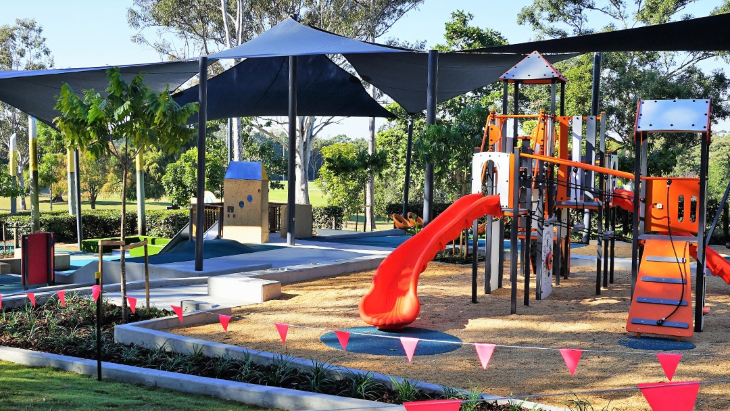 We love playgrounds in Brisbane that have lots of different areas for kids to interact and create their own games, and Teralba Park in Everton Park offers just this.
From playing 'Shop' to digging for treasures in the sandpit, swinging on the swings, running through the maze, playing on the seesaw and sliding down the slides, there is so much on offer at Teralba Park Playground.
Location: 120 Pullen Road, Everton Park
17. Pine Rivers Park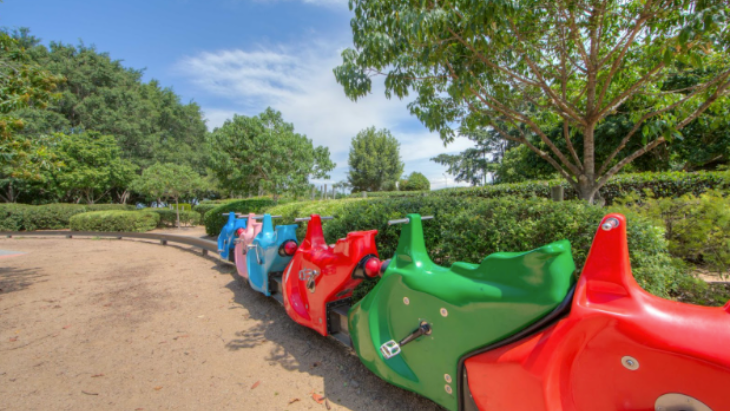 Yep, it's got a mini train - need we say more?!
Pine Rivers Park has something for every little one, including four fenced playgrounds, tiny-tot areas, a flying fox, pedal trains, and BBQs. If you're visiting on the weekends, you'll be met with the sounds and scenes of many children's birthday parties for good reason - shade, excellent seating, unique equipment and plenty of space make Pine Rivers Park a great choo-choo-choice to burn some energy!
Location: 125 Gympie Rd, Strathpine
18. Caboolture Region Environmental Education Centre (CREEC)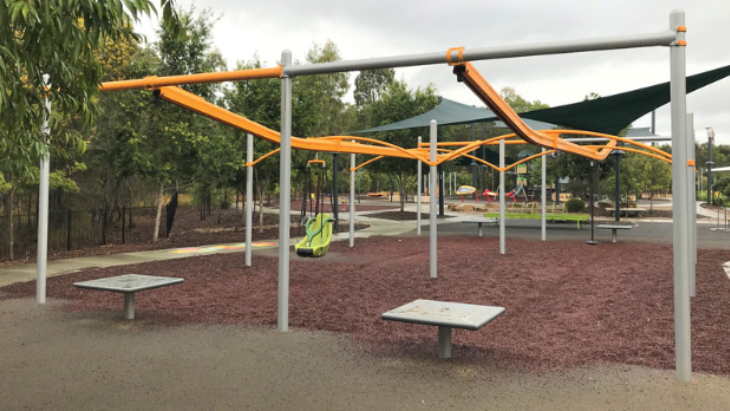 This North Brisbane gem is a fully fenced, all-abilities playground nestled on an 18-hectare reserve.
With its large playground, enclosed young children's playground, picnic areas, walking trails, and even a sensory garden, the CREEC is a bustling hive of activity and a fantastic place to get back to nature. We love the CREEC for its onsite cafe (check for latest operating hours), wide open spaces, and a gorgeous bush backdrop.

Location: 150 Rowley Road, Burpengary
19. The Mill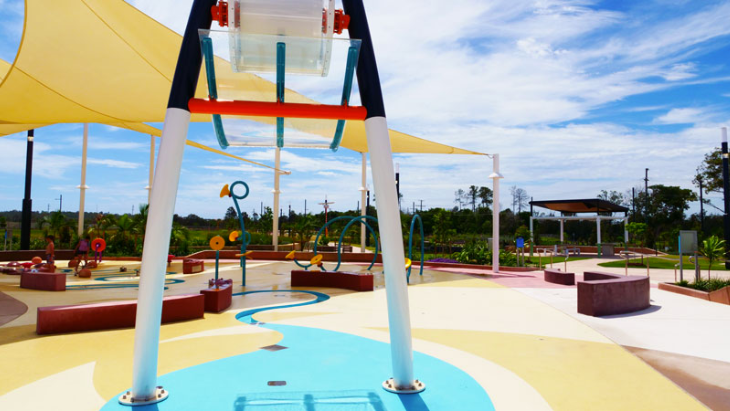 Hot Brisbane days and a water playground go together like toddlers and 5 am wakeups!
Beat the heat at The Mill free waterpark and playground. Two playgrounds, a splash pad, a flying fox, and plenty of green space provides something for all ages. Pack your swimmers and get ready for a summer splash at the Mill Waterpark.

Location: 1 Moreton Parade, Petrie
20. Kidspace and 7th Brigade Park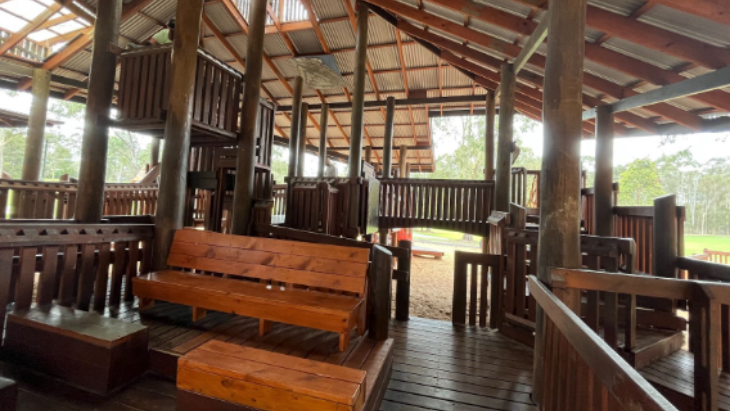 Kidspace playground is a unique, timber fort reminiscent of a pirate ship - needless to say, it's a hit with all pirate fans!
Kids of all ages will love exploring the nooks and crannies of this impressive structure that includes climbing ropes, balance beams, swings and musical instruments. Excellent cover makes this park a great choice for all weather play and the bike path adds another activity for older kids to enjoy. Run, crawl and swing your way to Kidspace.
Location: Murphy Road, Chermside
21. Flagstone Adventure Park Playground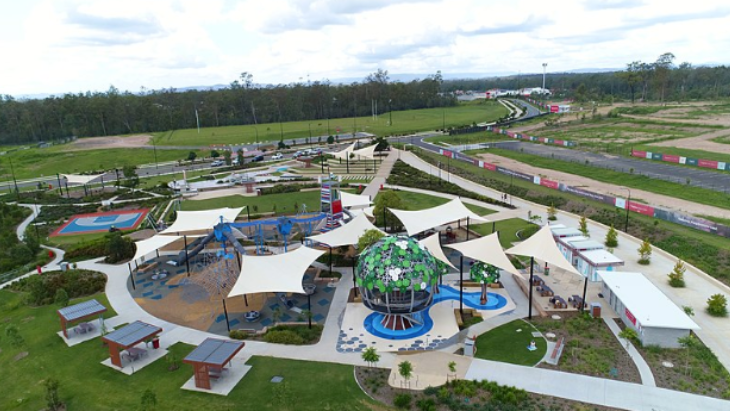 Is your little one a mad-keen climber? If so, get them to Flagstone Adventure Park - the adventure seekers playground.
This impressive monster playground is one of the largest on our list and boasts an impressive 11 metre-high tower, massive slides, bridges, ladders and climbing webs.
Younger children have a dedicated toddler area and just meters away you can beat the heat at the Flagstone Water Park. We love the in-ground trampolines and the near endless ways kids can climb, crawl and move.
22. Pirate Park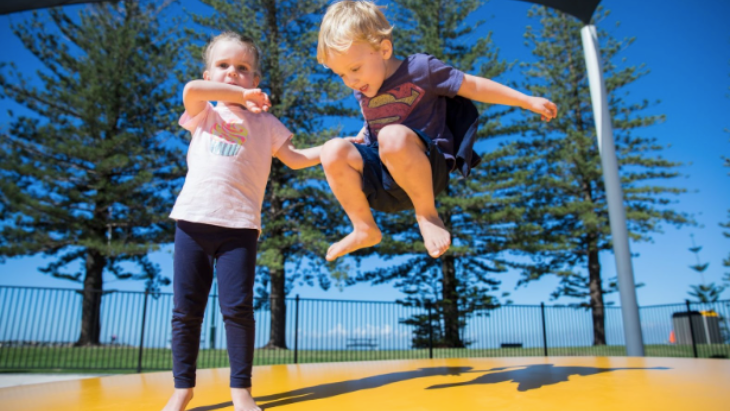 Beach frontage and pirate themed attractions nestled amongst majestic climbable trees make Pirate Park one of the best playgrounds in Brisbane.
Enjoy views of Moreton Bay as little ones and adults alike run and climb this unique playground where nature and play come together.
Location: Landsborough Avenue, Scarborough
23. Hercules Street Park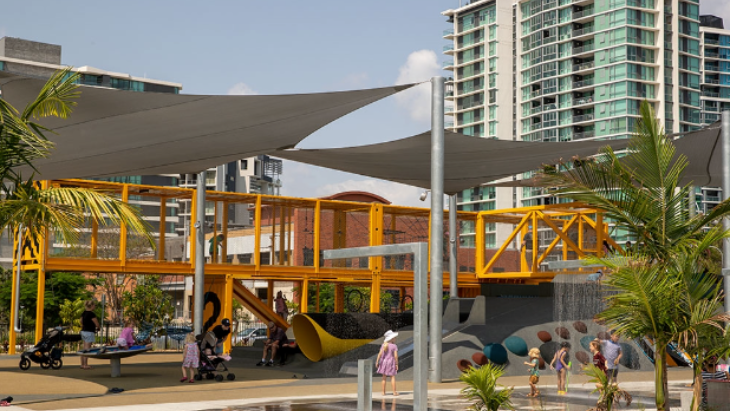 Hercules Street Park is a state of the art playground at Hamilton's Northshore with a multi-court play area, BBQ facilities and aqua play.
Unique design and construction makes this a truly standout play area for all ages. We love the large mound for climbing and climbing nets.
Location: 40 Remora Rd, Hamilton
24. Kalinga Park
A large wooden fort and plenty of open space to run makes Kalinga Park a perfect destination to burn some energy.
Plenty of swings and shade make Kalinga park an easy place to relax and watch-on as kids let their imaginations run wild. We love the diversity of equipment and integration with bike tracks and great seating areas.
Location: Bertha Street, Clayfield
25. Bradbury Park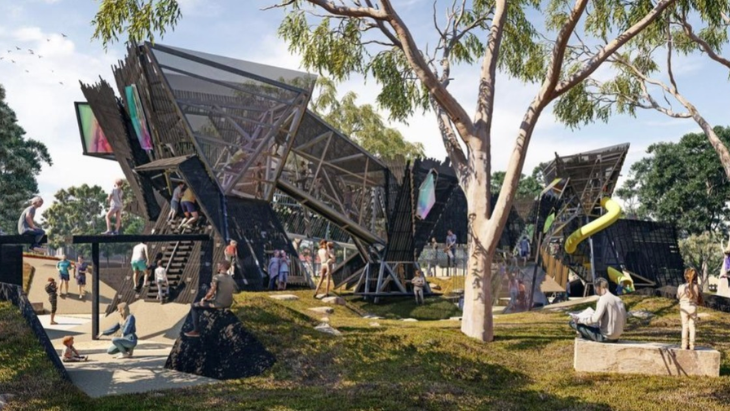 Climbing encouraged! Bradbury Park packs so many things into one play space it's hard to know where to start.
A scooter track, magic forest, towers and bridges make for a unique playscape. Unlike many others on our list, Bradbury Park is aimed at older children between ages 10 to 15 years and manages to pack in some really interesting and challenging play elements perfect for this age group.
Location: 468 Rode Rd, Chermside
Other Things to do in Brisbane
The Best Spots for Laser Tag in Brisbane
Ice Skating in Brisbane
Go Strawberry Picking in Brisbane

Have you signed up for our newsletter? Join ellaslist to get the best family and kid-friendly events, venues, classes and things to do NEAR YOU!