❝Parenting Isn❜t Clean And That Should Be Celebrated❞ - Libby Trickett Gets Real And Messy With ellaslist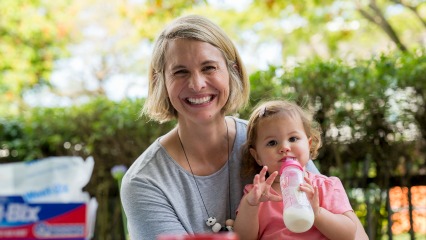 By: Alex Harmon, ellaslist
The Sanitarium Weet-Bix™ Messy Kids Search is on again and this year Australian swimming legend and busy mum Libby Trickett is on the judging panel to find the country's messiest kid. Ellaslist spoke exclusively to Libby about the campaign and how she handles life, work and sport with her messy kid, Poppy (14 months).
Tell me about the Weetbix Messy Kids campaign, was there something in particular that spoke to you as a mum?
The best thing for me is that it's a social media campaign, which is funny because so many people try to project this idea of perfection through social media. You know, it's all pristine outfits and holiday snaps and perfect food pics. So what I love about this Messy Kids Search is that it celebrates the fact that life isn't always perfect, especially with kids, and it's a wonderful part of life with kids –getting a bit messy and having fun. That's what I do with my social media, it's real and that's what my followers connect with, they say "that's what happened to me today too". What resonated with me is that we're not all perfect, parenting is not all clean and smelling of roses and I think that should be celebrated.
So, how messy is your daughter?
She's so messy but she has fun, she loves to explore, loves dirt and mud. And loves food! The other day Poppy was eating spag bol and I swear half of it ended up on the floor and the other half ended up on her lap, you wonder if she's actually eaten any of it! She's also taken to licking plates, I don't know where she go that – clearly I don't lick the plate – but she just really loves it and food ends up all over her face.
Did Poppy get a cake on her first birthday?
Yes, I made her cupcakes! I'm not one of those mums who is super strict about sugar but she just didn't like them! The adults got to enjoy them, which was good. She is a bit of a sugar fiend though and she gets hyper pretty quickly, she just didn't like my cupcakes.
What are you looking for in Australia's messy kid?
I just want a really honest moment in parenting. A moment like 'I can't believe this is what my kid has just done'. I want that element of surprise, almost shock, like how did they do that? Obviously the messier the better and not like, 'that's awful', but more 'that's hilarious'. Because parenting can be really hard, so let's just celebrate it.
We all know you're a champion swimmer, but have you started swimming lessons with Poppy yet?
Yeah, I'm a shocker, I put her in lessons at 8 weeks! But it was more of an activity for me really, to get me out of the house and have something to do. I am actually glad I got her in early because she's really confident in the water now and it's such a joy to share that with her. Swimming is something that I have loved my whole life and the fact that she loves it too makes it one of the highlights of parenting so far.
How do you balance being a mum with all your of your work and fitness commitments?
It's a work in progress! Right now I can't exercise as much as I would like to. I am exercising regularly, a few times a week, but I would love to do it every day. But I understand right now that it's not possible. You know I'd also love to be going out for dinner and all that fun stuff too! Now isn't the right time and that's okay. My husband and I check in with each other regularly and make sure we're getting everything done that we need to.
How do you find being a working mother?
It's only been a few months and I'm still figuring out how much time I can give to work – you know, I miss my daughter! It's a juggle and I definitely have those moments when I drop her off at daycare and I think, 'what am I doing?' But ultimately I love what I do and I feel really lucky. I also want to teach my daughter that it's okay to go after your own dreams and you should work hard to do something you love.
I heard you got married at Taronga Zoo, why is it so special to you and your husband?
We really just love the function space there and the views of the harbour. My husband Luke is a swimmer too, so we both really wanted to be around water as that's something we both connect with. You really can't beat those water views!
Do you have any tips for what to do in Sydney with kids?
We haven't had much of a chance to bring Poppy down here as we're living in Brisbane. We did live here about six years ago, in the inner west and loved it there. There are some really beautiful parks around Balmain that we would take the dogs. I think one of the real treasures of Sydney is that there are a lot of really nice parks, lots of green spaces, and that's quite unusual for such a big city.
What about in Brisbane, what makes a fun day out for you and Poppy?
Well, anytime that I am catching up with girlfriends now it's always at a park – and not just a park but a park with a café next to it, that's a requirement! I also just bought a bike with a seat for her – unfortunately she hates it, but the goal is that she will eventually love it and we'll go for bike rides along the river around to South Bank, there's a lot of really cool kids stuff that happens around there.
What's the best thing about being a mum?
Getting to share the things I love with her and seeing how she responds. I think there are some people who are the 'baby people' who love the squishy faces but for me I really love the stage that Poppy is in right now, it's almost like she's learning something new every day, she's starting to communicate with us in her own way and you can see her working things out. It's really empowering seeing her pick something up that I've taught her and just seeing her laugh and smile, it kind of makes your heart explode!
So, what is the hardest thing?
Oh gosh, the biggest challenge for me is the lack of routine and uncertainty and wondering if you're doing a good job. Especially when they're little, you don't get a lot of feedback so you don't know if they're happy with your performance or not! As an athlete I am constantly being told if I am doing a good or bad job, so I thrive off that feedback – that has been really confronting as a mother. I think the mum shaming and the mum guilt is hard too – because sometimes you feel like you're not doing a good job – even though you are. And it can be really isolating, especially at first when you've got so many people coming around to see the baby but then it just stops and life goes on. It can be a bit scary at first. It's so funny because I could list so many things that are hard about parenting but really the little things that make parenting good are the things that make it all worthwhile!
The Weet-Bix™ Messy Kids Search contest is now closed.