25 of the Best Outdoor Toys for Kids
25 of the Best Outdoor Toys for Kids
Mums & Bubs
Toddlers
Preschoolers
Kids
Teens
Family
All Ages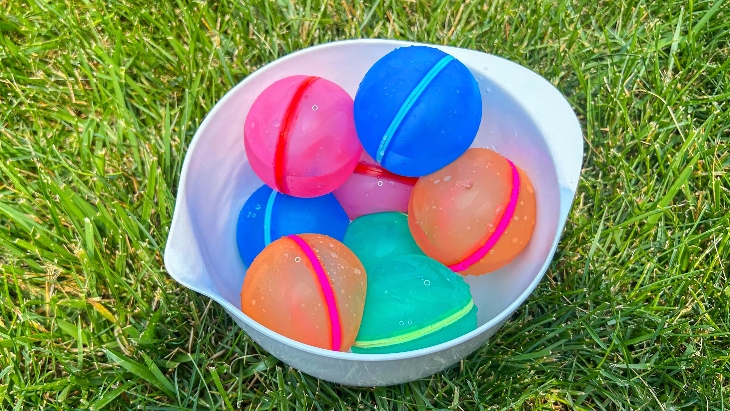 Whatever the weather, outdoor toys for kids are always a good idea in our books. Kids love being out in the fresh air, burning off plenty of energy and blowing off steam. And parents love tired, happy kids—so everyone's a winner!
So whether you're shopping for their next birthday, Christmas, a friend's present, or for something to get them out of your hair, we know your little balls of energy will love these outdoor toys.
25 of the Best Outdoor Toys for Kids
1. Go Play! Splash Pool Darts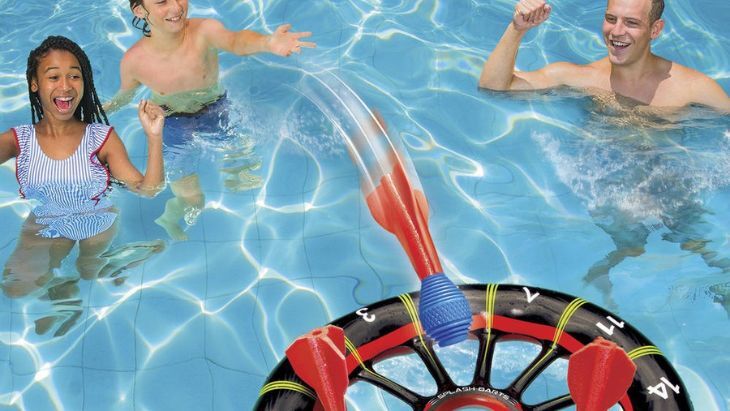 An awesome outdoor toy for the pool, you can keep the cool vibes flowing as you engage in a friendly game of pool darts with your family and friends. The Go Play! Bullseye Splash Pool Darts bring you the perfect blend of excitement and safety. Crafted with rubbery-tipped darts that stay upright and won't sink, these pool darts make it a breeze to keep track of the points scored. Dive in and enjoy a splashing good time with this safe and soft pool dart experience!
2. Kids' Trampolines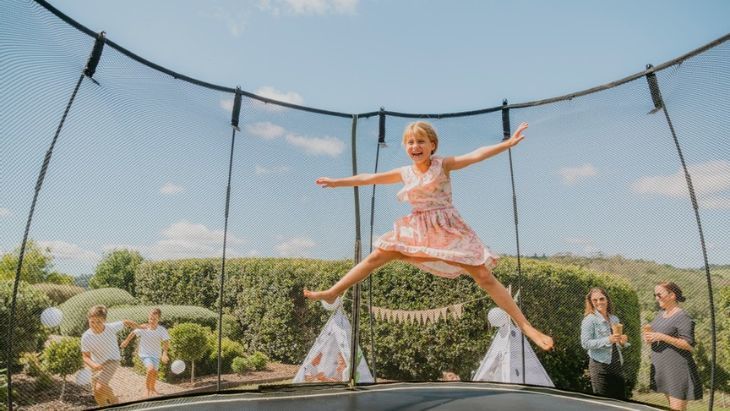 Perhaps one of the ultimate outdoor toys for kids, trampolines are an absolute crowd-pleaser.
There's nothing quite like bouncing around and playing trampoline games to burn off some serious energy, for little kids, big kids, and adults alike—the whole family can benefit from a trampoline. We love Spring Free, Vuly, and Jump Flex for a quality trampoline that will really, truly stand the test of time.
3. Go Play! Flip n Toss Game

Double the fun with the Go Play! Flip'N Toss Game Challenge, offering two games in one for endless entertainment anywhere, anytime! Take the action to the pool, where the floating inflatable gameboard adds an exciting challenge as it drifts with the waves. And if you're on dry land, set it up on any flat surface for a friendly game wherever you happen to be.
Lightweight, portable, and a breeze to set up, this game brings you 2-in-1 tossing fun. Just give it a flip and let the good times roll!
4. Bump N' Bounce Body Bumpers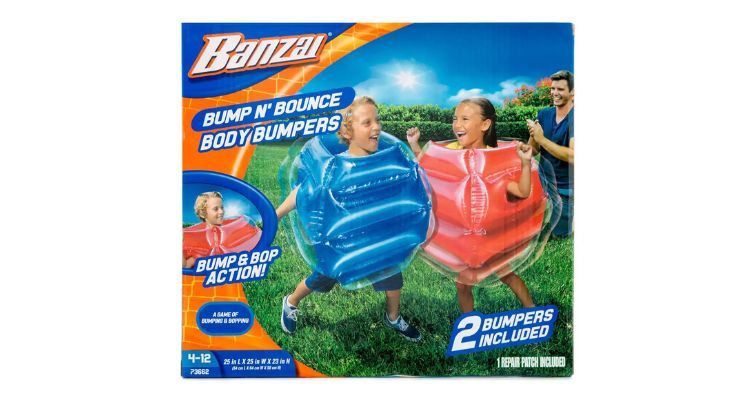 We absolutely love a bit of silly outdoor fun, and in our book, the Bump N' Bounce Body Bumpers do just that. Simply don the Bumper and start bopping!
Kids will adore the hilarity of bouncing into their friends, and you can either join in or sit back and watch them be entertained!
5. Splash Sprinkler Pool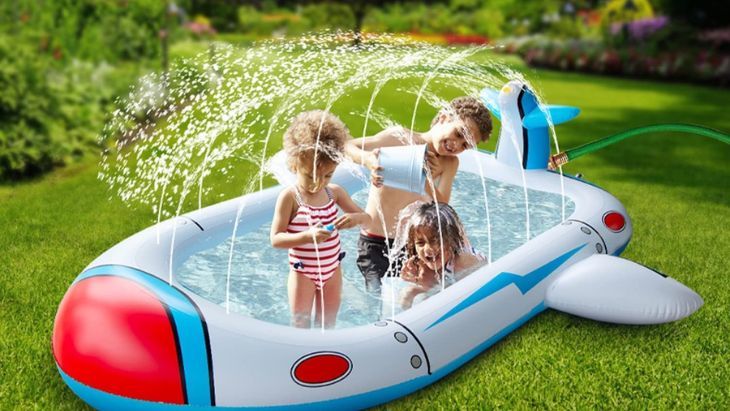 We love nothing more than versatile outdoor toys for kids that can be used in multiple ways.
This Wimarn Splash Sprinkler Pool is ideal as it can be used as a swimming pool, a ball pit, a sand pit and more, plus it's inflatable which means it packs away smaller and can just be brought out as and when needed. That's a winner winner, backyard dinner in our book!
6. Little Wombats Gardening Tools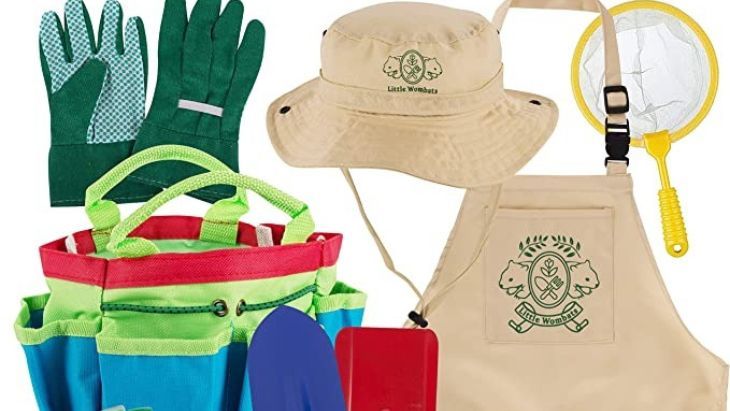 Kids absolutely love a project, and getting them outdoors and digging around in the dirt makes this Little Wombat Gardening Kit one of our favourite outdoor toys for kids.
Kids will love learning about their environment, watering plants, and wearing their own little gardening uniform. We also reckon this one makes an awesome gift for any child with an outdoor space to use it!
7. Lanx Step Powered Stomp Rockets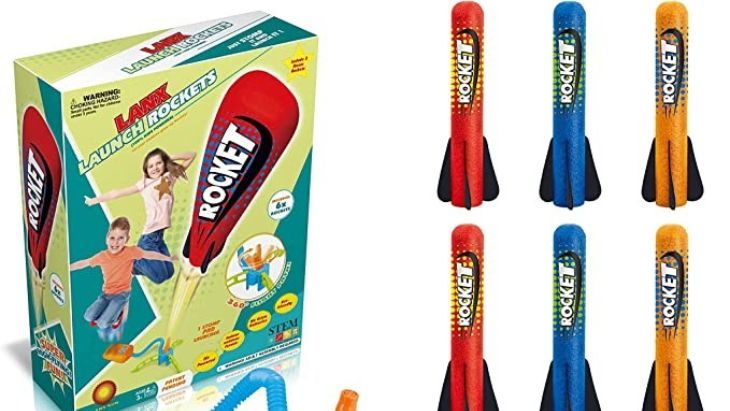 Children will enjoy hours upon hours of energetic, outdoor fun with these Step Powered Stomp Rockets.
Encourage them to run, jump and launch the foam rockets high into the sky with the rocket launcher. Durably designed by aeronautical engineers and reliably built for hours of jumping, stomping, and playtime—this one is sure to be a winner in your outdoor toy rotation.
8. Go Play! 2 in 1 Sports Challenge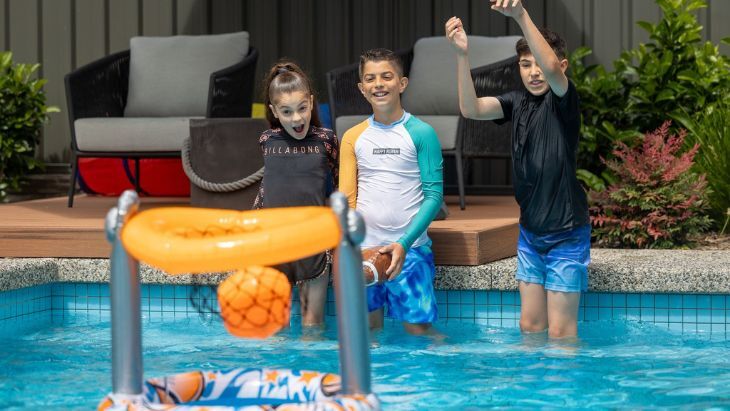 Double the fun with the Go Play! 2 in 1 Sports Challenge, offering you not just one, but two exciting ways to play. Dive into a game of basketball, and when you're ready for a change, simply rotate the hoop 90 degrees for a football pass challenge competition. Get ready for a sporty adventure that keeps the excitement rolling!
9. Inflatable SUP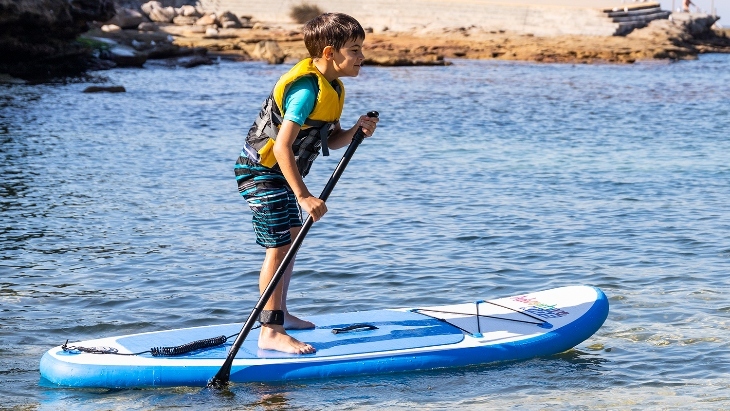 With weather as stunning as it is in Australia, there's never been a better excuse to make the most of it than with stand-up paddleboards for the whole family.
Stand-up paddleboarding is insanely fun for the whole family, and even more so if your little paddleaboarders have a special kids' inflatable SUP to call their own.
We love the the Adventure Kids Inflatable Standup Paddleboard from Adventure Kings as it's super sturdy, really easy to inflate, easy to use for first-timers, and sure to be your little adventurer's new favourite toy.
10. BRAVEWAY Ninja Warrior Obstacle Course

One of the top outdoor toys for kids that's definitely worth the investment, the BRAVEWAY Ninja Warrior Obstacle Course promises hours upon hours of outdoor fun.
The kit is designed for daily play, training, and family entertainment—it can help you improve your sense of balance and concentration, increase interaction and bonds within your family, relieve stress, and blow off steam; the list is literally endless!
11. Wahu Mega Slide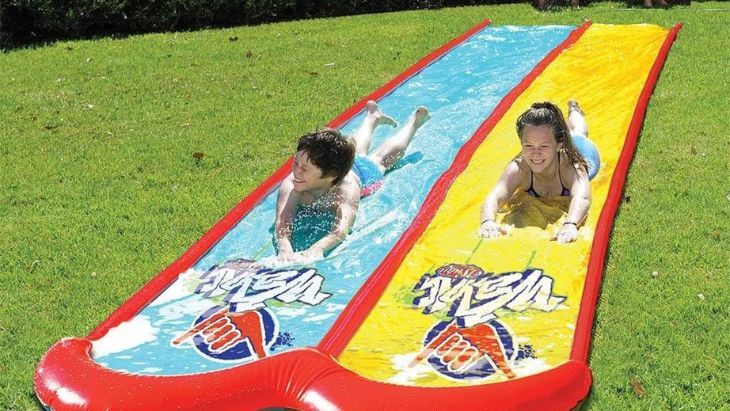 Turn your backyard into a private water park with this epic Wahu Mega Water Slide.
Complete with two racing lanes and continuous water spray—you'll be zooming down the water slide and into the bumper in no time. It's easy and quick to set up with a hose connection, which means this outdoor toy promises tonnes of laughs and hours of fun!
12. Go Play! Axe Throw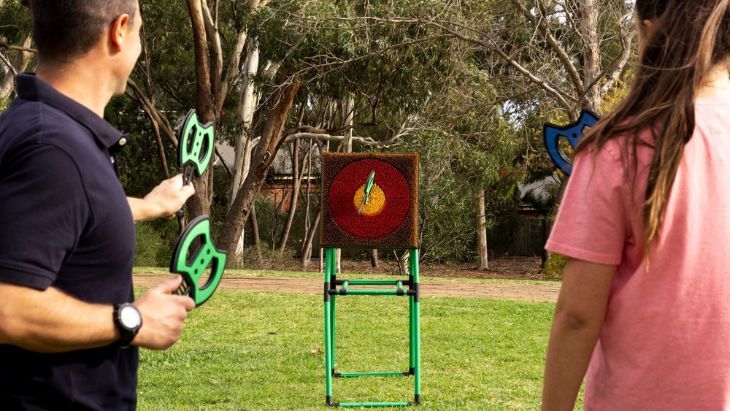 Experience the excitement of axe throwing right at home with the award-winning Go Play! Axe Throw—a game the whole family can enjoy! The perfect outdoor toy for families to enjoy together, join in on the axe-throwing craze in the safest way possible. Challenge yourself, test your accuracy, and aim for the bullseye. Featuring unique lightweight plastic axes and a portable bristle target, this game provides hours of safe and spirited competition.
13. Backyard Cricket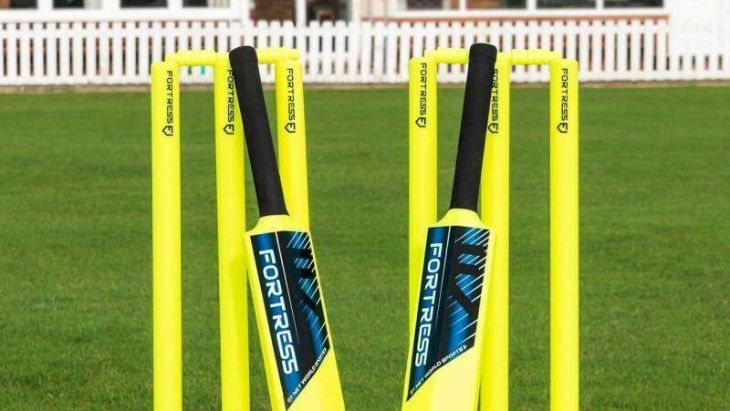 The perfect choice for backyards and beaches for kids learning the sport, this Net World Cricket Set is a must-have outdoor toy for the family.
Complete with a heavy-duty carry bag included, this high-quality beach cricket set is easy to store and transport and is a toy that all ages and abilities can enjoy. What more could we ask for in a cricket set?
14. Spikeball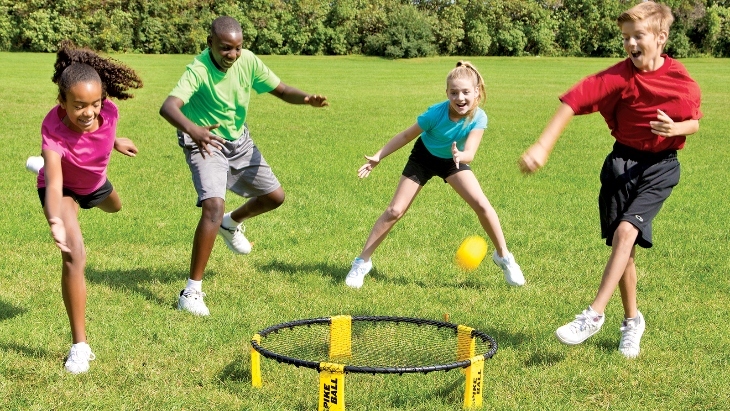 Another awesome backyard game for the whole family, Spikeball will have you running, jumping, hitting, and throwing yourself at the net in an attempt to outplay your opponents.
Similar to volleyball and table tennis, the aim of Spikeball is to hit the ball at the net towards your opponent except this time, the net is on the ground! The Spikeball net is set at ankle level between two teams while the players take turns hitting the ball on to the net so it ricochets up at the opponent. You'll need lots of energy for this game!
15. Refillable Water Balloons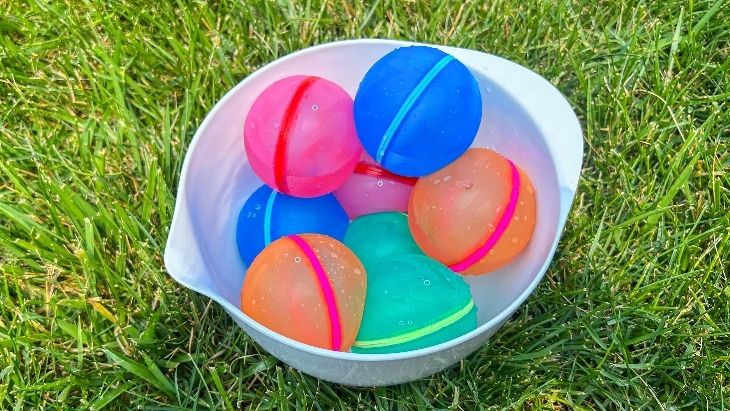 If your kids are obsessed with water balloons but the sight of all that wasted plastic makes you tense, then we're thrilled to introduce you to refillable water balloons!
As the name suggests, refillable water balloons are completely reusable so you avoid the hassle and waste of throwing away water balloons after they've popped. This marvellous invention includes a magnet wrapped in silica gel around the balloon ball so it's easy to just dip it into a bucket of water each time it needs to be filled with more water.
There are loads of reusable water balloons for reasonable prices on Amazon - get shopping!
16. Inflatable Pool Toys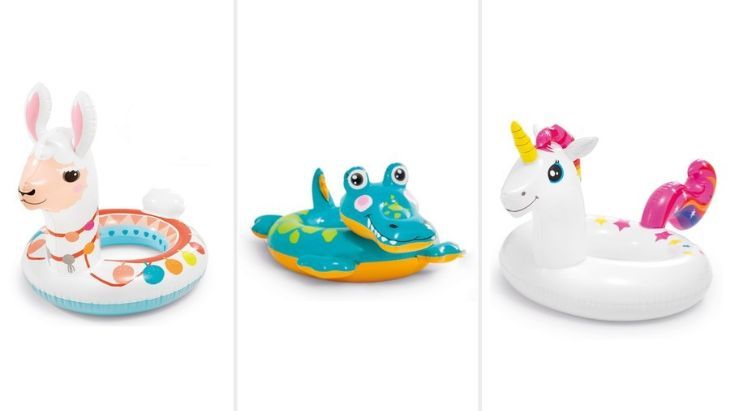 We all know that pools are the ultimate crowd-pleasing outdoor accessory for kids, and if you're lucky enough to have one, or have access to one—you're gonna need some toys!
Big W's range of pool toys includes floats, noodles, ball games, snorkel sets, and more!
17. Go Play! Bottle Smash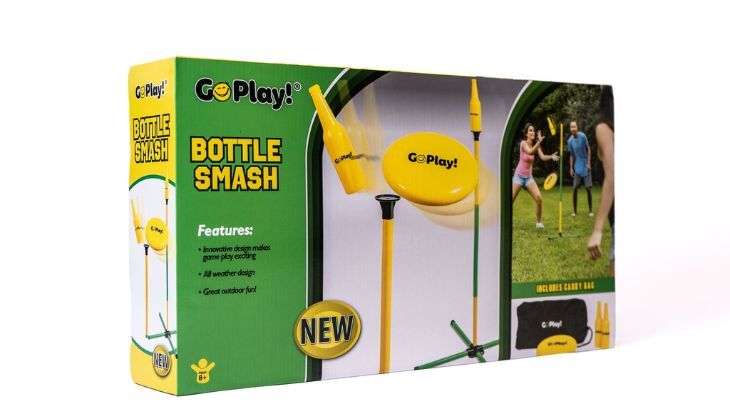 Challenge your skills and reaction time with the thrilling game of Go Play! Bottle Smash—one of the best outdoor toys for kids we can think of! Dive into the fun as teams take turns tossing the flying disc at the target pole, aiming to knock off the bottle and score. Get ready for some exciting action and of course, a dose of friendly competition.
18. Kids' Cubby Houses

A cubby house is an investment, but it's one that really captures the essence of playing outside.
Cubbies can be used in so many different ways, making them great outdoor toys for kids. Check out our guide to the best cubby houses for kids, from no-frills Bunnings to ones with all the bells and whistles.
19. Touchable Bubbles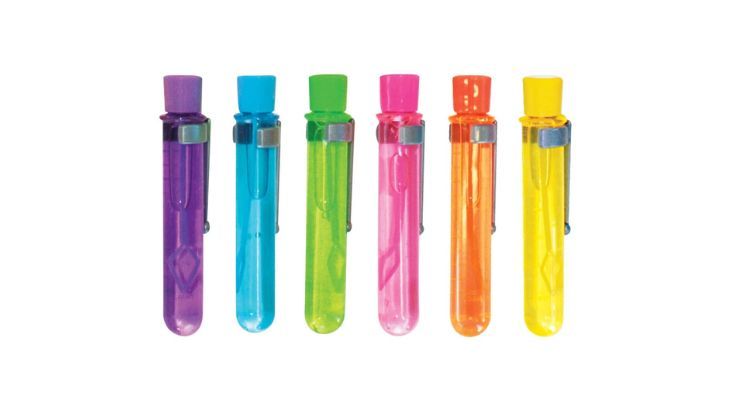 A bubble-making revolution is underway with Touchable Bubbles you can catch!
Bubbles that stay bubbles even when touched—what is this sorcery? Bubbles can keep kids entertained for ages outside, so these are an ultra-fun option for something a little different.
20. Mega Jumbling Tower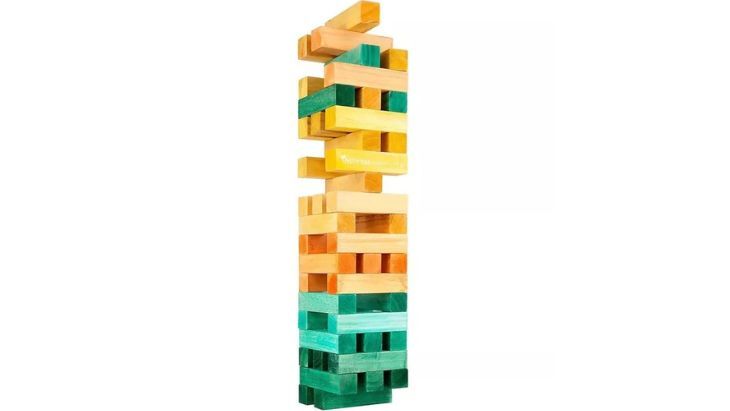 Outdoor family games are totally our jam. We love the sense of being outside with the people we love the most, playing a good, old-fashioned game with not a single screen in sight. This Jumbling Tower from Sunny Life is a great, durable option that promises plenty of beach or backyard banter and fun.
21. Inflatable Duel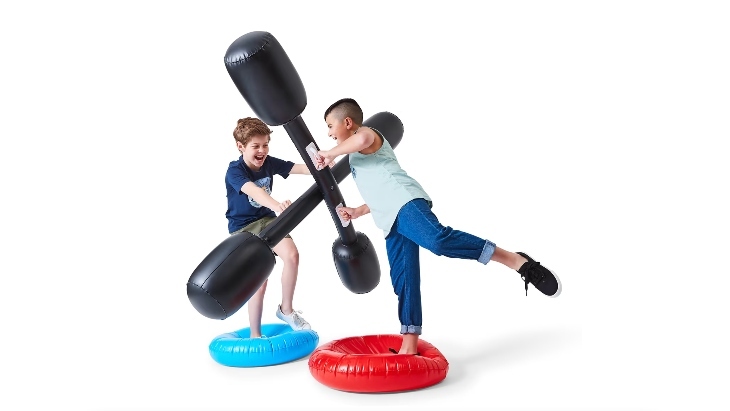 One for the kids who aren't afraid to get pushed around a little, the Inflatable Duel Game from Kmart is pretty much the kids version of Gladiator.
The Inflatable Duel is suitable for ages six and over and features two inflatable bats and two inflatable balance platforms for the ultimate challenge of who can knock their opponent off their platform - game on!
22. Kids' Spidey Web Swing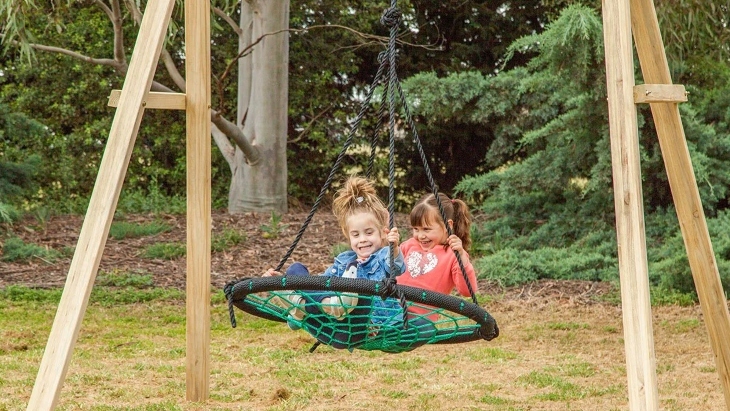 Try and find a kid who doesn't love swinging on spider's web swings? We'll wait...
There's just something about spider web swings that make kids instantly run up and swing to their heart's content. Well now the kids can swing day in and day out with their own spider's web swing! The Spidey Web Swing from Lifespan Kids is one of the best outdoor toys for kids as it's durable, quick to install, reasonably priced, and sure to provide hours of fun for the kids. Sold!
23. Super Wubble Bubble Ball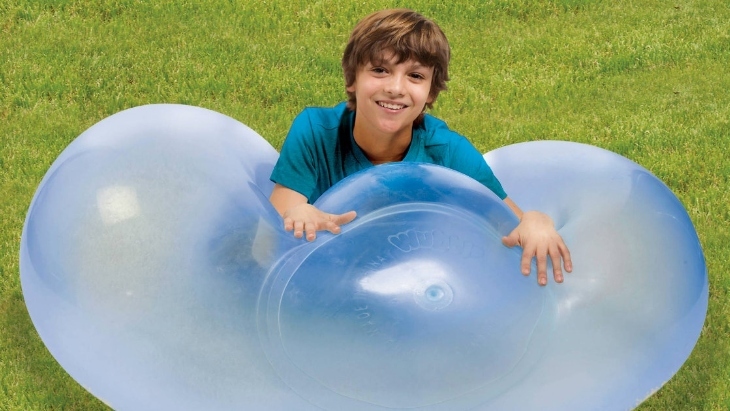 Another one of our favourite inflatable outdoor toys for kids, the Super Wubble Bubble Ball is a mouthful to say and even more fun to play!
The Super Wubble Bubble Ball is a mix between a bubble and a ball and is loads of fun to kick, throw, squish, squeeze, wack, catch and whatever else you can think of! The Wubble Bubble can inflate up to 80 centimetres and includes a pump for easy use.
24. Potion Board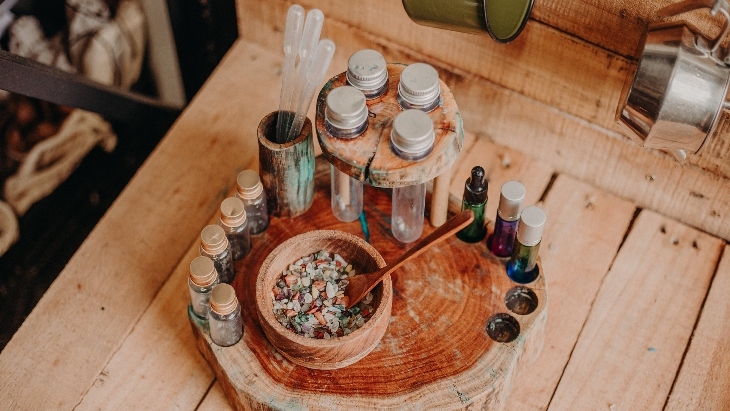 If you've got little fans of witchcraft and wizardry, the Potion Board is a must-have to engage their curious and creative minds.
The hands-on Potion Board includes a board, potion bottles, test tubes, and ingredients so they can whip up all sorts of weird and wonderful potions.
25. GoSports BattleChip Backyard Golf Cornhole Game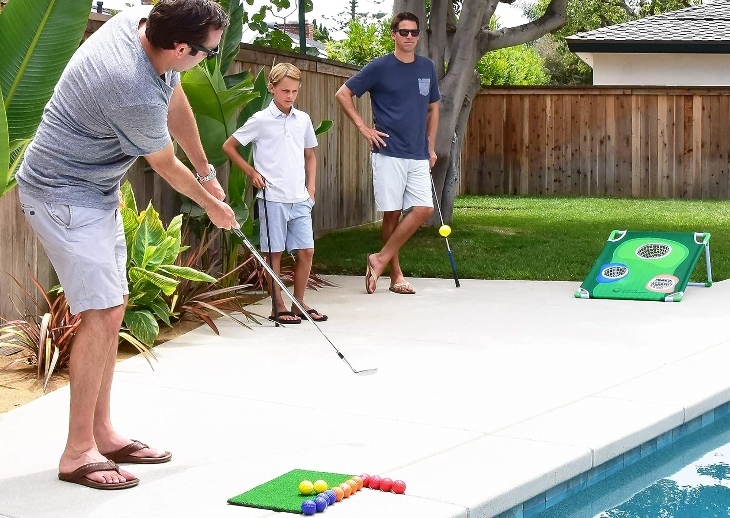 One for kids keen to sharpen their golf game, BattleChip Backyard Golf Cornhole Game is a mix between golf and cornhole and is loads of fun for the whole family.
Put your putting skills to the test as you try to swing your ball as precisely as you can so it makes it into the right cornhole - it's a lot harder than it looks!
More Outdoor Fun
Super Cool Kids' Cubby House Ideas
The Best Beach Towels in Australia
Where to Shop for the Best Kids' Raincoats

Have you signed up to our newsletter? Join ellaslist to get the best family and kid-friendly events, venues, classes and things to do NEAR YOU!