Our Favourite Man-Made Water Playgrounds In Sydney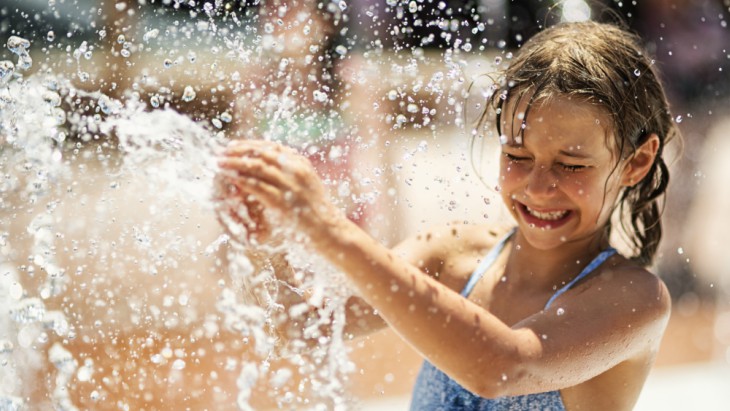 By Hayley Dean, ellaslist
It's Summer in Sydney which means one thing, BEACH TIME right? Unless of course, you are like me and hate the beach, the sand in places it should never be and an overwhelming fear of everything that lives in the big blue sea.
No thank you.
Oddly though, I do like the IDEA of the beach (the concept of water, relaxing and fun family times), and I know my kids love it too so I have put together a list of places in Sydney that offer a beach like experience without having to re-enact the scenes from Puberty Blues….no not that scene, the other scene, the one where the girls have to walk that llloooonnnngggg track up the hot beach for food and drinks and they get really sunburnt and it all looks so uncomfortable. Yuck.
Wet'n'Wild Sydney
What a waterpark this place is. Yes, it is famous for its massive waterslides and Nickelodeon themed play areas for the youngsters but did you know that Wet'n'Wild also houses a massive man-made beach in the centre of the park? It's actually Australia's largest wave pool and is a world of fun for all ages. The best part for me is that toilets, shelter, food, drinks, lockers, showers and entertainment are all close by so you can basically set up in one spot all day and not have to worry about rips or sharks. They also have a selection of cabanas you can hire for that extra level of comfort.
What entertainment I hear you ask? Well, on select dates in January, they play movies here at 6pm. Dive'n'Movies are free with park entry and open to the whole family. Grab a chair or BYO a rug/towel and relax on the white sand.
On Sundays in January from 4-8pm, the park DJ drops the beats on some summer dancing and wave rider groovin'.
And for those of you who perhaps live a little more locally, run by the team at Surf Life Saving New South Wales, Wet'n'Wild also runs Nippers! The lifeguards will teach your little ones all about beach safety, sun safety, what a lifesaver is and what they do; while the physical activities include wading, board paddling and beach games. (Nippers is not included in park entry, but you can register here.)
Where: Wet'n'Wild 427 Reservoir Road, Prospect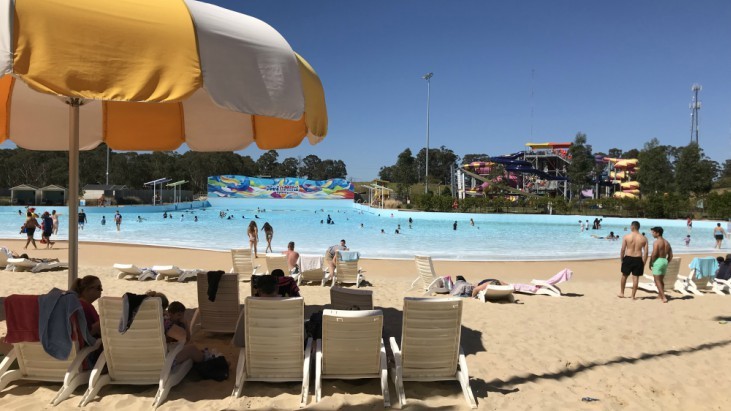 'Campbelltown Beach'
Ok, so this doesn't technically exist yet but it's too exciting for Sydney-siders to leave off the list, especially for those who live in the South-West.
In early 2017, the government announced that a $1.5 million recreational lagoon and beach will be built in Campbelltown. The suburbs Mayor, George Brticevic, annouced they were looking at sites between Blaxland and Farrow roads with the aim to have the project completed in the next 4-5 years. An updated report dated later in 2017 seems to now suggest that the search for potential locations has now widened.
The kicker for the project is of course, the local bid to host the Commonwealth Games but they have publically committed to building the beach regardless of the bid outcome and we at Ellaslist certainly hope they stick to their word (because we want to go there!!).
Although the finer details have not been revealed, it is understood that the beach will be suitable for all ages, have shops, cafes and even a business convention centre.
To quote the mayor: "It's not a dream, it's reality."
Where: TBA Watch this Space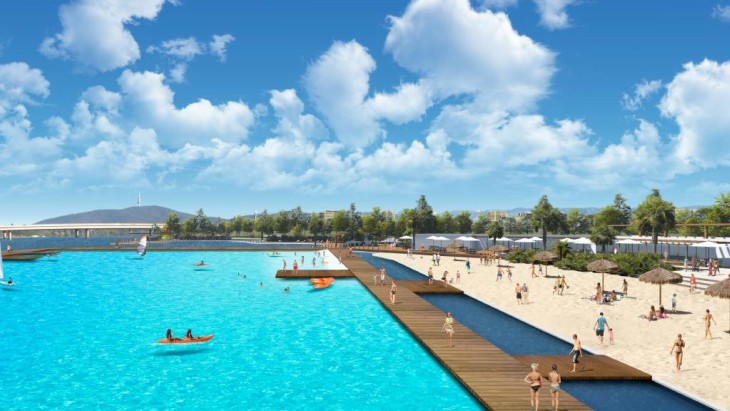 Image: Daily Telegraph
Manly Surf n Slide
A long tome Sydney favourite, this one somewhat kills two birds with one stone as it's located at the beach to begin with, so you can have all the ambiance of a beach without the hassles.
Only open during the warmer months, kids can enjoy the fast waterslides and open pool whilst parents have a cuppa at the onsite café that overlooks the slides. Kids must be taller than 110cm and anyone under the age of 10 must be supervised by an adult (that's someone over 16 years). It's a great place to have a kid's party too.
Some exciting news here too – on November 12th 2017, Manly Surf n Slide posted the following on their Facebook page "Meet the FlowRider! We are thinking of bringing this amazing contraption to Manly Surf N Slide." We have posted their concept image alongside this article. Extremely exciting stuff!
Where: located at the old Manly Waterworks site, on the corner of West Esplanade and Commonwealth Parade, Manly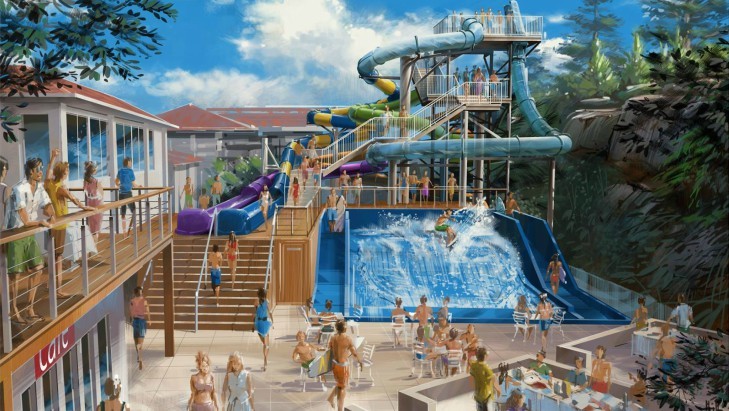 Image: Manly Surf n Slide facebook page
Ryde Aquatic Centre – Surf Rider
Following on with the Wave rider theme, Ryde Aquatic Centre, which is one of my personal favourite aquatic centres in Sydney, has a super fun Surf Rider at the centre. It's open to over 7's (and 90cm tall), is a heated surf simulator, ready in all-weather conditions and claims to be suitable for riders of all levels. Sessions run for 30 mins and costs $18.90 which also includes entry to the pool.
You can have Surf rider parties, corporate bonding sessions, school sports programs and even community group sessions here!
The Aquatic Centre itself it's SO MUCH FUN for kids (and we big kids) with a wave pool, 56m water slide, kids wading pool, bubble whirl pools, rapid river and of course, an Olympic sized pool for exercise and classes.
Where: 504 Victoria Road, Ryde
Putney Park
Putney Park is a local favourite for families and has been for many years. Some parts are old, like the metal waterslide, but its loved and fun and a great alternative for a day out by the water.
The park itself is located right on the water at Majors Bay, making it aesthetically pleasing and a popular picnic spot. Just be sure to keep your eyes on your little ones of course. What we love best about this place is that it's a great one for parents who have kids at different ages and levels. The little ones, say pre-schoolers and below, will love the two wading pools and little river that connects them. You feel as although you are swimming in the river or a rock pool without the other safety scares. The bigger kids LOVE the waterslide and the larger play equipment a short distance away. There is plenty of shade, toilets, tables and parking and best of all – it's FREE FREE FREE
Where: Pellisier Rd in Putney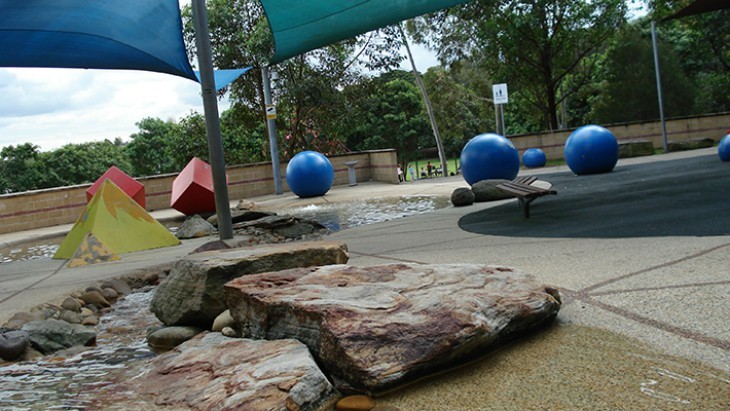 Image: Ryde Council website
Cables Wake Park
And finally, for those out West, this is a great day out. Kids over 6 can enjoy the super fun Aqua park that consists of a bunch of inflatable slides, runways, jumping pillows and structures. Who doesn't love inflatable playgrounds! A 50min aqua session costs just $20 per person.
What many Sydney-siders haven't yet realise is that there is also a free, yeap FREE water play area next to the sheltered BBQ's and picnic tables PLUS a jumping pillow, playground, sports courts and viewing platforms. And of course, on the other side of the park, there's the world class cable ski park where you can Wakeboard, Kneeboard or Waterski. Lake sessions here start at ages 10+ for Cable sessions, Kids Club 6+
A fantastic day out on the water for the whole family.
Where: Panthers Leagues Club 123 Mulgoa Rd Penrith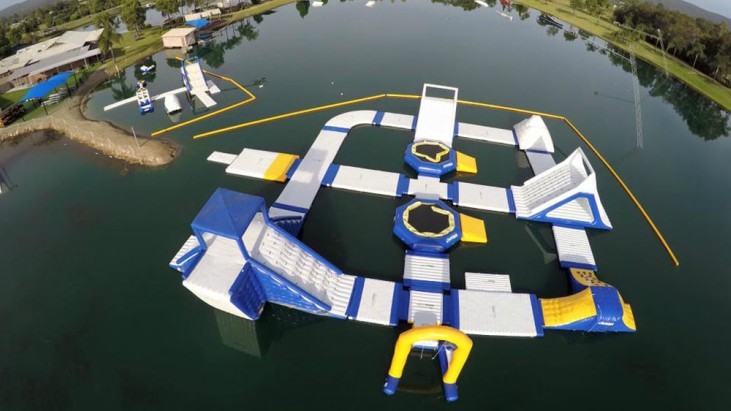 Image: Cables Wake Park website