Have You Heard About Ookkie, the World's First Learner Skateboard?
If you're a parent with kids keen to learn how to skateboard, you're probably scared out of your mind. Teaching a toddler how to skateboard is a terrifying undertaking. Even once they succeed at balancing on their own, skateboarding strikes fear in the hearts of all parents - but it shouldn't.
Ookkie Skateboards is the world's first learner skateboard that allows mums and dads to be in total control of their little skater boys and girls as they learn how to ride a skateboard. Why didn't we think of this idea first?!
The World's First Learner Skateboard for Toddlers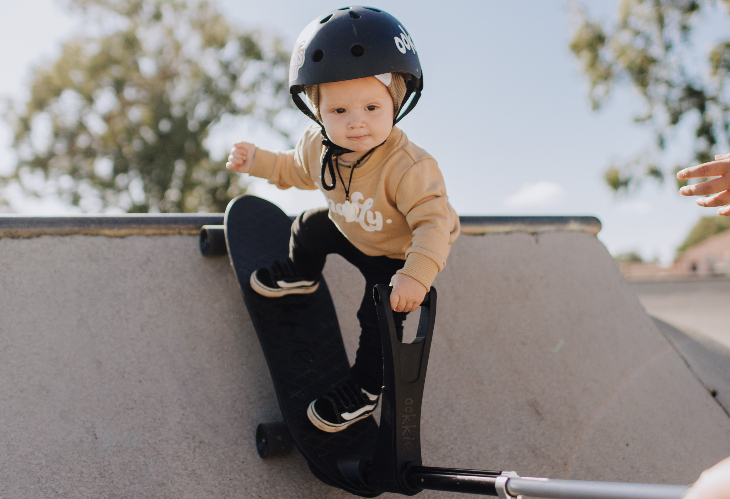 The inspiration to create the world's first learner skateboard came from Aussie dad, tradie and fellow skater Daniel De Gaye back in 2016. He wanted to teach his son how to ride a skateboard safely while developing fundamental balance, stability and confidence. Beginner skaters can achieve this with the Ookkie Skateboard design. It looks exactly like a regular skateboard with the addition of two handles - one for mum or dad to control the board and the other for the learner to safely get used to the movement of the board.
Children as young as 10 months old can learn how to skate with the Ookkie, and once they've become confident enough to balance on their own, the parent's handle can be removed so the board can be used with only the children's handle. Those skater boys and girls who are really confident with their skateboarding skills can remove all handles and use the skateboard independently without any handle assistance.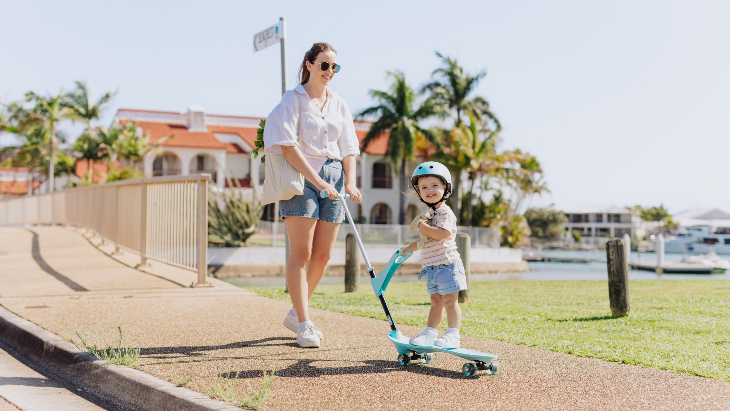 According to Nathan Reid, Head of Operations at Ookkie, "The Ookkie boards help build confidence in kids and encourage families to get outside and enjoy the great outdoors. The Ookkie grows with your child, and as confidence and skills develop, kids can progress to riding without the handles until the board is just a perfectly functional skateboard."
Ookkie Expands its Range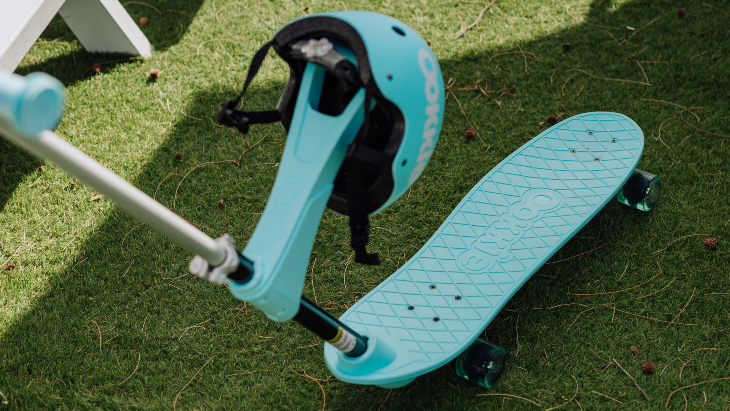 With its clever design and functionality, Ookkie has taken the world by storm since they hit the market in 2019, so much so that parents are now choosing the Ookkie board over a pram for transporting the kids around. The learner skateboard dismantles as easily as a pram and can fit into the boot of a car and, let's be honest, would be much more fun to ride around in than a pram!
Following the launch of their latest lightweight design that is now even easier to set up and pack down than before, Ookkie has also expanded its colour range to include gender-neutral colours like Purple and Mint.
Shop the New Ookkie Range
Ookkie Skateboards come in five colours and are available online for $179.95, along with matching safety gear sold separately.
More Kids' Products to get Excited About
Kids' Gumboot for All-weather Fun
Oh Flossy: Natural Makeup Especially for Kids
Kids' Hampers you can get Delivered
Have you signed up for our newsletter? Join ellaslist to get the best family and kid-friendly events, venues, classes and things to do NEAR YOU!