Oh Flossy: Gorgeous Natural Makeup And Accessories Designed Especially For Kids
Oh Flossy: Gorgeous Natural Makeup And Accessories Designed Especially For Kids
Toddlers
Preschoolers
Kids
For many young children, there is something magical about makeup. From endless hours of role-playing with toddlers to dress-ups with style-savvy tweens, they are early adopters of this fabulous form of self-expression. Isn't it a rite of passage to rifle through your mother's makeup kit and experiment with all manner of glitters and glosses? And for the said matriarch to be less than impressed with the subsequent demise of her designer cosmetics? Whether it's imitation or reinvention, little ones just can't resist all that shimmer and sparkle!
But there is a way of keeping your own precious (and pricey) palettes safely tucked away while also ensuring their delicate complexion isn't being overloaded with colours and chemicals intended for grown-ups: get your mini-me makeup of their very own that is also super safe for sensitive skin.
Hello, Gorgeous!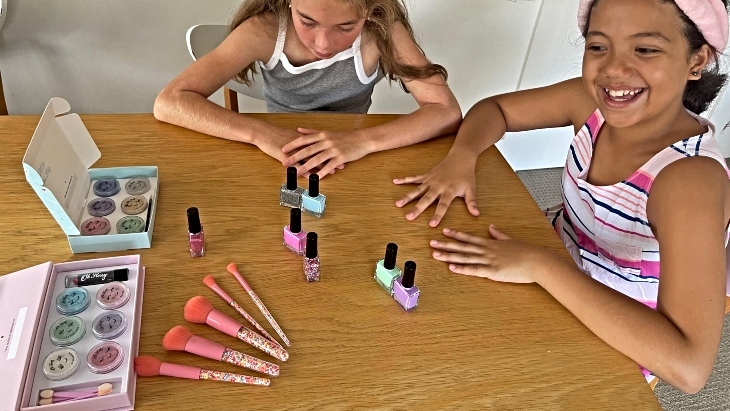 Oh Flossy is a family-run Australian-owned business managed by mother, Vanessa Neyman, and her Oh Flossy posse: husband Jeremy and daughter (and number one fan) Amelia. Their range of products and kits is a masterstroke that turns makeup mania into child's play!
Focussing on natural alternatives and luminous pastel hues, Oh Flossy gives kids the tools to glow up, not grow up! The collection is designed to encourage young children to express their creativity and curiosity with vibrant, messy fun, and explore imaginative play that can help them build self-confidence and 'be little, shine big'.
What Makes Oh Flossy Oh So Special?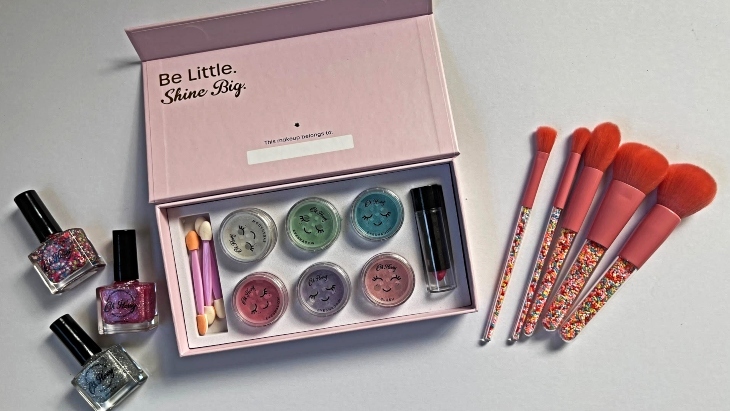 While the glitter nail polishes and lustrous blush pots are enough to make any young makeup enthusiasts squeal with delight, Oh Flossy is about much more than meets the eye, with clever, thoughtful features that put kids at the forefront of their creations.
Oh Flossy products have been formulated by a world-leading cosmetic chemist without chemicals or preservatives. The makeup and face paint sets are handmade in Australia from the best ethically sourced, natural, non-toxic and vegan-friendly ingredients, so even the most sensitive skin is safe.
In a super-cute design feature, each colour pot includes cute face icons so kids can easily identify what each product is used for, giving them independence when they play.
Plus, cleaning little faces is a cinch as it all washes off in water!
Bursting with shimmery sorbet colours, biodegradable cosmetic glitters and bright, chic accessories, the Oh Flossy range is full of delightful playtime inspiration that will make little ones feel special.
What We Loved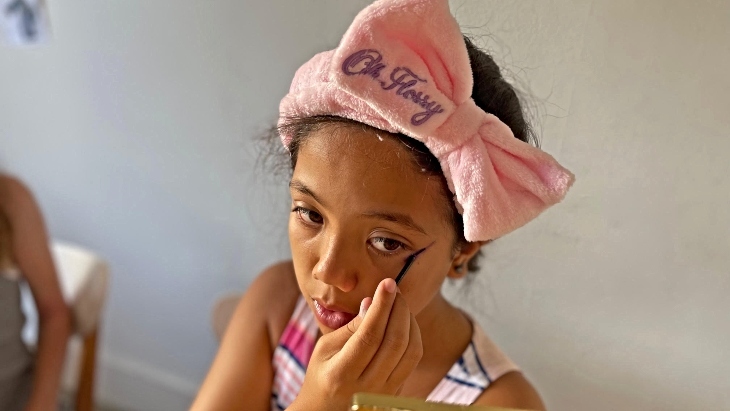 When our beautifully presented package of Oh Flossy goodies arrived, it was met with genuine wide-eyed wonder by my 11-year-old and her equally-enthusiastic bestie - both avid cosmetic collectors! The delightful details of each product created fever-pitch excitement and they wasted no time trying out their gorgeous gifts.
Their favourite products included:
Oh Flossy Cosmetic Headband
It was love at first sight when the plush pink Oh Flossy Cosmetic Headband was unwrapped. It pairs perfectly with the makeup kits for creating those pamper session vibes and keeping pesky hair out of the way when applying their new looks. It is now one of my daughter's favourite accessories!
Oh Flossy Kids Nail Polish
Next stop, nails! The girls got creative experimenting with alternating colours from the Oh Flossy Kids Nail Polish collection and loved the vibrant kaleidoscope of the confetti lacquer (Courageous is the official shade!). These nail polishes are a plant-based, vegan formula with no nasty ingredients, and are quick-drying and long-lasting - ideal for wee wrigglers! There are 7 stunning shades with inspirational names like Joyful, Authentic, Brave and Strong.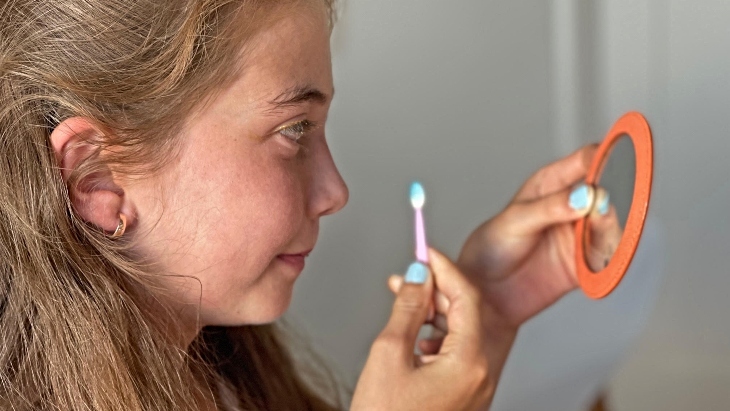 Oh Flossy Deluxe Makeup Set
This popular Deluxe Makeup Set palette is a luxurious box of five sweet, shimmery eyeshadows (including the exclusive Pearl Shimmer), one pretty pastel blush, a subtle pink lipstick and 3 applicators - a quintessential makeup kit. The girls loved carefully applying these soft shades to their fine features. They also borrowed some darker shades from the Face Paint Set to play around with more dramatic features like winged eyes.
Oh Flossy Sprinkle Makeup Brush Set
The Oh Flossy Sprinkle Makeup Brush Set was a firm favourite and now takes pride of place among the cosmetics haul. It contains five hypo-allergenic brushes with super-soft pink bristles and handles full of colourful sprinkles all securely packed together in a cute carry case. These were so impressive, excellent quality and oh-so-fun to use!
Oh Flossy Kid's Mini Baths Bombs
My daughter loves bath bombs and these vibrant fizzers did not disappoint! In a generous bag of seven, each with its own refreshing scent, these non-toxic Oh Flossy Kid's Mini Baths Bombs are made in Australia with local ingredients and are great for sensitive skin. They make bath time a breeze!
Colour Their World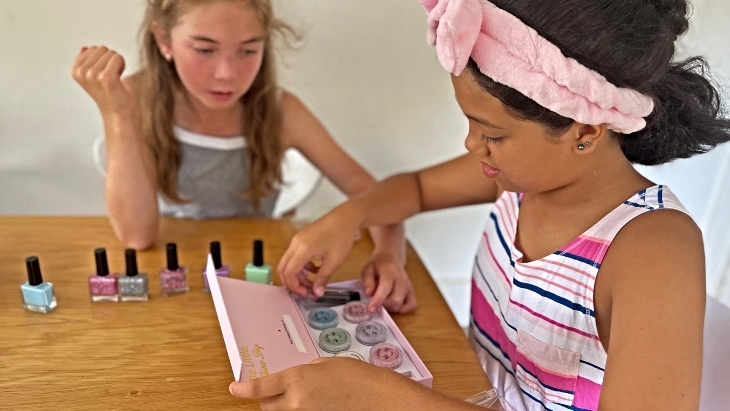 Add some colour to your little one's world with the all-natural products from the fun, fabulous Oh Flossy range. Their delightful, beautifully packaged sets and accessories are great for gifting.
They can be found in over 60 stockists across Australia & New Zealand and online at ohflossy.com.
More Cool Stuff For Kids
Where to Shop for the Best Kids' Gumboots
Six Kids' Hampers you can get Delivered
11 Cool Cubby House Ideas
Have you signed up for our newsletter? Join ellaslist to get the best family and kid-friendly events, venues, classes and things to do NEAR YOU!