One For Mums- Try The Rosé Sorbet Cocktail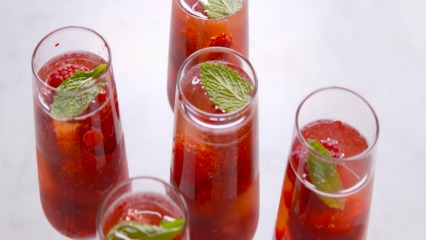 By: Phoebe Ackland, ellaslist
As if a chilled glass of Rosé on a summery Saturday afternoon didn't sound delicious enough, try this easy and SUPERB cocktail: Rosé Sorbet. Thanks to ELLE + Delish for our new Summer drink of choice.
Source: ELLE Magazine (US)
What You'll Need


2 cups of rosé


1 1/4 cups sugar


3 cups frozen raspberries


1/2 cup fresh raspberries


mint to garnish
What To Do- It's Easy!


Combine 1 cup rosé and sugar in a small saucepan over medium heat. Bring to a boil, and whisk constantly until the sugar dissolves. Take off the heat and leave to cool to room temperature


Combine frozen raspberries and the 1/2 cup rosé syrup in a blender and blend until smooth. Taste test, and add more syrup if desired. Pour into a loaf pan, cover with Glad Wrap and freeze until firm, for about an hour or two


To make floats, scoop small portions into champagne flutes and top with more rosé. Add fresh raspberries and a mint leaf to each glass to garnish. Tip: clap the mint between your hands to release that delicious scent
Thanks again to the awesome collaboration of ELLE + Delish for the recipe.
More Easy Recipes On ellaslist