One Bowl Chocolate Brownie Pops - Super Simple!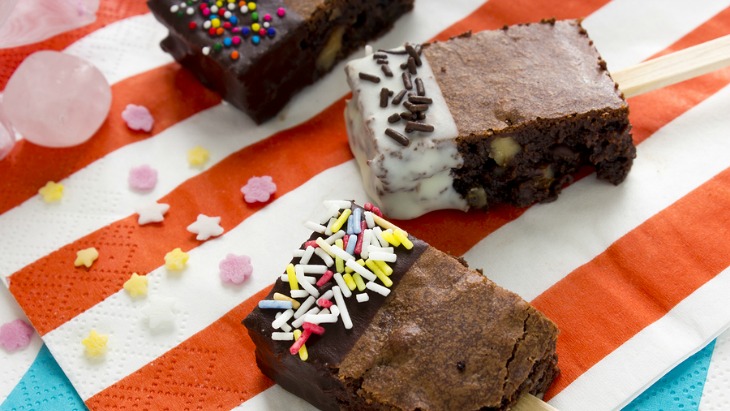 By: Phoebe Ackland, ellaslist
Cooking with the kids doesn't always have to be a messy, complicated kerfuffle! Check out the one bowl brownie pops recipe you can try out at home today, to keep the cooking with kids experience a simple and contained one!
This video proves just how simple it can be- chucking all the ingredients in and mixing them up!
Source: Cafe Delites
Ingredients
½ cup unsalted butter, melted
1 tablespoon cooking oil (olive oil or coconut oil are fine)
1⅛ cup caster sugar
2 large eggs
2 teaspoons pure vanilla extract
½ cup White Wings All Purpose Plain Flour
½ cup unsweetened cocoa powder
¼ teaspoon salt
Step By Step
1) Preheat oven to 175°C
2) Lightly grease an 8-inch square baking pan with cooking oil spray. Line with baking paper; set aside.
3) Combine melted butter, oil and sugar together in a medium-sized bowl. Whisk well for about a minute. Add the eggs and vanilla; beat until lighter in colour (another minute).
4) Add flour, cocoa powder and salt, gently stirring the dry ingredients through the wet, until JUST combined (do NOT over beat as doing so well affect the texture of your brownies).
5) Pour batter into prepared pan, smoothing the top out evenly.
6) Bake for 20-25 minutes, or until the centre of the brownies in the pan no longer jiggles and is just set to the touch (the brownies will keep baking in the hot pan out of the oven). If testing with a toothpick, the toothpick should come out dirty for fudge-textured brownies.
7) If you plan on making brownie pops, cook for slightly longer (30 – 35 minutes) so the brownies will be less wet.
8) Remove and allow to cool to room temperature before slicing into 16 brownies.
Assemble the Brownie Pops
1) Insert popsicle stick into each brownie
2) Dip one end of the brownie in melted white or dark chocolate
3) Then dip in your favourite sprinkles
4) Allow at least 30 minutes to one hour for the chocolate to set or put them in the fridge to set quicker if you just can't wait to eat these treats.
Thanks to Cafe Delights for this awesome and easy recipe!
Having A Cooking Day With Kids? Check Out More On ellaslist