New Dyson Supersonic Hair Dryer Blows Us Away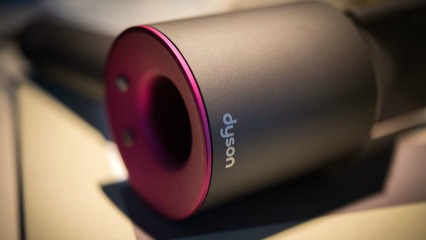 By: Phoebe Ackland, ellaslist
Mums in a rush: this is the must-have bathroom appliance to ensure fabulous hair (at a not so fabulous price.)
Much quieter, less bulky than traditional hair dryers, non-damaging to your hair, and really efficient- the new Dyson Supersonic Hair Dryer ticks all the boxes. The catch? It's retailing on Dyson online for for AUS $699.00. For that price, we hope it doubles as a full time nanny.
Hair Revolution

To be fair, it is quite incredible. It's the product of Dyson's $94 million investment, made by a team of 103 engineers, needed 600 prototypes, and was tested on more than 1625km of human hair. Hair is said to stay shiny with the appliance's heat control feature (it measures the temperature and self-adjusts if it's getting too hot), as well as attractive fuchsia colour, powerful yet quiet motor, bladeless 'see through' barrel, and the overall "it" factor. Right now, it's the only gadget that could attempt to rival the iPhone 7 release.
Source: James Dyson of Dyson
Worth The Hype?

For $700, consumers expect that the Dyson really is the BEST dryer out there on the market…by a long shot. But does it really measure up to the hype? A review by news.com.au trialled the product for 2 weeks and this is what they shared: although it's quite light, it by no means breaks weight records. The Parlux 3800 is apparently 98g lighter. However, when pointed at a spot on the tester's ears and skull, it didn't burn like the blazing sun like most hair dryers have done to us all- so that's a definite pro. Overall, they said the Dyson, though doing a great job with awesome results given and hair appearing shiner than after a regular blow dry, it took longer than other dryers tested. Time poor mums, we apologise. It's said to be quieter, as in "can carry on a conversation with a raised voice, and avoid shouting, while the Supersonic dries your hair" kind of quiet- but by no means, silent.
Source: Design Boom
Where To Buy It

If you're blown away (pardon the pun) it's worth shopping around for the best price. David Jones and Dyson have it listed online for $699.00 which appears to be the most expensive, but eBay has some listed for as little as $639.00. It's still new so prices are high, but would be worthwhile checking out Harvey Norman in a few months time.
Feature Image Courtesy of True Viral News.
Would you buy the new Dyson? Have you tried it? Tell us what you thought! Comment below.
Check Out Some More Super Cool Gadgets On ellaslist