New Double Bay Library a Hit With the Kids
Family
Kids
Mums & Bubs
Parents Only
Teens
Preschoolers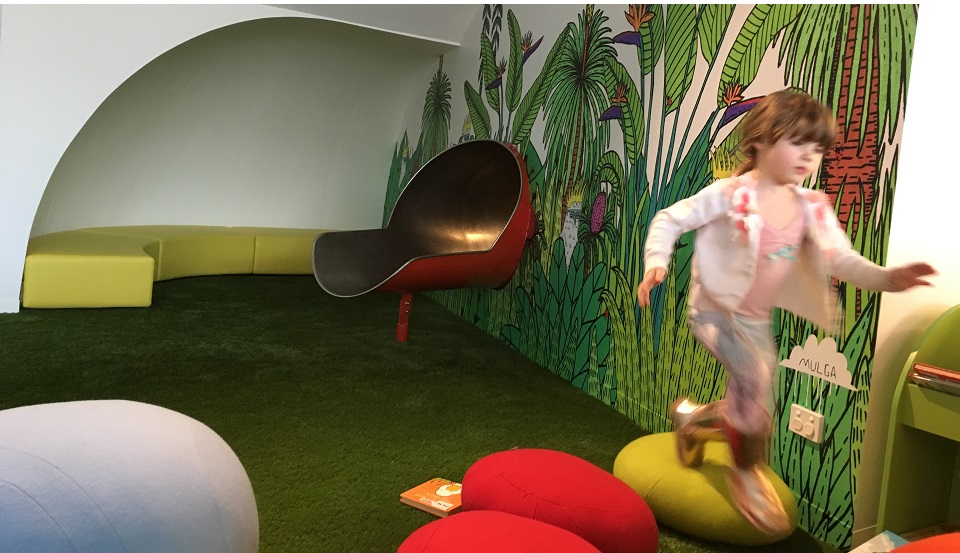 By: Zoe Crane, ellaslist
The much awaited library at Double Bay has finally opened and it was worth the wait. It was hard to imagine anything could beat the charm of the sunny lawn and historic buildings, but it's out with the old and in with the new and modern technology has won the day.
It Has a Slippery-Dip

Number one, it has a SLIDE, inside the library! Not only do the kids think this is super cool, but it's emblematic of a shift in the attitude towards kids in a library. While it doesn't mean they are happy for your kids to run around the library screaming, there is certainly a feeling that children are very welcome here. This is a library your kids will love to visit, which should lead to a deeper appreciation of the reason the library is here at all, books.
[caption id="attachment_104765" align="alignnone" width="960"]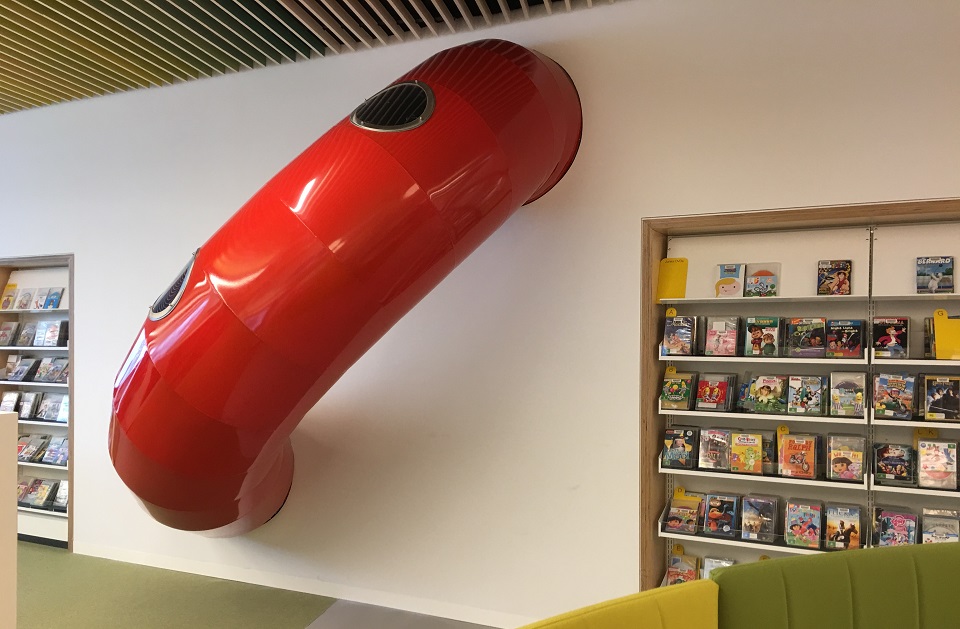 Yes, it's a slippery-dip, in a library!
So Much Cool Stuff

The first thing you'll notice is the huge "living wall" when you walk in, but take your kids for a closer look, and you'll notice small windows in the wall. If you happen to be returning a book, you can watch it being swished away by conveyor belts behind the little windows.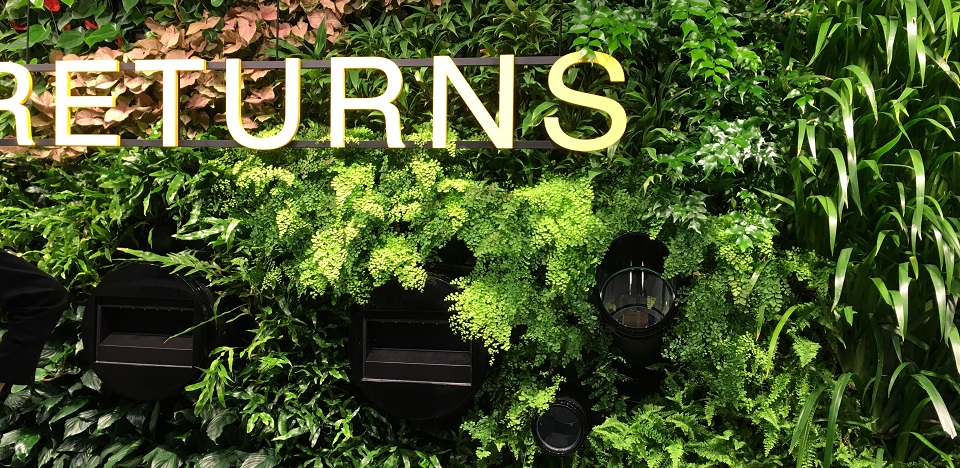 The returns shoot in the living wall has a surprise through the windows
Round the corner and you'll find the covered slide emerging from the wall, only to disappear again, and what can only be described as an iPad tree. Pre-loaded with child-friendly games and YouTube clips, it can be a struggle to pull your kids away (try the wall full of kids DVD titles to borrow nearby as a useful distraction) to get to the really good stuff – the books. The library seems to have expanded its kid's selection and there are rows of books easily accessible for kids to browse, including board books, picture books, chapter books and even a big range of audio books.
Playing on the iPad tree.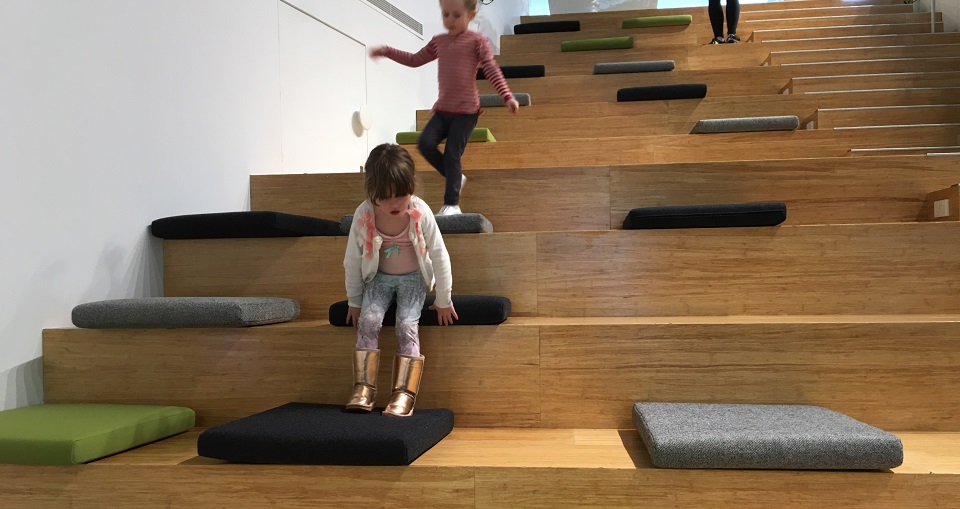 One of the many cool spots to sit and read (jumping not encouraged by library staff)
What's On

Beyond the audio books is an arts and crafts area with colouring and an interactive projection which kept my daughter busy moving and jumping for ages, and then there is the secret garden. The secret garden is the most enchanting kids area of the library, where they hold their children's program. Rhyme time for 0 to 2-year-olds is held Tuesday at 3:30pm and Wednesday at 10:30am, and Story Time for 3 to 5-year-olds is Mondays at 10:30am, and if you can't make it during the week they also have a Story Time once a month on a Saturday at 10am. On the last Thursday of the month they have a Kids' Club for school-aged children as well as school holiday activities. When there are no classes, it is a great place for kids to play (quietly) and sit and read, just watch out for little ones shooting out the end of the slide.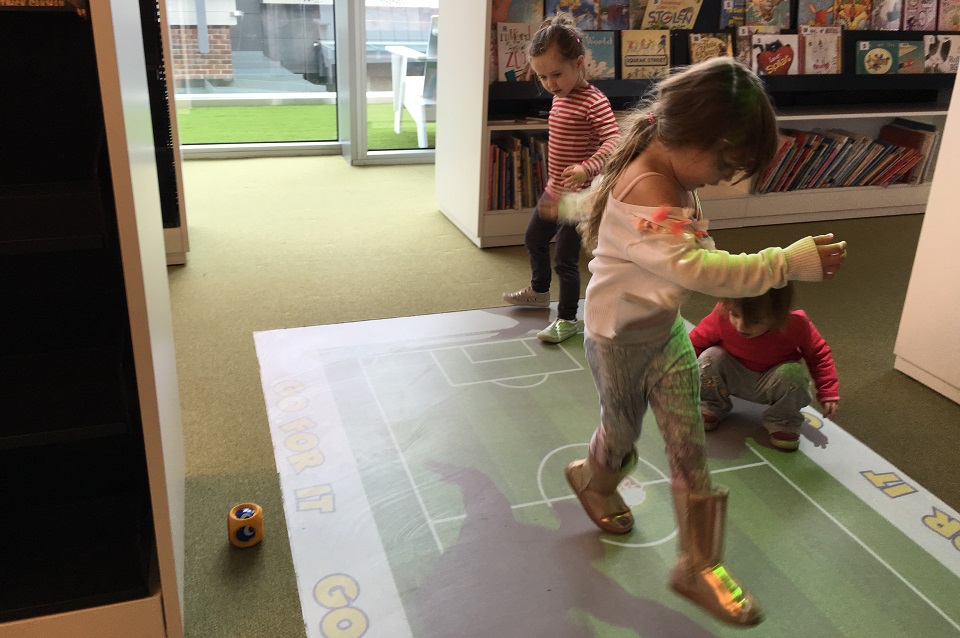 Playing soccer, one of the games on the interactive projection.
The art area is great for keeping kids quietly entertained.
For the Grown-Ups

In case you hadn't guessed yet, the new library is big, really big. There are comfy reading nooks all over the library in fact, for both kids and adults and when we went there were plenty of grown-ups happily typing away and even working collaboratively in groups all over the place. While the first level is where all the kid action is, the adults' collection is massive with just as many funky little areas as the kids' area. The official rule is that kids under ten cannot be left unattended though, so you'll need to drag any smaller kids with you.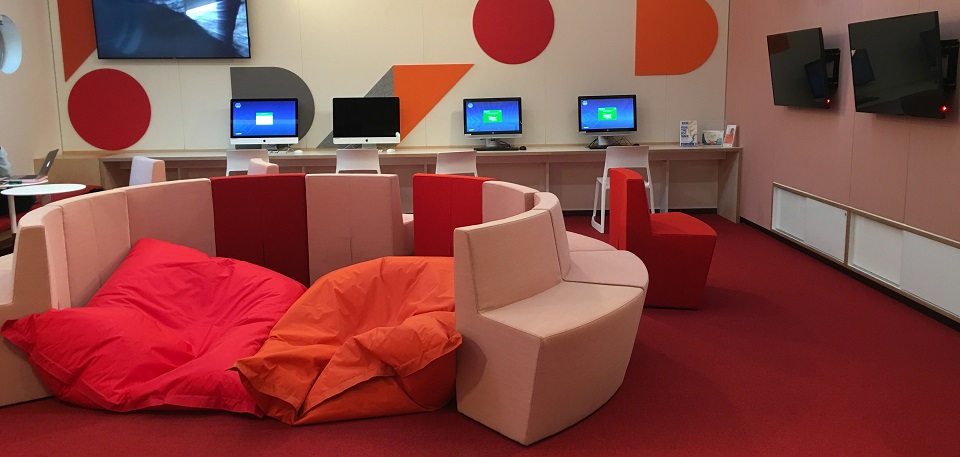 One of the areas designed for grown-ups (and bigger kids)
Make a Day of It

It's not just the library that has been redeveloped and there are some great new places to grab lunch after a hard day at the library. We ate at Bake Bar, who have a good selection of light meals like sandwiches, salads and soup. If you want to spring for something nicer Little Jean across the way does amazing sharing plates of meats and salads for lunch and also has a mouth-watering breakfast menu until midday. You can also choose from La Piadina which does scrummy Italian flatbreads (halfway between a pizza folded in half and a toasted sandwich) or a sushi Train restaurant. While none of them have specific kids option, there is enough choice between to find something to keep even fussy kids happy. You can park for one hour for free at the Woolworths across the road, or two hours if you spend $30 at Woolies or Dan Murphys (the perfect excuse to pick up a bottle for the evening), but we had trouble keeping our visit under two hours.
All-in-all the new library will please kids and adults alike (did someone say rainy day activity?) and is sure to become a favourite.