Milk-shaking it up at The Vogue Cafe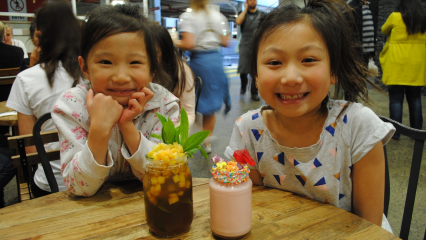 By: Helena Heung, ellaslist explorer
The Vogue Café promotes itself as a Milkshake Bar & Kitchen, so it comes as no surprise that their drawcard is a magnificent array of mesmerising milky delights.
Tucked away in a corner of Macquarie Centre, North Ryde, the café is a constant buzz of mothers, uni students and pretty young things, all lining up to sample the latest magical creations, thrown together like George's Marvellous Medicine.
Busy, busy, busy
We arrived during a typical Saturday lunch service and the cafe was so packed we had to stand in a short queue. (Always a good sign.) The friendly waitresses gave us some menus and did their utmost to clear tables, so we weren't waiting long. We were given a table outside, closer to the car park, but if you get the choice, I'd opt for a table inside the café, with its cheery and bright, botanically themed décor.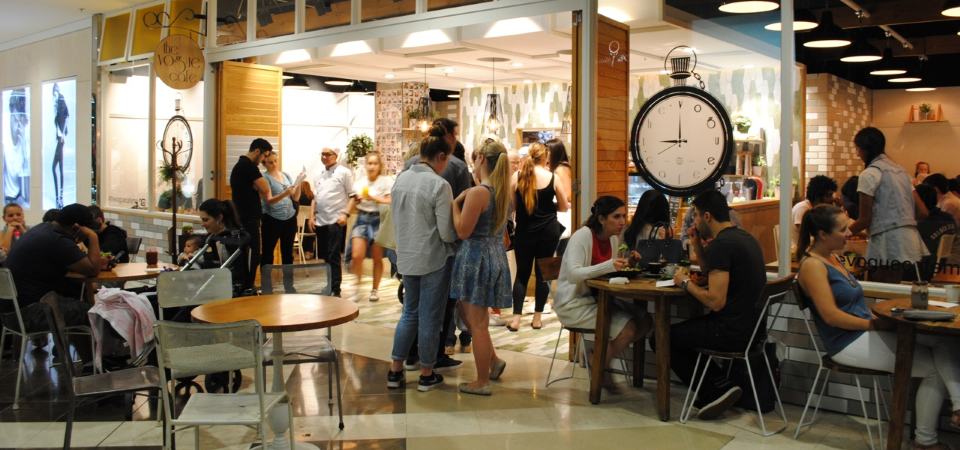 The Milkshakes!

These were the first items our kids wanted to choose. Miss 7 chose a Magical Strawberry Milkshake and Miss 5 chose a decadent sounding Oreo Shake. Worried that we might drown in an overdose of milk I also ordered a refreshing home made peach iced tea, just to offset all that dairy. When the milkshakes arrived they were piled high with coloured popcorn, jelly snakes, a lolly filled cone and crunchie Oreo bits. The sprinkles on the rims gave them that extra wow factor and the kids were suitably impressed. Instagrammers, you will WANT to get your cameras out for these drinks! Don't believe me? Visit The Vogue Facebook page and see for yourself!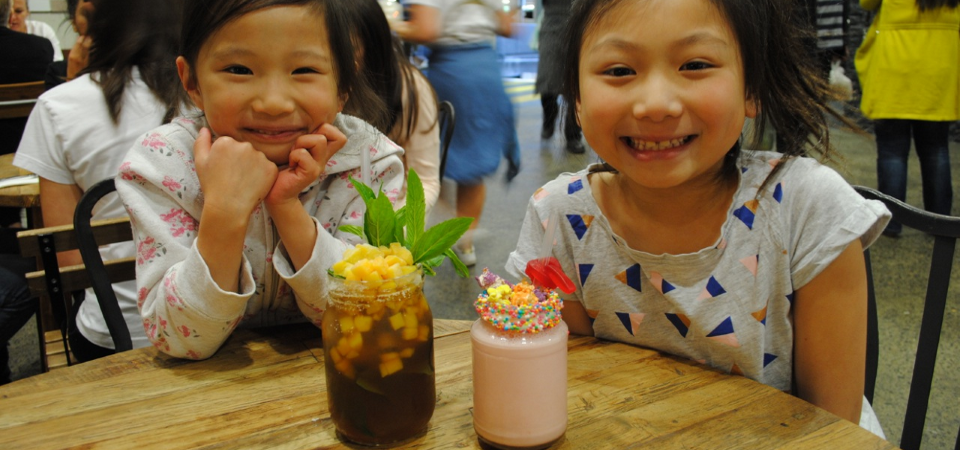 The Actual Food: Burgers and Chips
Kids cannot live on milkshakes alone so we also ordered some tasty food from the menu. The little people had a ham and cheese melt along with nuggets and chips. The big people had a club sandwich and a beef burger. Everything was delicious and the portion sizes were generous. We were so full by the end that we didn't have enough room to try a tempting sounding Killer Cronut Burger or Cinnamon Churros, and I was so obsessed with the milkshakes that I didn't even order a coffee! (insert shocked face emoticon) We will just have to wait till next time.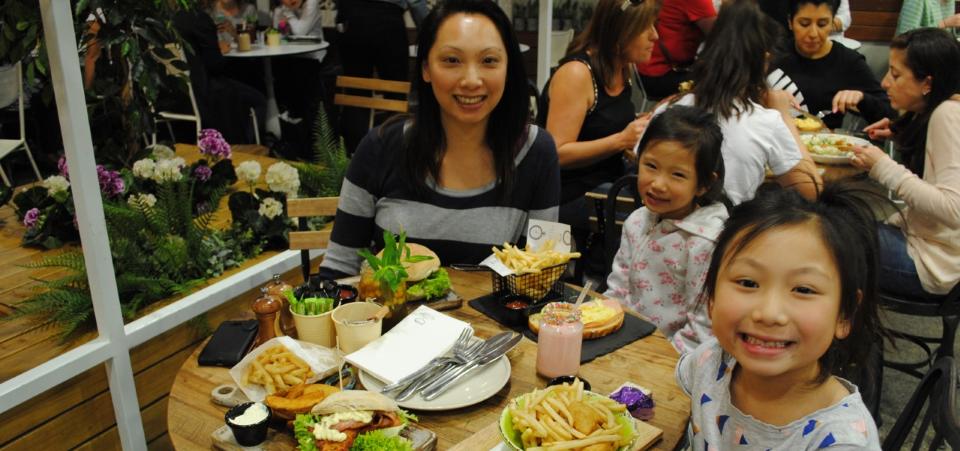 In a Nutshell
What makes the cafe kid-friendly: The friendly wait staff are obviously used to serving children as they smile and interact with families in a relaxed and casual manner.
Atmosphere: Bright, hip and happening!
The Food: Delicious sandwiches, burgers but with an extra emphasis on desserts such as milkshakes, cronuts and churros.
Value-for- Money: Not cheap, not expensive, just right. The milkshakes are more expensive than what you would usually pay, but hey, these ain't no ordinary milkshakes.
Special features and Fun bits: The oohs and ahhs from the kids when the milkshakes arrived and their eyes popped from the amount of sugar we were allowing them to devour.
Who is the cafe best suited for? Perfect for Mummy dates. Sit down and chat while your child enjoys a meal and the best milkshake they've probably ever had. A visit to The Vogue Café would make a great reward (or bribe) for some lucky kid.
What we loved: Watching my children eat all their food and drinks without complaining. A rare thing indeed!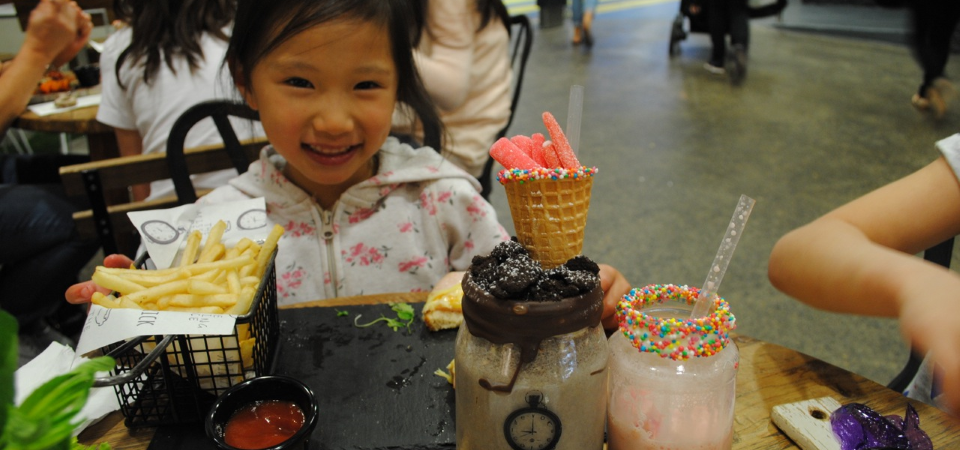 What You Need to Know

Opening Times: Monday to Saturday, 7:30am – 5:00pm (Thursday open til 8:30pm), Sunday 8:30am – 5:00pm
Phone: (02) 9887 2570
Address: Herring Rd & Waterloo Rd, Level 2, Macqurie Centre, North Ryde, NSW, 2122
More Info Here.