Macquarie Shopping Centre Launches New Play Area For Toddlers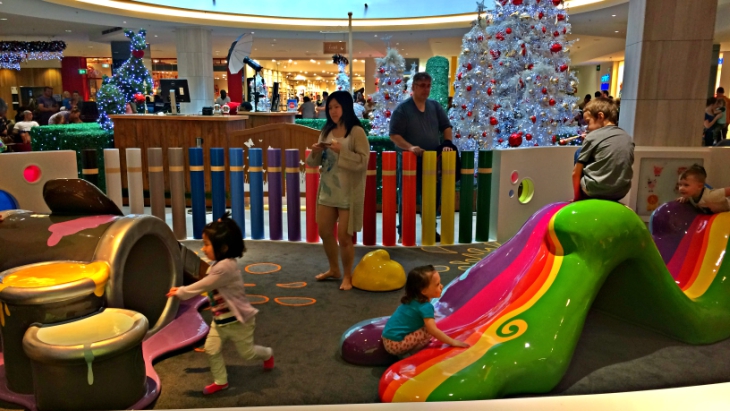 By: Alex Harmon, ellaslist
Macquarie Shopping Centre has launched yet another area for kids to play in, this time aimed at the little ones!
Macquarie Centre already has two fantastic kids areas, The Little Explorers Playground, located on Level 4 near the ABC Shop which is a free play area for young children. And Chipmunks Playland, also located on Level 4, which is a paid-for indoor play centre for kids up to the age of 11 (entry starts at $10.90). This one is great as it offers a 'drop off' service for kids 5 and over, if you're looking to shop on your own in peace.
However if your little one is just finding their feet, shuffling along or even at the action-man toddler stage where they like to climb, slide and nose-dive onto soft surfaces, this new play area is for you. Called Kids Play, you'll find it right outside Target and in the middle of all the Christmas festivities.
Paint By Numbers
The play area has an 'artist at work' kind of vibe to it with bright colours all around and a cute pencil-shaped fence. You can climb over paint brushes and tubes of splashing paint, blobs of splattered paint and slide down a rainbow paint slippery dip. Inquisitive kids can play with the interactive digital touch screens on the walls and parents can rest easy on the comfy seating inside the play area. To make it super organised there's a cubby house for shoes to be stored and pram parking for parents.
Treat The Whole Family
No family visit to Macquarie Shopping Centre would be complete without a trip to Vogue Cafe. Located on level 2, this tiny, unassuming cafe serves up some of Sydney's most over-the-top desserts. Seriously. They have different themed freak-shakes every week, cronut burgers and babycinos served with hundreds and thousands sprinkles, a chocolate spoon, marshmallow and popcorn.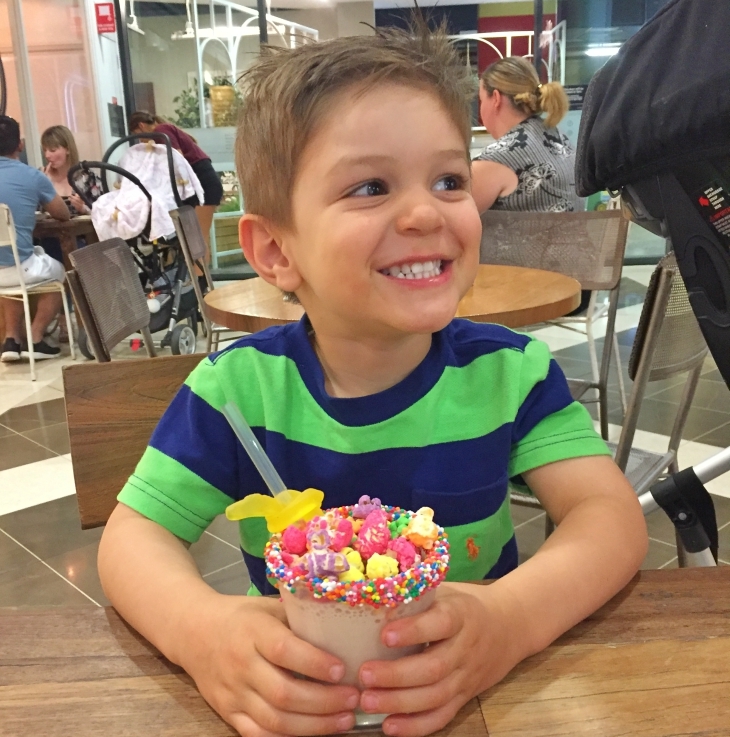 I played it safe and ordered my toddler a "kids milkshake" thinking it would be just a milkshake but it came out looking like something out of Willy Wonka's Chocolate factory, loaded up with coloured popcorn, rice bubbles, sprinkles and a snake lolly on the straw!
Luckily he was able to burn off some of this energy at the new kids play area....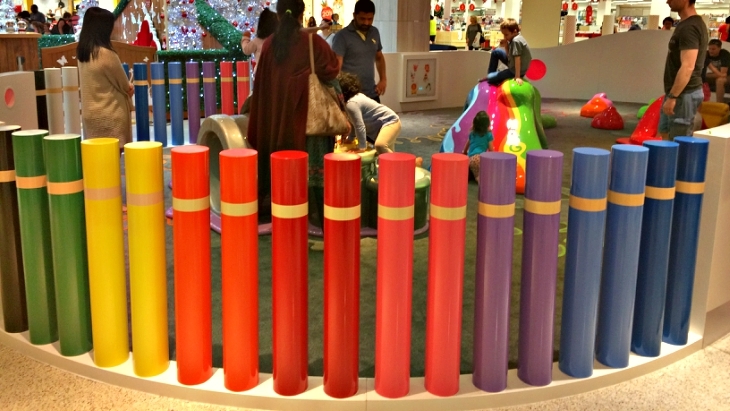 The Details
Macquarie Shopping Centre is open from 8.30am-8pm (9pm on Thursdays)
Location: Cnr Herring Rd & Waterloo Rd North Ryde, NSW
For more see the website.