Library Events and Activities For Kids - North Shore
Family
Kids
Mums & Bubs
Preschoolers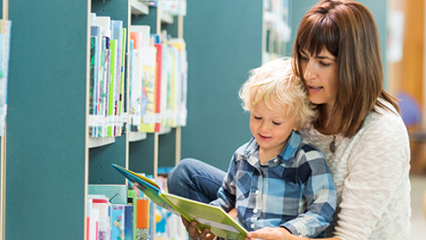 ellaslist COVID-19 update: Please note that all the information on the website is correct at the time of publication. Please check the relevant website before visiting a venue or destination for the latest COVID-19 information. ellaslist is not responsible for any cancellations or closures.
We love a trip to a Children's Library anytime! There are computers, DVDs to borrow and books, books, books! We curl up on the floor on one of the big cushions and read to our hearts content. Many libraries also have toys and fun interactive exhibitions. Best of all are the FREE story times!
Here is a round-up of the weekly library events for kids in the libraries in the NORTH SHORE.
Monday
Stanton Library
Baby Rhymetime @ 10:30 am – 10:50 am and 11:30 am – 11:50 am
Ages: 0-2 years
Book here.
Stanton Library
234 Miller Street, North Sydney 2060
Manly Library
Toddler Time @ 10:30 am
Ages: 18 to 36 months
Manly Library
Market Place, Manly
Artarmon Library
Storytime for Preschoolers @ 10:30 am – 11:15 am
Ages: 3 – 6 years
Artarmon Library
139 Artarmon Road, Artarmon NSW 2064
North Ryde Library
Ryde Rockers Rhyme Time @ 2:00 pm
Ages: 0 to 2 years
North Ryde Library
201 Coxs Road, North Ryde 2113
West Ryde Library
Ryde Rockers Rhyme Time @ 2:00 pm
Ages: 0 to 2 years
West Ryde Library
2 Graf Avenue, West Ryde 2114
Ryde Library
Kids Club @ 4:00 pm – 5:00 pm
Ages: 6+ years
Ryde Library
1 Pope Street, Ryde NSW 2112 (cnr Pope and Devlin Streets, within Top Ryde City Shopping Centre)
Tuesday
Stanton Library
Storytimes @ 11:00 am
Barry O'Keefe Library
Storytime @ 10:30 am
Ages: 2-3 years
Barry O'Keefe Library
Barry O'Keefe Library
605 Military Rd, Mosman 2088
Manly Library
Pre-school Storytime @ 10:30 am
Ages: 3-5 years
Chatswood Library
Baby Bounce @ 10:00 am – 10:30 am and 11:00 am – 11:30 am
Ages: 0 – 18 months
Chatswood Library
Lower Ground, The Concourse, 409 Victoria Avenue, Chatswood 2067
Northbridge Library
Storytime for Preschoolers @ 10:30 am – 11:15 am
Ages: 3 – 6 years
Northbridge Library
258 Sailors Bay Road, Northbridge 2063
North Ryde Library
Ryde Rockers Rhyme Time @ 10:30 am
Ages: 0 to 2 years
West Ryde Library
Ryde Rockers Rhyme Time @ 2:00 pm
Ages: 0 to 2 years
Eastwood Library
Preschool Storytime @ 11:00 am
Ages: 2 to 5 years
Eastwood Library
Corner Hillview Road and West Parade, Eastwood 2122
Ryde Library
Preschool Storytime @ 10:00 am – 10:45 am and 11:15 am – 12:00 pm
Ages: 2 to 5 years
Bilingual Storytime @ 10:00 am – 10:45 am and 11:15 am – 12:00 pm
first Tuesday of the month
Wednesday
Stanton Library
Storytimes @ 11:00 am
Barry O'Keefe Library
Babytime @ 11:00 am – 11:20 am, 2:30 pm – 2:50 pm
Second Wednesday of every month: 3 Feb, 17 Feb, 2 Mar, 16 Mar, 30 Mar, 27 Apr, 11 May, 25 May, 8 Jun, 22 Jun, 20 July, 3 Aug, 17 Aug, 31 Aug, 14 Sep, 12 Oct, 26 Oct, 9 Nov, 23 Nov, 7 Dec
Ages: 0-12 months
Manly Library
Baby Bounce & Rhyme @ 10:30 am
Ages: 3 to 18 month
Wednesday Club @ 3:45 pm – 4:45 pm
Ages: 8 to 12 years
Chatswood Library
Toddler Times @ 11-11.30am
Ages: 18 – 36 months
Storytime for Preschoolers @ 10:00 am – 10:45 am
Ages: 3 – 6 years
Lane Cove Library
Possum Play @ 11:00 am
Ages: 6 months – 2 years
Lane Cove Library
139A Longueville Rd, Lane Cove 2066
Greenwich Library
Storytime @ 11:00 am
Ages: 3 – 6 years
Greenwich Library
48 Greenwich Road, Greenwich 2065
Eastwood Library
Ryde Rockers Rhyme Time @ 2:00 pm
Ages: 0 to 2 years
Gladesville Library
Ryde Rockers Rhyme Time @ 10:30 am
Ages: 0 to 2 years
Preschool Storytime @ 11:00 am
Ages: 2 to 5 years
Gladesville Library
6 Pittwater Road, Gladesville 2111
Ryde Library
Ryde Rockers Rhyme Time @ 10:30 am
Ages: 0 to 2 years
North Ryde Library
Preschool Storytime @ 11:00 am
Ages: 2 to 5 years
West Ryde Library
Preschool Storytime @ 11:00 am
Ages: 2 to 5 years
Kids Club @ 3:30 pm – 4:30 pm
Ages: 6+ years
Bilingual Storytime @ 11:00 am
All Ages
third Wednesday of the month
Thursday
Stanton Library
Toddler Rhymetimes @ 10:30 am – 10:50 am
Ages: 0-3 years
Barry O'Keefe
Storytime @ 10:30 am
Ages: 3-5 years
Thursday Kids @ 4:00 pm
Ages: 5+ years
Manly Library
Pre-school Storytime @ 10:30 am
Ages: 3-5 years
Chatswood Library
Toddler Times @ 11-11.30am
Ages: 18 – 36 months
Storytime for Preschoolers @ 10:00 am – 10:45 am
Ages: 3 – 6 years
West Chatswood Library
Storytime for Preschoolers @ 10:30 am – 11:15 am
West Chatswood Library
565 Mowbray Road West, Lane Cove North 2066
Lane Cove Library
Storytime @ 11:00 am
Ages: 3 – 6 years
Ryde Library
Ryde Rockers Rhyme Time @ 10:30 am
Ages: 0 to 2 years
Eastwood Library
Bilingual Storytime @ 11:00 am
All Ages
first Thursday of every month
Friday
Barry O'Keefe
Friday Fun @ 4:00 pm – 4:45 pm
Ages: 9-12 years
First Friday of every month
Castle Cove Library
Storytime for Preschoolers @ 10:30 am – 11:15 am
Ages: 3 – 6 years
Castle Cove Library
8B Deepwater Road, Castle Cove 2069
Eastwood Library
Ryde Rockers Rhyme Time @ 10:30 am
Ages: 0 to 2 years
Gladesville Library
Ryde Rockers Rhyme Time @ 10:30 am
Ages: 0 to 2 years
Preschool Storytime @ 11:00 am
Ages: 2 to 5 years
Ryde Library
Ryde Rockers Rhyme Time @ 10:30 am
Ages: 0 to 2 years
West Ryde Library
Ryde Rockers Rhyme Time @ 10:30 am
Ages: 0 to 2 years
Saturday
Ryde Library
Game On! @ 11:00 am – 12:00 pm
Ages: 5+ years
Special Events and Activities
West Ryde Library
Little Bang Discovery Club @ Mondays 1, 8, 15, 22 February 2016, 11:00 am – 12:00 pm
Ages: 4 to 5 years