They had to Lego of the name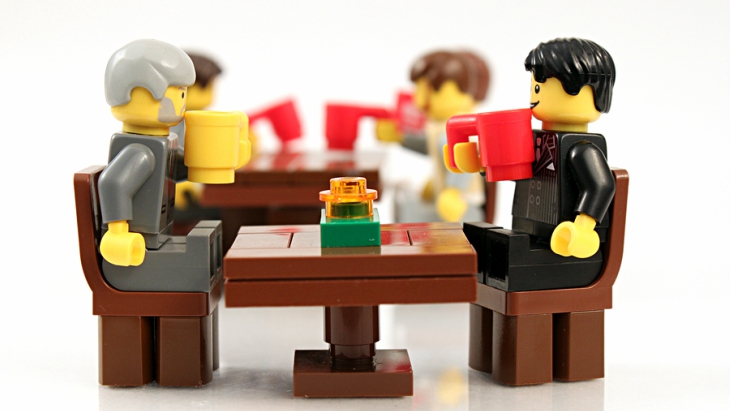 By Hayley Dean, ellaslist
UPDATE: According to online culture websites, rumor has it that it seems the organisers of this bar didn't have the rights to use the billion dollar world wide trademark so they had to Lego of the name.
Now called Thebrickbar (all one word), will still be popping up, or building up as it were, as reported, only now all mentioned of LEGO® has been removed from the website.
Canadian website "Eater Montreal" where the bar is also set to open, have reported the following:
When queried about the bar's use of Lego's name, a representative for the toy company highlighted that the bar had no connection to them, but also that it was not in their interests to be associated with an event where drunk adults would frolic with a large number of choking hazards.
Oops!
Original Story filed 10 January 2018
Finally, someone has thought of us, the parents and finally its your time your time to undo that top button, let your hair down and just lego.
Hands up if you loved Lego as a kid? And keep those hands up if you have a tendency to take over your own children's Lego projects? And still wave those hands in the air like you just don't care if you tend to buy Lego kits that YOU like rather than what your kids might like? Then ladies and gents, grab our bags and head for the door because LEGOBAR is coming to Sydney and Melbourne.
You read it right, a pop up bar made completely out of Lego Bricks. Isn't it about time you let your hair down and just lego?
Shrouded in a cloud of mystery, all we currently know is that it's an adult Lego bar, it will be made from over one million Lego bricks, a local DJ spinning tunes all day and its opening in Sydney, Melbourne, Perth and Brisbane this Autumn 2018. Interesting to note is that they are not, in fact, connected or associated with Lego itself.
You will, of course, be able to build your own whatever as you drink some ale. I personally tend to favour the four walled house structures myself including garden and garages.
Rumour has it that tickets are super limited and will be on a first come, first serve basis. Be sure to register your interest on their website for pre sale information.
We can't help but wonder how safe this bar will be? Does it comes with instructions? How many crucial pieces will go missing and most importantly, will there by a no open toe/shoe policy for OH&S reasons?
Hopefully we'll all find out more soon enough.....
Reviews

Reviews get lonely too
Be awesome and write a review