Kids❜ Birthday Parties at Calmsley Hill – Fun For Kids, Hassle-Free For Parents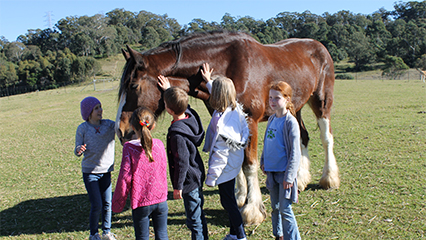 By: Marie Ashworth, ellaslist
For my son's birthday party last year, we decided on a DIY park party. I hired an entertainer, spent a whole day shopping and preparing the food and then frantically raced around looking for an indoor venue the day before the party when the forecast suddenly changed from sun to storms! It was stressful, took up hours and hours of organising and cost us a lot more than we'd initially budgeted for.
So, whenever anyone mentions a great kids' birthday that promises maximum fun with minimum hassle without a ridiculous price tag, I'm all ears!
Not Your Average Animal Attraction!
I'm already a huge fan of Calmsley Hill City Farm following a visit last year. It's not your average 'look-from-a-distance' animal attraction. Yes, there are lots of animals to meet, get up close to and even feed, plus a super-friendly, enthusiastic and knowledgeable team who are on-hand to answer any questions but what makes this place really different is that it's a working farm with a daily program of shows and activities to keep kids (and adults) engaged.
Experiencing Farm Life
A day out at Calmsley Hill City Farm gives kids a unique, fun 'farmer for the day' experience. Throughout the day, there are various shows to see such as a working dog display, how to shear a sheep or crack a stock whip, plus hands-on activities like milking a cow and feeding the cutest, fluffiest animals in the nursery. It really does give a wonderful insight on what it's like to be a farmer.
A Unique Place For A Birthday Celebration
I didn't realise until recently that Calmsley Hill City Farm is also a unique, fun and hassle-free way to celebrate a birthday party. Whether it's gathering family and friends to celebrate a special 1st birthday party or keeping a flock of under 11 year olds entertained.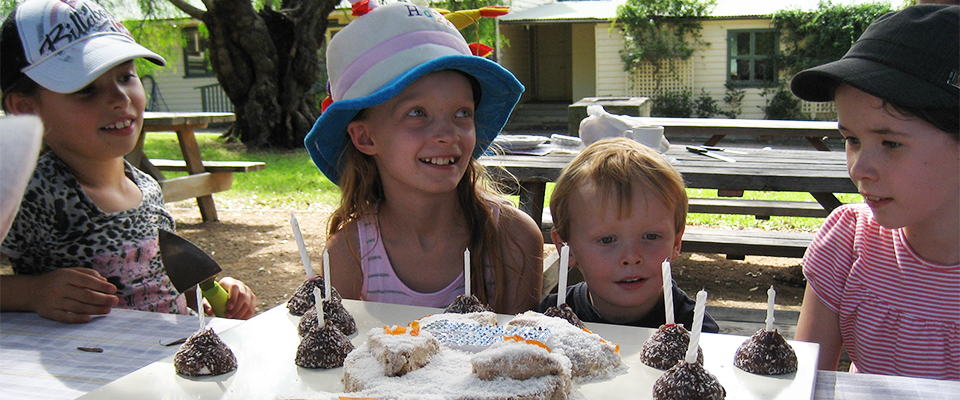 Stress-Free Organisation
For parents, the beauty of a party at Calmsley Hill is that the team does all the hard work for you! You can book various packages, with or without catering (see below) and then just turn up on the day for a great time.
Book a Party Host
They even offer you the option to book a Party Host who will ensure your day runs super smooth. Your host will accompany your group from when you arrive, showing you around the farm and making sure you don't miss any of the daily shows. They'll also give your group the opportunity to have heaps of animal one-on-ones and can help supervise the kids or be an extra pair of hands setting up a party lunch. Party hosts can be added onto your package from $230 for 3 hours.
A Range Of Catering Options
Their standard party package (see below) includes catering for all the children. Party platters include popular birthday food such as mini pizzas, mini sausage rolls, spring rolls, sandwiches, vegetable sticks and watermelon wedges. They can also cater for adults. Or, if you prefer to do it yourself, from $40, you can reserve a picnic area for the whole day or, make use of the free onsite BBQs or onsite café.
Great Value Prices
The standard party package price is $295 for (up to 10 children under 16, including the Birthday Child). This price includes entry to the farm, catering for all the children, a free outdoor area hire for the whole day (in the event of rain, an undercover area will be provided) and free entry for the birthday child's parents. Printable invitations are also provided free of charge.
Optional Extras
Additional adults can be added for $19.50 each, additional children over 3 years for $29.50 each and additional children under 3 years $15 each (covers entry, catering is free). Calmsley Hill can also organise adult catering, a birthday cake, pass the parcel, a face painter and a gift for each child at an extra cost.
How To Book
Booking a Calmsley Hill Farm birthday party is incredibly simple. It's quick process that can be done over the phone or by email. Simply complete the booking form and select your catering preference, pay a deposit of $100 to confirm the booking and complete the guest list for your party. Then it's just a case of turning up on the day for a fabulous day.
ellaslist Top Tips


Calmsley Hill offers birthday parties for all ages but the age group to get the most out of a birthday party on the farm would be 5-10 year olds


Hiring a Party Host can be really useful on the day. They will be on-hand to show your group around and accompany them to the daily shows. Prices from $230 for 3 hours – they generally advise booking from 10am-1pm


One of the highlights for my son was the tractor ride around the pastures – this is an additional $3 per person (children under 3yrs free with a paying adult) for all visitors. The farm recommends you pre-book your group's tractor ride if this is something you want to do. They also recommend pre-organising animal feed bags ($2 each)
For more information and to book call the Calmsley Hill Customer Service Team on 9823 3222 or email [email protected]