Kid-Friendly Community Gardens in Melbourne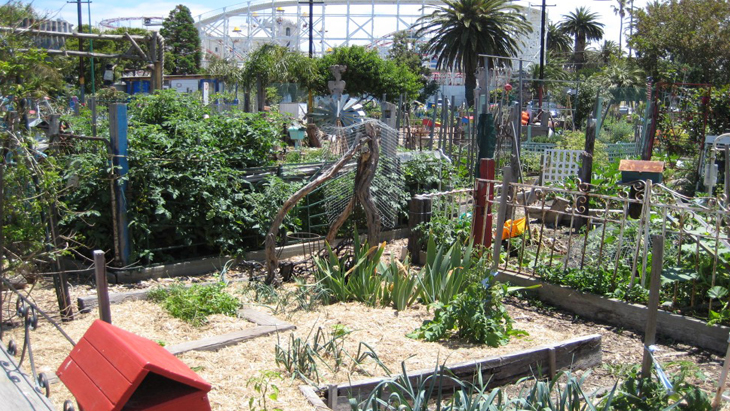 By: Claire Halliday, ellaslist
It's more than just plants that grow in community gardens.
These slices of open space and vegetable growing are havens in the inner-city and inner-suburbs and help build a cohesive sense of genuine community togetherness as people of all ages and backgrounds work side by side to produce the most basic things we humans need – food.
Check out some of Melbourne's best community gardens here.
1. Veg Out
Volunteers run this organic, chemical-free community garden. The vibe is pure St Kilda, with quirky sculptures and a bohemian spirit. Luna Park might be right next door but the feeling here is all calm and country on a site that has been reserved for public use since 1881.
There are 140 garden plots and members love getting their hands dirty. It's definitely a family affair for many gardeners and a visit here will see people of all ages and backgrounds tending to well-cared for veggies.
Rabbits, chickens, budgies and quail add some extra life to this creative, welcoming space.
What You Need To Know
There is a waiting list but if you're a local with young kids, why not add your name? One day, it will be your turn.
Email: [email protected]
Address: corner Shakespeare Grove and Chaucer Street, St Kilda
Opening hours:
Daily 9am -6pm
More information: visit the website
2. Melbourne University Community Gardens
There are two locations – one at Parkville and another at Burnley – and both are free to join. But nothing's really ever free, is it? If you want to be a part of a community garden, you need to give back and there are plenty of working bees here that need many hands to keep things tidy and productive. It's a good way to teach your kids that the veggie patch you tend together takes hard work and responsibility. If you've been a former student at Melbourne Uni, or you're a local in the area, this is well worth checking out. It's well run, with a slick website that has all the info you need to stay connected with your fellow gardeners. And the kids will love bringing real vegetables home to help round out your evening meal.
What You Need To Know
Your fellow gardeners here are likely to be current and former students, as well as some keen locals. If you fit that bill, you're eligible to get involved.
Address: Melbourne Uni's Parkville campus and Melbourne Uni's Burnley campus.
More information: visit the website
3. Cultivating Community
This organisation does amazing work across Melbourne, supporting the needs of both public housing and non-public housing community garden initiatives. If you've got a dream to start your own community garden this is the organisation to speak to.
With their experience, you might just turn that dream into a reality in your own neck of the urban woods.
What You Need To Know
Knowing how to start and maintain a community garden requires more than just a green thumb. There is paperwork, councils to deal with and personalities to manage too.
More information: visit the website
4. Sunnyfields Community Garden
It officially opened back in 2013 and was the first non-public housing community garden created with the help of Cultivating Community – an organisation that helps community gardens come to life.
For locals in the north – an area known for its lack of green backyard space – it's a wonderful way to get in touch with nature and remind themselves where food really comes from, with love.
What You Need To Know
In January, 2015, Cameron Healey from Northcote Baptist Church took over management responsibility for this slice of veggie paradise. To find out how you can get your family involved, he is the person to contact.
Email: [email protected]
Address:540 High Street, Northcote
More information: visit the website
5. Rushall Garden
If you're a resident of the City of Yarra, this place might have a plot for you. But be patient. There are more than 60 families currently on the waiting list and even if you put your name down now, you might be waiting four years or more. Still, it's less time than waiting for entry to membership at the Melbourne Cricket Club.
If you want your little one to know what it's like to grow their own food and have dirt from a garden patch under their fingernails, put your name down as soon as you get the ultrasound results. Don't worry – you'll have other things to keep you busy, we're sure…
What You Need To Know
Like any well-run community garden, to become a member here, you have to be INVOLVED.
The steps to do it are outlined here – but it hinges on being an active part of the community garden, even before you get access to your own plot.
https://rushallgarden.wordpress.com/join-us/
Address: Rushall Crescent, Fitzroy North
More information: visit the website
6. Luscombe Street Community Garden
This active community garden is well-managed by passionate members and all the latest info is communicated well via their FB page. But what happened to community gardens in the south and east? If you live in the north, community gardens seem to be a big thing.
To find out if you're eligible to become part of this local gardening tribe, go for a visit and get involved on their social media page – and perhaps learn how to start your own one day.
What You Need To Know
Address: 43 Luscombe Street, Brunswick
More information: visit the website