Jamberoo Action Park: Family-Friendly Thrills & Spills Await!
Jamberoo Action Park: Family-Friendly Thrills & Spills Await!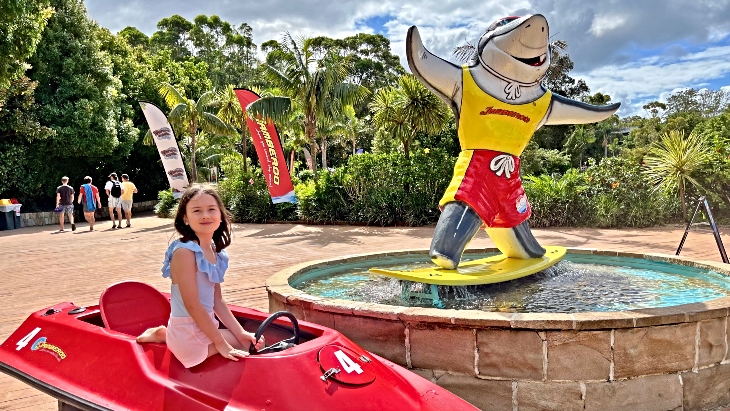 With over 40 decades behind it, the awesome Jamberoo Action Park has secured its spot as one of our favourite - and most fun - family destinations and the action-packed water theme park just goes from strength to strength.
This expansive aquatic utopia is the largest family-owned and operated water park in the state and is home to some iconic, adrenaline-pumping rides, a Guinness World Record-breaking arachnid, and the unforgettable Velocity Falls precinct - it's set to be a 'Truly Hair Raising' season.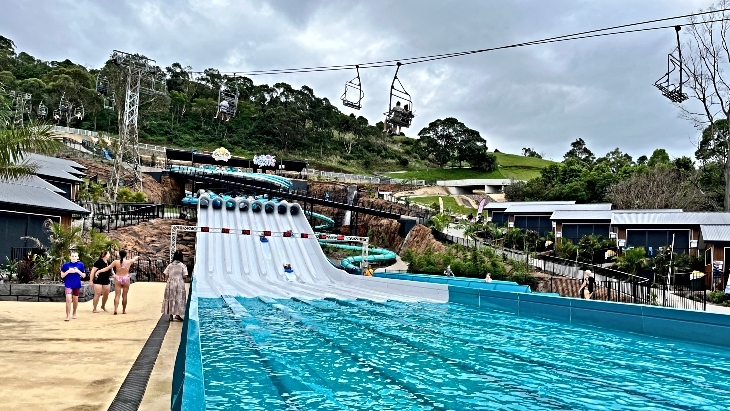 Jamberoo Action Park is more than just adrenaline-pumping rides; it's a family-friendly haven, especially for young children aged 2-10 years. The park prides itself on offering something for everyone, ensuring even the youngest family members have a blast. .
Surrounded By Nature

Just over an hour south of Sydney, near the stunning coastal hotspot of Kiama, Jamberoo Action Park is nestled between the mountains and the sea, enveloped by breathtaking natural surroundings and expansive views of the countryside. It's the perfect pitstop on a scenic south coast escape!
This prime location fits perfectly with the theme park's uniquely Australian aesthetic and ensures the park itself has an abundance of green spaces and relaxing nooks where you can set your family up for a full day of play. Add a special touch to your day and rent a cabana - a nice place to unwind when you need a break from all the excitement. You can book in advance so it's all ready to go on arrival.
Magical Moments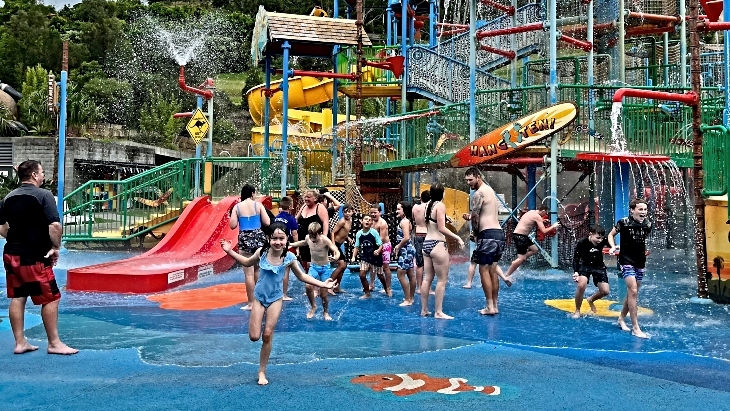 The awe-inspiring attractions and mind-blowing rides are at the heart of Jamberoo and the park is a site to behold, especially for the very first time. Awash with vibrant colours and thrills and spills of all shapes and sizes, Jamberoo is a water-play wonderland that kids can't wait to dive into.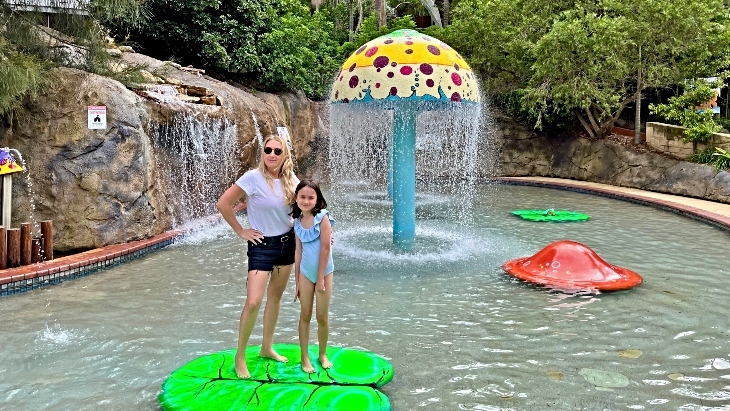 While parents love the delight of witnessing the wide-eyed wonder and sparks of excitement as their little adventurers explore the park and immerse themselves in joyful escapades (even rising to some epic challenges), nothing beats the all-in, full family experience. Parents, get set for some fun in the sun. This is the place to let your inner child run wild and throw your inhibitions to the wind. Make a splash and share these magical moments with your kids and you'll create memories for life!
From gentle water play areas to interactive kiddie rides, the park has numerous options that are safe yet exciting for little ones. Parents can relax, knowing that their children are in a fun, secure, and engaging environment.
World-Class Rides
Daredevils can face off against the Taipan, weather the Perfect Storm, or plunge off The Rock, while little ones make a splash at Kiddies Cove, get drenched at the Mushroom Pools, and go wild at Banjo's Billabong.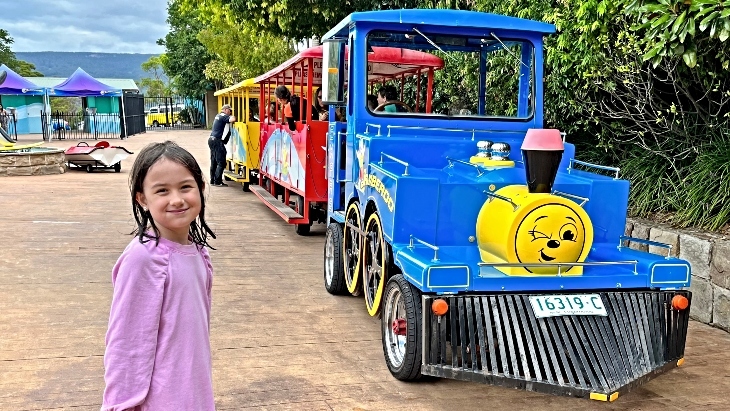 The whole family can join a game of Mini-golf on the entertaining, 18-hole course, ride the Chairlift with a breathtaking birdseye view of the park and beyond, and then snake back down the mountain at super (controllable) speed on the Bobsled tracks. You can ride back in tandem with the little ones!
Everyone loves jumping in the waves at the lively Billabong Beach and floating down the twists and turns of the serene Rapid River. When you're done, take a ride on the Jamberoo Express.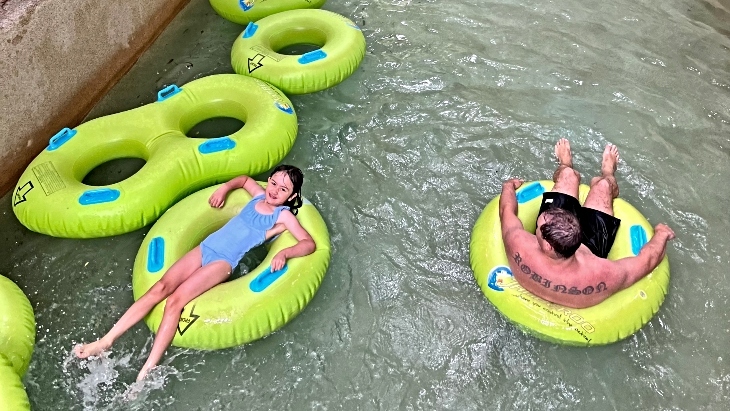 Jamberoo has just upped the ante with their new Velocity Fall thrill rides! Australia's newest water ride precinct includes the Octo Racer, the insanely fun, high-speed aqua race that is even more of a blast when you're competing against your family, and The Stinger, a zero gravity water slide that will plunge you into the deep end.
Safety is always a top priority at Jamberoo, and it is the only NSW water theme park with a 5-star water safety accreditation.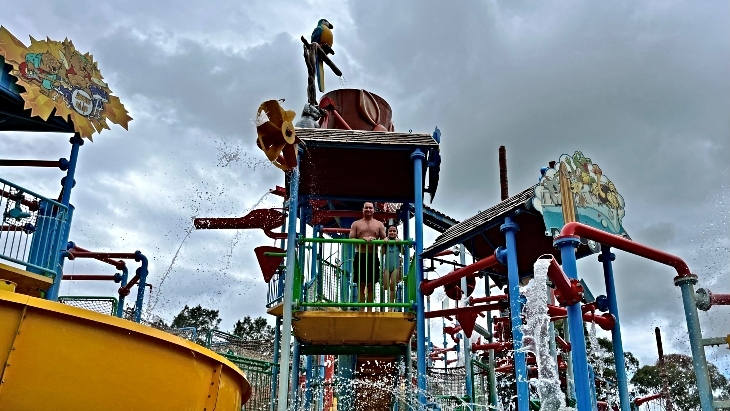 Fuel Up
Jamberoo is a full day of non-stop action and adventure but you need to fuel up! While there are food outlets aplenty at the park, they are completely flexible with how you stay nourished, giving you the option to plan ahead, save money and cater to your individual appetites by bringing your own snacks, or even a full family picnic. There are lots of lovely areas to enjoy a relaxed lunch and you can also take advantage of the BBQ areas available throughout the park. Hours of active entertainment is thirsty work, so don't forget the water too.
From laid-back fun to high-speed exhilaration, Jamberoo is overflowing with family fun you don't want to miss. Your park ticket includes all rides and attractions and parking is free, so pack your bags, grab your sunscreen, and head to Jamberoo for an unforgettable experience.
The summer school holiday season ends 31 January 2024. Don't miss out! Book now at Jamberoo Action Park.
More Fun For All The Family
Best Things To Do With Kids On The NSW South Coast
Best Things To Do With Tweens In Sydney
The Best Sensory-friendly Events in Sydney
Have you signed up for our newsletter? Join ellaslist to get the best family and kid-friendly events, venues, classes and things to do NEAR YOU!