It❜s Fun To Camp With The......Y.M.C.A!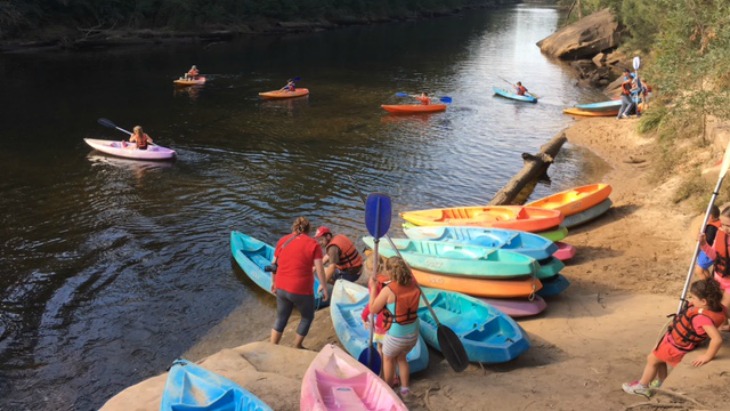 By: Edwina Carter, ellaslist explorer
Most Mums are happy to have a sleep in, breakfast in bed, and a bunch of flowers to celebrate Mother's Day, but in the spirit of wanting to create some special memories, we spent ours kayaking, caving, and rock climbing!
YMCA Camp Yarramundi is just outside Richmond, in a lovely semi-rural area on the outskirts of Sydney.
Impressive Living Quarters
Due to late work commitments on Friday night, we were a Saturday morning arrival. We were immediately greeted by the super friendly Dylan, who showed us to our cabin. We were expecting shared bathrooms, so were pleasantly surprised with our quarters!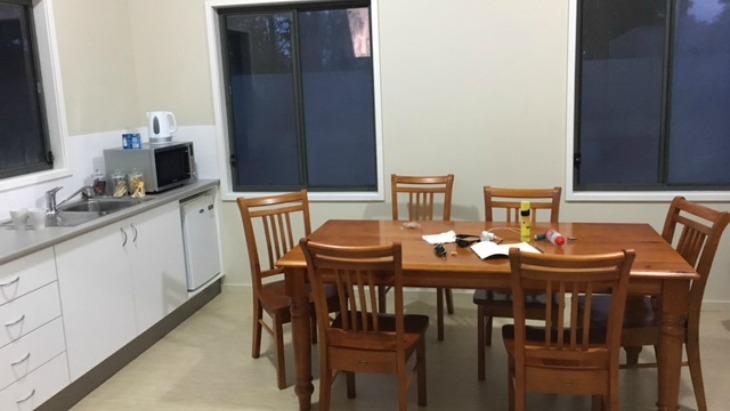 The cabin was very comfortable for our family of five with 3 sets of double bunks, and then a separate bunk room for the adults. This left us in the blissful situation that all parents of young children will understand - they ALL got to choose whether they got the top or bottom bunk! After we had quickly unpacked, we joined the other families for morning tea. There were 7 families in total. The kids were aged between 5-12 (be aware that children under 5 cannot participate in most activities). It's the perfect weekend away for Tweens.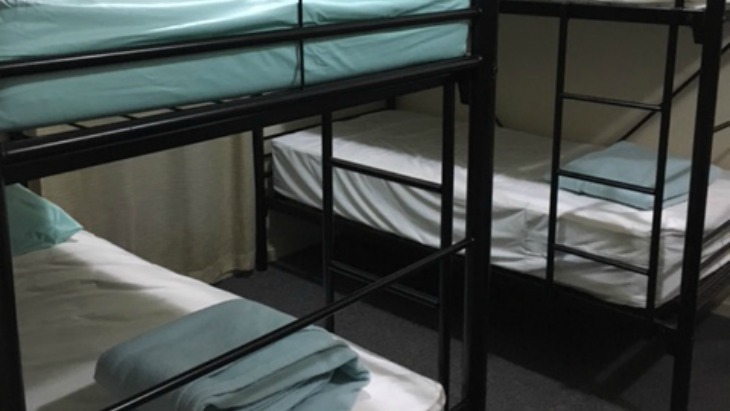 Archery & A Mexican Feast
After morning tea, we headed off to participate in archery. It looked easy, especially after the fabulous demonstration from our instructor Ellie. Lots of laughter and fun ensued as we all attempted to hit the target! The kids had a ball, as every time the arrow missed the target, we had a mad scramble through the bush to find the missing arrow!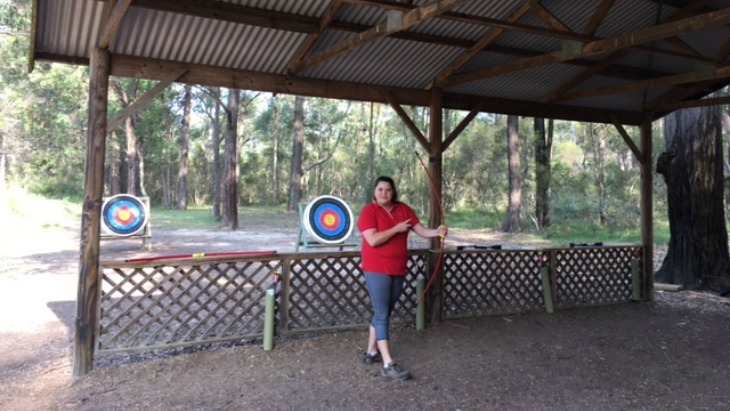 After archery was a delicious lunch of tortillas. There was a great chilli con carne, and for the vegetarians a delicious bean mix. In fact my daughter is a vegetarian which we had informed them, and was perfectly catered for all weekend.
Kayaking & Rock-Climbing Adventuring
Up next - kayaking! This was a highlight for everyone. We walked down to the riverbank through the bush, and unloaded our kayaks and off we went down the peaceful river. It was such an adventure and a real sense of accomplishment for the little kids as they had their own individual kayaks. There was only one capsizing incident, which had everyone in stitches! There were beautiful birds to watch, and the river was slow flowing, so just perfect for little people. After kayaking, we had a well-deserved cuppa on the deck while the sun was going down.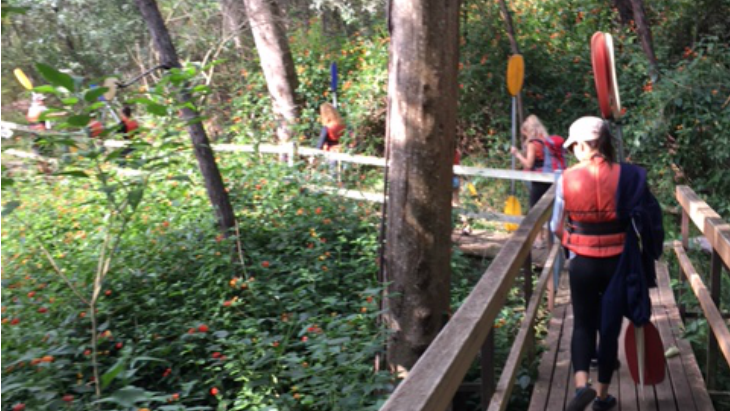 Next, we proceeded to the rock climbing wall. There were three levels - easy, moderate and difficult. Safety is paramount and there were clear guidelines for us all, so you always felt completely secure. The other families were so supportive, with kids cheering on other kids and mums cheering on other mums and big celebrations for whoever managed to make it to the top and ring the bell. This was a big highlight - the lovely, supportive, warm atmosphere! One Mum made it to the top and was super proud.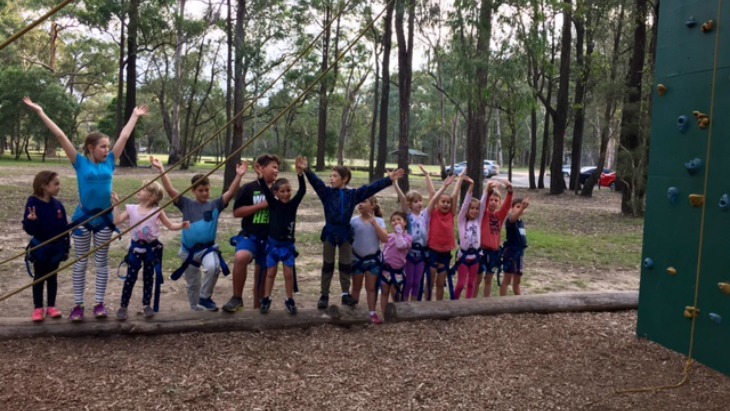 It's Not Camping Without A Campfire
Then it was back to the cabin to shower before dinner, which was a delicious meal of chicken and fried rice with steamed veg. I was so impressed with the fresh and healthy options! There were ice cream cones for dessert with sprinkles and toppings which even the 'big kids' joined in.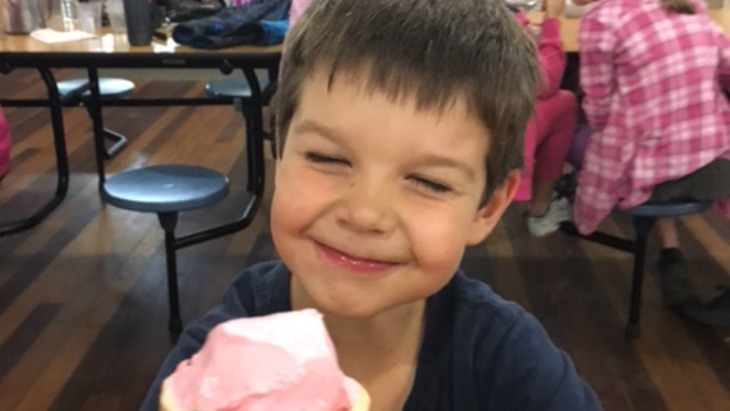 After dinner was the much-anticipated campfire and marshmallow roasting! We played games and toasted marshmallows and the kids had a ball. We spotted a possum and a barn owl in the trees which was utterly magical. Then it was off to bed for an early start.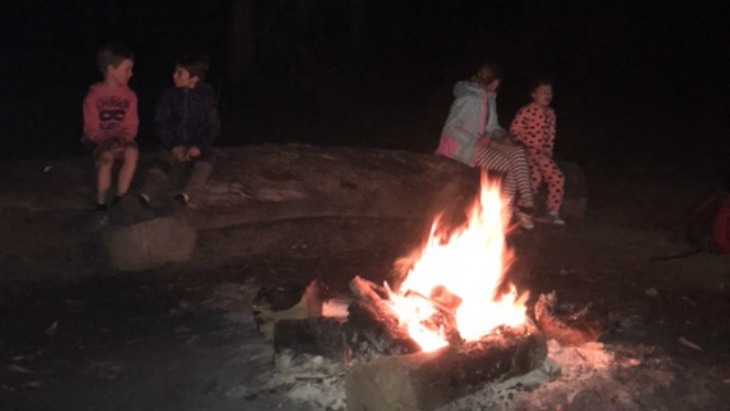 More Adventures & A Relaxing Mum's Retreat
The next day we woke early and packed our car, so the cabins could be cleaned for the incoming guests. We then filled up on a delicious hearty breakfast of eggs, baked beans, bacon, spaghetti, toast and hash browns!
We needed it because next up was the cave maze. I thought it was just the kids participating, but the Mums were convinced to have a go as a bit of a team effort. It was such a great experience! We all encouraged each other. It was incredibly dark and tight in places and you really needed to put mind over matter and help each other out. Then it was the kids' turn!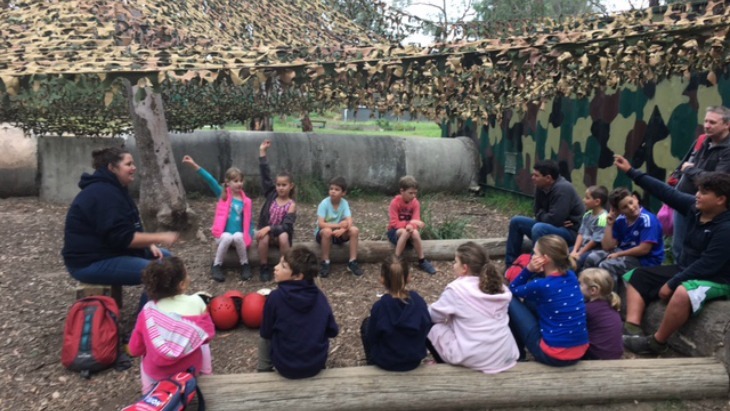 While they were having a go, the Mums were whisked off for a Mums-only morning tea. The camp had sweetly organised newspapers, magazines, flowers, pastries and fresh coffee for us to have a moment of peace! It was a lovely touch.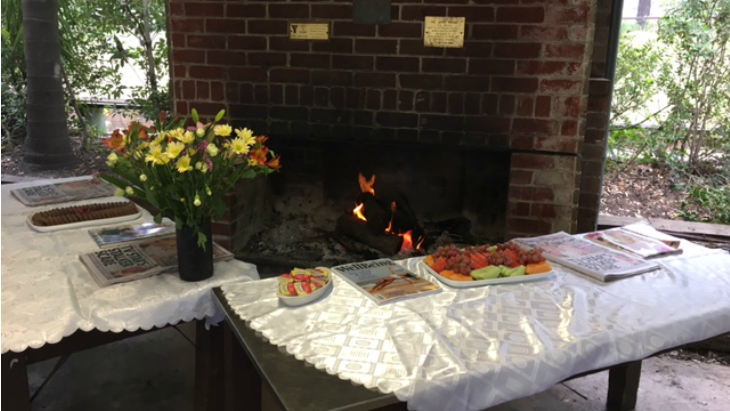 The last activity was the brilliant Giant Swing! Each person chose how high they wanted to go. Then you released your harness and wooohoooooooo! What a thrill!
Highlights & Top Tips
You are the one who chooses the level of each activity. You are allowed to go as high or as low as you want, and as easy or as challenging.
The quality of the food - it was all healthy, fresh and delicious. The kids loved it too!
The quality of the camp instructors. They were so friendly, so capable, so warm and so helpful with the kids. They were also strict when they needed to be!
Bring lots of spare clothes - you are doing to get wetter and muddier than you think! But you'll have fun!
Use the opportunity to challenge yourself.
Leave the iPads at home. It was such a great opportunity for screen-free time and family bonding.
It's worth bringing a basketball as there's a fab indoor basketball court which would be really good if you had wet weather.
I was really impressed with the competence of all the staff, and their friendly nature. They were so patient with us all, and encouraging.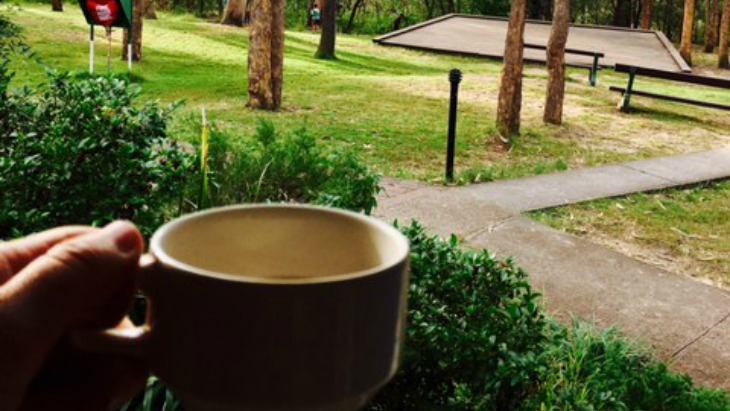 The YMCA offers camping at two locations: Yarramundi and Sydney Olympic Park. For more information and dates for camping at Sydney Olympic park, click here. For more information and dates for camping at Yarramundi, click here.