How To Tackle The Night Noodle Markets With Babies & Toddlers ... and Win!
Preschoolers
Family
Kids
Mums & Bubs
Parents Only
Teens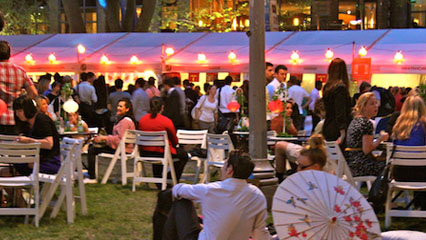 October is Good Food Month and there's heaps going on across Sydney for all you foodies and foodie kids out there and The Night Noodle Markets in Hyde Park is an annual favourite of ours.
There's just something really exciting and buzzy about this annual event – for us it heralds the start of daylight savings and balmy spring nights, the bubble of steaming woks and baskets of shiny plump dumplings. The twinkling trees laden with glowing lanterns makes Hyde Park look like a balloon fiesta and the loud crowd-stopping clashing of the symbols as the Chinese dragon dancers weave the crowd never fails to delight the kids.
THINGS TO KNOW! … Going along with school aged kids isn't a drama at all and it's a brilliant after school trip .. but if you're going with along with a baby, toddler or preschooler you need to be prepared so you can go head to head with the after work crowd – AND WIN!
TOP TIP: in 2017, the Noodle Markets will be a CASH FREE EVENT, meaning faster lines and less waiting- definitely a pro if you have hungry kids with you.
FREE LIVE ENTERTAINMENT: This year's markets have an all-star talent line up including the godfather of cooking, Marco Pierre White and the ever-popular dragon dancers. Head to the Good Food Main Stage to check out all the live action.

Our Best Food Picks

Despite the awesome entertainment and electric atmosphere, the real draw card of the Night Noodle Markets is undoubtedly the food! These are a few of our favourites:
Hoy Pinoy: Always a favourite! This Filipino street food does the best skewers in either chicken or pork.
Mr Bao: Always a headliner of the noodle market food scene. Don't miss their crackling pork belly bao-less sanger.
Mamak: Fancy Mee Goreng or Satay Chicken? Head to the Mamak stall! They are also creating the delicious 'Roti Nutella Bom' exclusively for the night noodle markets!
One Tea Lounge: Modern Japanese, famous for their ramen burgers. Try the Ramen, Rice or Matcha slider Baogers, and indulge in the ice cream baorger- their most Instagrammed dish.
Dessert Time: What's life without some indulgence? You have to try one of the new flavours Gelato Messina are whipping up for this event, including a deep-fried gelato katsu sandwich and the Aunty Tomsu's Cheesecake (Japanese cheesecake, strawberry and cherry blossom cream, strawberry meringue, strawberries and strawberry gelato). The delicious collaboration of Black Star Pastry and N2 Gelato will happen again this year, so if you have a sweet tooth, make sure you leave some room.
HOT
TIPS
1. Weeknights – Get There Early Before The Suits Arrive (before 5pm)
Get into town before 5pm to park the car, grab your spot and sort yourself out before ordering. Otherwise, if you leave it to 5.30pm or later you'll be battling queues of hungry people longer than the Great Wall of China.
(You should know that The Night Noodle Markets 2017 is running on weekend evenings as well this year from 4pm – which should be much easier for families)
2. Take Reinforcements
Don't do this alone with one or a couple of preschool kids . You need at least 2 adults to take this one on, better if you go with a group. You'll need someone to guard your spot / table / take care of the kids, while the other queues for food. You can try way more food options this way and be free to take the kids on the inevitable trip to the port-a-loo line.
3. Know Where To Park (Domain or St Mary's Cathedral)
Let's face it – public transport might be cheaper, but it will probably be easier to drive if you're a family of three or more. Head straight to the Domain Car Park (which has a brilliantly long escalator that kids love!) or the sneaky car park under St Mary's Cathedral. Both a nice easy 5 minutes stroll to Hyde Park.
4. Bring A Picnic Rug
There are tables and chairs at the venue, but they fill up quickly after 5, so bring a rug with you and you'll be all sorted. It'll be a gorgeous twilight picnic and you won't have to worry about scrambling for tables, and you'll have the option to sit away from the hub-bub if you want to.
5. Bring Snacks For Kids And Your Own Drinks
Yes – we know it's a food event, and it's meant to be your night off from the kitchen – but we would still recommend you bring along snacks and tidbits for the younger kids – nothing worse than a long queue with a hungry toddler. BYO kids drinks so you don't have to balance cups of stuff as well as plates of food.
6. Take Bub Along In A Buggy Or Portable High Chair
Even though some may think travelling light might help, we would actually recommend taking along the buggy or a portable high chair. Whether you do get a table or not, at least the most restless little ones are comfy in the wait. They might even fall asleep so you can eat in peace [laughing]
7. Bring Your Credit Card
The big difference about this year's event is that it is CASH FREE! So bring your Credit cards and tap 'n go. Less time in the lines means more time to eat.
8. Know What To Expect About The Loos!
It's port-a-loos – so make sure every one pees before they leave the house, BYO loo roll / baby wipes / napkins (just in case).
9. Make An Afternoon Of It
Before you hit the noodle markets at 5pm, spend the afternoon at one of the 4 local attractions. Botanic Gardens, Art Gallery NSW, Cook and Phillip Swimming pool or The Australian Museum.
10. Have Fun!

Know it'll be busy and be prepared. If you think it'll be too hectic with your particular littlies, don't take them along and hook up with your girlfriends there instead for lots of wine and dumplings.
2017
NIGHT
NOODLE
MARKETS
ESSENTIALS

WHERE: Hyde Park, Sydney
WHEN Every night from 5 to 22 October 2017; Mon & Tue 5pm-9pm, Wed & Thu 5pm-10pm, Fri 5pm-11pm, Sat 4pm-10pm & Sun 4pm-9pm
ENTRY: FREE
TOP TIP: BRING your credit card. This year, it's a cash-free event.