Highlights of the LEGO City Deep Sea Adventure at Manly SEA LIFE Sanctuary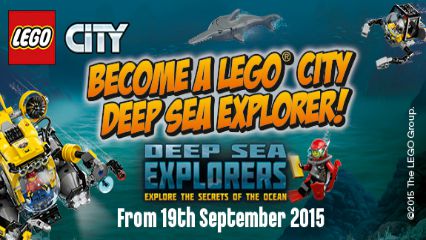 By: Serina Hajje, ellaslist
Are your kids LEGO-loony? Manly SEA LIFE Sanctuary has a special treat for you! During the Spring school holidays, from 19 September to 4 October, kids get the chance to experience an underwater adventure, exploring secrets and becoming a LEGO City Deep Sea Explorer.
There are also a host of new fun educational activities on offer during the holidays that is sure to satisfy the curious appetite of any child explorer.
Here are the highlights of the LEGO City Deep Sea Adventure.
1) LEGO – Become A Deep Sea Explorer
We love the new LEGO Deep Sea Explorers Collection and our LEGO-crazy kids can't wait to get started. As soon as you enter the Manly SEA LIFE Sanctuary, kids receive a marine activity booklet to go exploring and will have the chance to practice their LEGO skills at the LEGO building table. Once they've completed their mission, kids are rewarded with:
a free

LEGO

membership

a chance to win the ultimate

LEGO

prize pack including a Deep Sea Scuba Scooter, Submarine, Helicopter and Exploration Vessel!
2) Get Hands-On With Marine Life
You can't be a proper underwater explorer without meeting and holding the animals! At the interactive rockpool, kids can touch shark eggs, feel slimy seaweed, see the beautiful sea stars and say hi to the shy hermit crabs. Kids can also ask questions or attend a talk or watch feeding demonstrations.
3) Shipwreck Shores

Get ready to man the ship! An exciting playground, decorated as a ship is waiting for new explorers! It's filled with slides, climbing obstacles and tunnels for kids to enjoy and to give parents the chance to sit back and unwind.
4) Shark Harbour
Sharks are always a star attraction at Manly SEA LIFE Sanctuary! Explorers will meet baby Port Jackson, Bamboo and Epaulette Sharks. Extra brave explorers can head to Shark Harbour to see the water viewing tunnel and get a fish eye view of sharp-toothed sharks, sting-rays, turtles and lots of colourful fish.
5) Penguin Cove
Wind up your LEGO fun at Penguin Cove during feeding time, where you can meet the three newest arrivals to the colony 'Charles Xavier', 'Magneto' and 'Wolverine'! These cute little creatures will enchant the whole family. Learn about their important role, and get a chance to sit down and relax as you watch these cute little guys waddle around!
Your adventure is complete, and your child is now a LEGO Deep Sea Explorer! Hooray!
Just a tip before you go: there are no elevators at the sanctuary, so leave all prams at the entrance. There's also no cafe on site, so head to Papi Chulo's for a scrumptious family-friendly meal.
WHERE: West Esplanade, Manly (only 200m from the Manly Wharf)
WHEN: LEGO City Deep Sea Experience is on fromSaturday 19 Sept – Sunday 4 Oct
OPENING HOURS: Open from 9:30am
PRICE: For the best entry price book online. Walk up price: Adult $25 and Child $17.
TOURS & TALKS: Check out the Daily Activity Schedule
MORE INFORMATION: http://www.manlysealifesanctuary.com.au/
Get a Head-Start on your Manly SEA LIFE Sanctuary Adventure
Buy tickets here to get the cheapest price.