Give your Lunchbox a Makeover with these Healthy Lunchbox Ideas
Preschoolers
Family
Kids
Mums & Bubs
Parents Only
Teens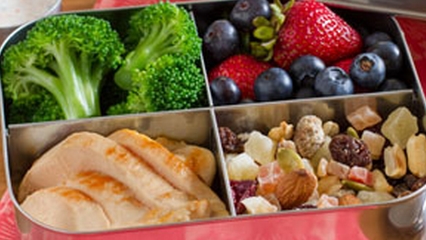 By: Lisa Wolff, ellaslist
I am so over lunchboxes! And boy, do I feel like a bad mother! I regularly torture myself with photos of perfect lunchboxes that perfect mums upload to facebook. And I just can't seem to hack it. Most days, the lunchbox comes back untouched, unless I've added a sneaky cookie or gasp! a little choccie.


I was sharing my lunchbox woes with a mum in my daughter's class and she told me about a workshop that had turned her lunchbox world on its head. Before she'd even finished her sentence, I had booked myself in.
Lunchbox Solutions
Mandy Sacher from Wholesome Child, is my new lunchbox superhero. She's a Paediatric Nutritionist who runs a variety of child-related workshops. I came out from her Lunchbox Solutions 2-hour course, armed with new inspiration.
Evil: Vegemite, brown bread & numbers
My hubby had to hold me back from overthrowing our entire kitchen and replacing it with Mandy's recommendations. Who knew that Vegemite contains so much salt! And that brown bread is really white bread in disguise coloured with caramel. And don't get me started on all those evil numbers that riddle our supermarket food. It's a health minefield out there.
Re-invent your Lunchbox


Mandy gives you enough healthy ammunition to re-invent your lunchbox. My favourite bits were the:



Top tips for lunchboxes that come home empty

Lunchbox Menu Planner (not sure if I'll ever be organised enough to follow this but it's great for ideas)


Shopping guide – this focuses on the lunch box staples such as bread, wraps, yoghurt and cheese. This is my new supermarket bible as it suggests the healthiest products to buy as well as the best commercially available alternatives. It's a great first step in my journey to better lunchboxes.


Delicious easy recipes, such as muffins, rissoles, snacks, treats and more


Menu ideas your kids will love (and eat), including fillings (bye-bye vegemite), salads and snacks.
First Steps Towards a Better Lunchbox


I decided to take baby steps and started buying wholemeal bread instead of white and I've chosen a new cheese with no preservatives. I'm also trying out some of Mandy's sandwich fillings and even made a batch of Betta than Nutella Chocolate Muffins. (These were so yum and disappeared from the lunchbox in seconds).
I've got a way to go in achieving the perfect lunchbox but I've taken giant healthy steps forward. And the proof is in the empty lunchbox at the end of the day.
Check out Mandy's Six of the Best Healthy Lunchbox Ideas plus a recipe for scrumptious Vanilla Cupcakes.


Give your Lunchbox a Makeover! Reserve your place at Wholesome Child's Lunchbox Solutions Workshop. Check out the Wholesome Child Website for future dates.
Date: Tuesday, 1 September
Time: 7:30-9:30pm
Venue: Randwick Public School
Cost: $40.00 pp
Date: Thursday, 10 September
Time: 7:45-9:45pm
Venue: Rosebay
Cost: $40.00 pp
Book Now for the Workshop